Massive thunderstorm slams Las Vegas, leaving damaged homes, power outages and uprooted trees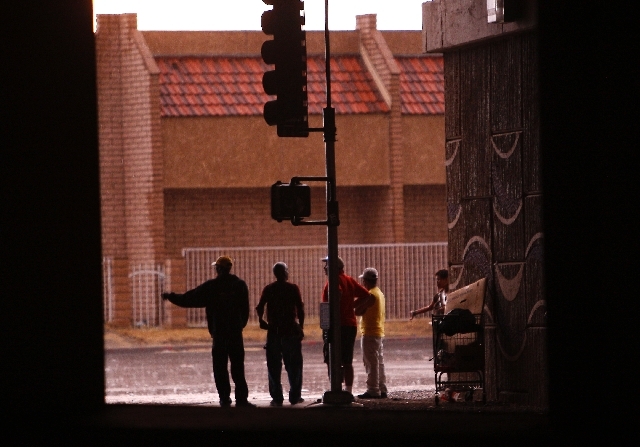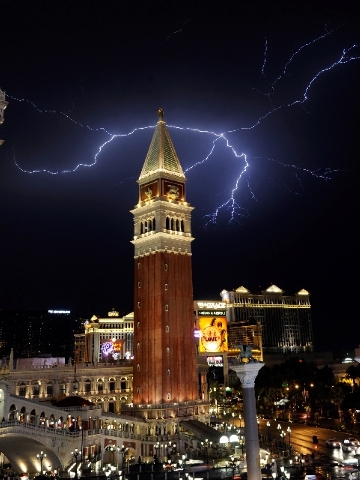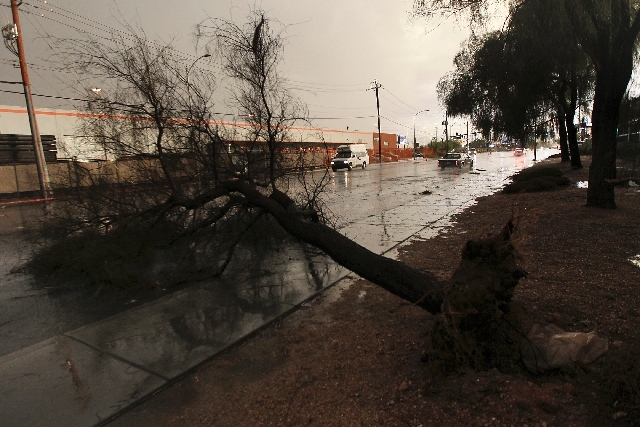 A severe thunderstorm with a 71-mph wind gust measured at Nellis Air Force Base swept across the Las Vegas Valley on Friday evening, causing heavy damage in places, stranding drivers in flash floods, snapping power poles and tearing trees from the ground.
No injures had been reported as of 10:30 p.m. Friday, though emergency responders were still taking stock of the damage well into the night.
Falling trees and gas lines severed by "tornado-like" winds forced evacuation of 200 units at the Atrium Garden Condos near Washington Avenue and Pecos Road on the city's east side, said Las Vegas fire spokesman Tim Szymanski.
Fifteen units were damaged by falling trees, and about 50 residents of the complex were expected to take shelter at nearby Desert Pines High School, with emergency services provided by the American Red Cross.
Joyce Mason, a longtime resident of the complex, said she has been concerned about potential storm damage since she first moved in, with heavy trees close to units.
"I'm just praying for no gas explosion or anything like that," she said. "I don't believe it's going to be fixed tonight."
The entire condo complex — 300 units in total — was cordoned off by fire trucks and yellow emergency tape hours after the storm was over.
"They just say we have to evacuate. We have some broke gas pipes,'' said Daniel Cordova, who was at the Atrium Gardens to pick up his mother, who is recovering from hip surgery.
The storm hit shortly after 7 p.m., with that 71-mph gust recorded at 7:09 p.m., said the National Weather Service. Multiple buildings in the Nellis area were reportedly struck by lightning.
Szymanski said an area roughly bordered by Stewart and Washington avenues and Eastern and Nellis boulevards were hit hardest.
Some resort properties on the Strip and the Fremont Street Experience remained without power long after the fast-moving storm raged the full length of the city from north to south.
Standing water was reported on the casino floor at Caesars Palace, where gamblers were forced to scatter to avoid getting wet.
NV Energy was working on 20 scattered outages affecting 33,000 people across the valley as of 10:30 p.m., spokeswoman Kelley Mulroy said. Additional crews were called in to assist, she said.
Clark County fire units also responded to multiple calls of people needing water rescue near the Strip.
More than an inch of rain was recorded in Henderson, and a new daily rainfall record of 0.22 inches was set at McCarran International Airport. The previous record of 0.17 inches was set in 1951.
Some of that record rainfall kicked a hole in the roof of Gilley's Saloon, the Western-style bar at Treasure Island where patrons watched in awe as sheets of water sluiced in.
As the thunderstorm moved from north to south at about 15 mph it knocked out power at Primm as well. Staff at Buffalo Bill's Resort and Casino reported power outages in the casino and nearby outlet mall, along with strong wind and rain.
Temperatures dropped more than 20 degrees Friday due to the storm. The weather service reported 109 degrees early in the afternoon and 83 degrees at 10 p.m.
Early Friday, multiple flash flood watches for the Las Vegas Valley and surrounding area were put into effect for the weekend.
The Spring Mountains will have a watch starting today at noon and will remain in effect through the end of the weekend.
The highest risk for flash flooding in that area is early this afternoon, the National Weather Service said.