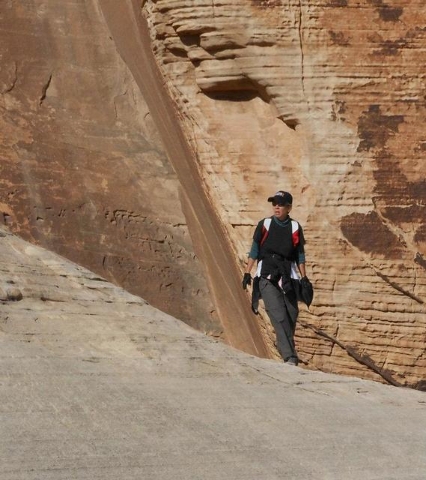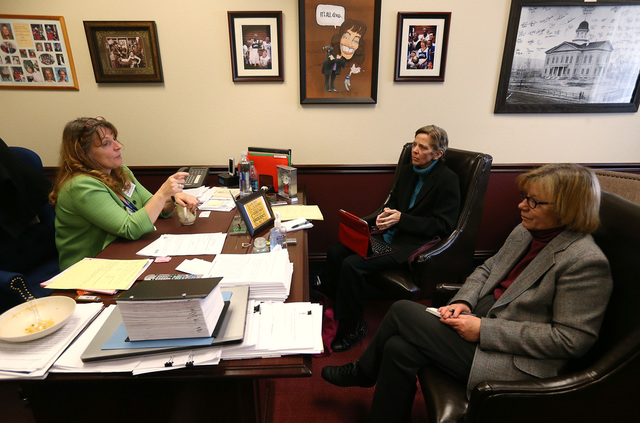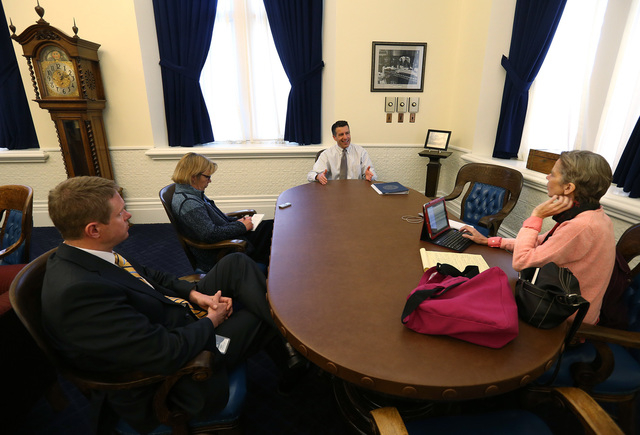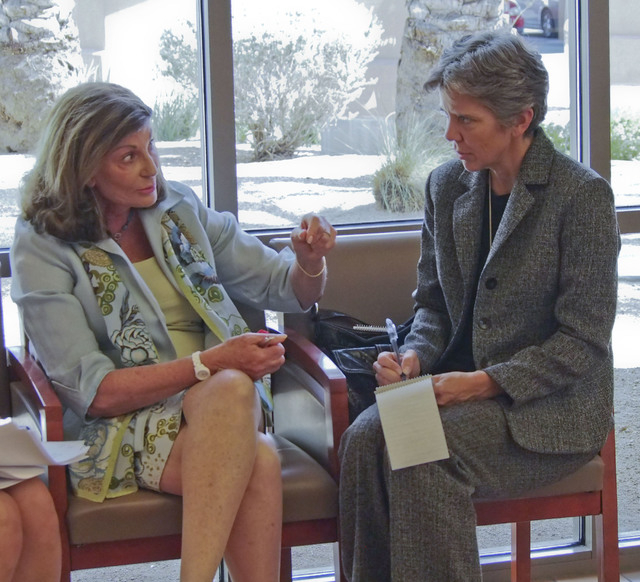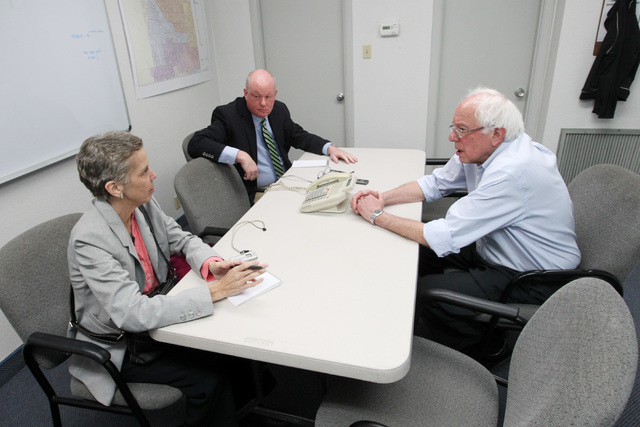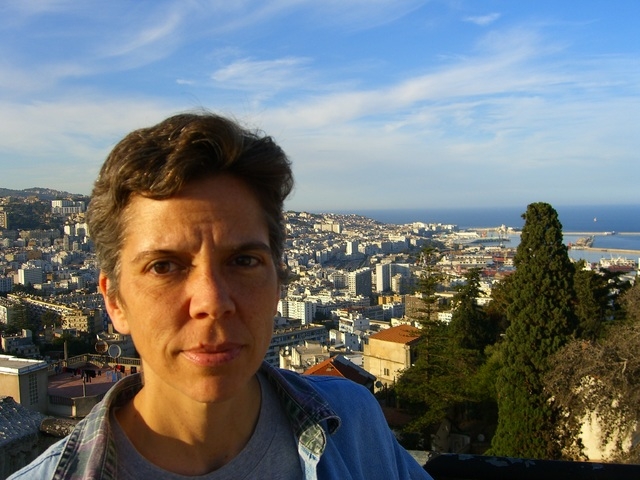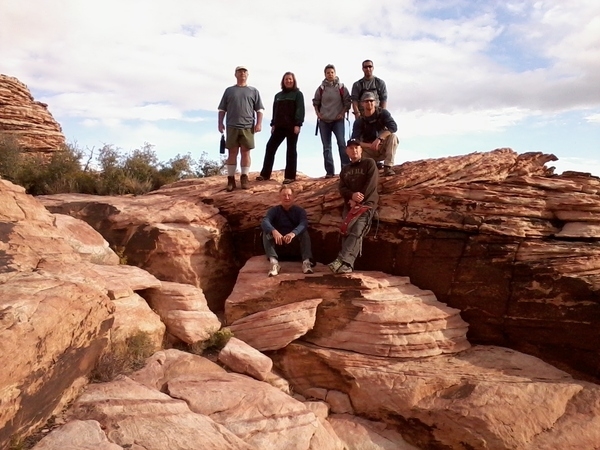 Laura Myers, a longtime Associated Press reporter and editor and the Las Vegas Review-Journal's political reporter since January 2010, died Friday at the Nathan Adelson Hospice-Tenaya following a lengthy battle with cancer. She was 53.
Throughout her career, Myers bounced between humanitarian work and journalism, both careers taking her all over the world. And she loved each path.
She lived to work. Though diagnosed with stage 4 colon cancer in March 2013, she worked steadily until six weeks before her death. Despite excruciating pain, she was a prolific writer, breaking news and crafting stories that were thorough, accurate, clear and fair. She kept her personal political leanings to herself and out of her stories, though activists from each major party often accused her of leaning one way or another.
"She was the class of Nevada's political reporters in a state that has some very good ones," said Review-Journal Editor Michael Hengel. "She was a great journalist and a wonderful colleague. I will remember Laura for her integrity, her professionalism, her commitment to objectivity and most of all for her tenacity. She was indefatigable … like no one else I've known."
She received the newspaper's 2014 Editor's Award for excellence, and the Review-Journal recently nominated her as the Nevada Press Association Outstanding Journalist of 2015.
"In addition to regular in-depth coverage of Nevada politics, Laura in 2014 broke one of the biggest national stories with a Nevada focus, following up on student complaints about presidential candidate Hillary Clinton's planned UNLV Foundation appearance with an exclusive look at the financial details — including demands for significant pampering — in the speaker's contract," Hengel's nomination letter reads. "Laura's article about Clinton's contract continued to reverberate for months as national media followed with intense questioning of the Clinton family's huge income from public appearances and financial arrangements involving their family foundation.
"For her professionalism, for the depth and quality of her work and for her resilience in the face of overwhelming adversity, I take delight in my association with Laura Myers and the utmost pride in nominating her as the Nevada Press Association Outstanding Journalist of 2015."
AN EXTRAORDINARY JOURNALIST
Myers was born in Las Vegas on Aug. 26, 1961, and mostly raised and educated in Northern Nevada, graduating from the University of Nevada, Reno.
Her journalism career began in 1984 at the Reno Gazette-Journal, and she showed her passion for politics covering the Nevada Legislature in 1987.
"She was a consummate professional," said former U.S. Sen. Richard Bryan, who was then governor of Nevada. "Her stories were always fair and balanced. She represented what a journalist ought to be in terms of her standards and her professionalism."
The Associated Press hired her in 1988, first to cover news in Carson City, then San Francisco-San Jose, Calif., where she covered the Rodney King riots.
"All the traits that served her so well over the years were evident — alert, fair, thorough, fast, hard-working, fearless, always up for the next assignment," said Brendan Riley, who was the AP correspondent in Carson City in those days. "I really enjoyed working with Laura. Anyone who has covered a legislative session in this state knows that the pace can be unrelenting, the demands extreme. Laura made it look easy.
"Seven years later, Laura had moved on from Nevada to Washington, D.C., and had an assignment as a top AP editor at the Democratic National Convention in Chicago," Riley said. "I remember looking over at her as she worked on a story with such intense focus that you could sense it across the crowded pressroom."
She would leave and return to the news cooperative several times over a 20-year career. Her first departure was in 1992, when she joined the Peace Corps and fish farming in a remote village in Togo, West Africa.
In 1995, the news agency offered her a plum job for a journalist in her early 30s, covering politics, foreign affairs, the military and national security in Washington.
The AP had to wait, though, because Myers had a three-month contract with the American Refugee Committee, managing logistics at a refugee camp in Goma, Zaire, now the Congo.
Myers wrote a friend, "I know you probably think I'm crazy for accepting an AP Washington job. But I want to swim with the sharks for a while to see how it feels — probably like a dolphin caught in a tuna net, to continue the analogy."
During the 1990s and 2000s, aside from her day jobs, she worked with Habitat for Humanity in Uganda, Mongolia and New York.
After another stint with AP, in 2007 she worked for Food for All of Washington, distributing food to the needy and the elderly.
Movies were her joy, and Myers did more than just watch them. She left AP in 2003 to study at the New York Film Academy, learning directing, editing and producing first, then joining the Atlantic Theater Company to study acting.
Between her travels and work as a reporter and editor, she became fluent in French and spoke basic Egyptian Arabic.
AN EXCEPTIONAL HUMAN BEING
"From 1988 to 2008, AP always found a place for Myers because of her broad skills as a journalist, particularly her ability to direct competitive news coverage of the most important front-page stories of the day," said Sandy Johnson, former Washington bureau chief for The Associated Press. "Over the years, the AP valued Laura's work as a reporter, an editor and a news manager. Her strengths included vision, speed, accuracy and a remarkable work ethic.
"Laura was an extraordinary journalist and an exceptional human being. She put her career on hold for years at a time to help the needy. … AP always welcomed her back because Laura was simply the best — smart, hard-working, in command of the story," Johnson said. "Laura was on the front lines directing coverage of some of the most challenging events of our time — the presidential recount of 2000, the terrorist attacks of 9/11 and wars in Iraq and Afghanistan. Her AP family is bereft."
Her work with the news service included acting international editor and top manager based in New York, where she controlled a budget of more than $400 million and was a member of the management team that set policy for the entire AP. During the Iraq and Afghanistan wars, she was one of three senior editors running the war desk during the 24-hour news cycle.
While a diplomatic and military reporter in the 1990s, she traveled to more than two dozen countries with Cabinet officials and covered President Bill Clinton's trip to China in 1998.
One of her journalistic high points was interviewing Syrian President Bashar Assad during a 10-day fact-finding trip in 2004 to Lebanon and Syria. She was with a dozen senior editors and writers who had been invited to meet Assad, but just before the meeting, his staff said the session would be off the record. Myers boldly asked him to speak on the record so news stories could quote him. Her pitch that he was a more moderate and open president struck the right note and, to his staff's dismay, Assad spoke on the record.
LIFE ON HER TERMS
Review-Journal Deputy Editor James G. Wright worked with Myers in Algeria when they were management consultants for Arabic- and French-language newspapers, promoting international media standards in North Africa and the Middle East for 10 months starting in 2006.
"Laura was absolutely fearless, and she was one of the smartest and toughest people I've ever known,'' Wright said. "She had a great sense of humor, truly cared about people and was intensely loyal to her friends, but at the same time she was a loner. She made her own way in the world, on her own terms, and she didn't give a damn if anyone else liked it or not. She embodied the Nevada spirit."
Chris Tomlinson was an AP bureau chief covering 14 countries in Africa between 2004 and 2007, when Myers was AP's acting international editor.
"You made a lot journalists, including myself, look a lot smarter and talented then they deserved," he wrote on learning that she was near death. "You also showed us tough love and we were better for it. By extension, you helped millions of people better understand their world."
In 2009, after a long stint teaching English to adults in Egypt, Myers was ready to come home to Nevada.
One of her close friends was former Review-Journal City Editor Laura Wingard, who recalled that "Laura had political insights way beyond her years, and her energy and persistence in pursuing a story was unbelievable. But journalism wasn't her life. Laura, at her core, was a humanitarian. We often joked that she was 'the good Laura' and she was. Good at journalism and good at making the world a better place. And she was a good friend who will be terribly missed by me and so many others."
Survivors include her mother, Monte Myers of Sparks, her sister Kathy Wiechers (Manfred) of Sparks, brothers Bill (Claudia) of Westchester, Calif., and Mike (Lisa) of Lake Elsinore, Calif., and several nieces and nephews.
No services are planned at this time.
Review-Journal writer Eric Hartley contributed to this report. Contact Review-Journal columnist Jane Ann Morrison at jmorrison@reviewjournal.com or leave a message at 702-383-0275. Find her on Twitter: @janeannmorrison
RELATED
For Laura Myers life was a grand adventure until the pain became unbearable