'Pit bull mix' that mauled, killed Las Vegas boy euthanized
August 18, 2016 - 10:17 pm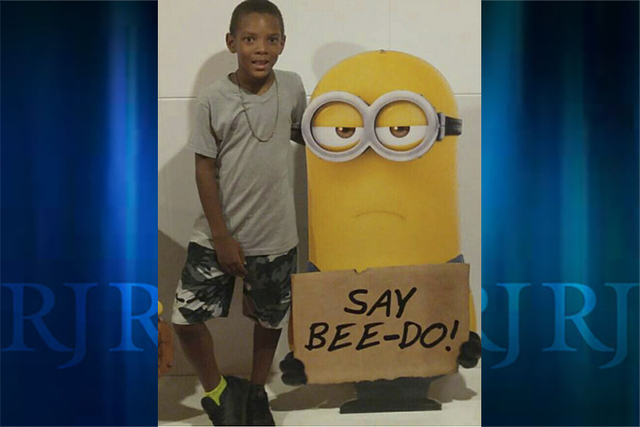 The dog that mauled a 9-year-old Las Vegas boy to death at a friend's home Wednesday afternoon was euthanized early Thursday, but families on the quiet east valley street were still shaken.
The boy, Derion Jayvon Stevenson, was visiting a friend's house at 6490 Duck Hill Springs Drive, near Desert Inn Road and Hollywood Boulevard, about 3:35 p.m. Wednesday when the friend's family dog either escaped the home or was let outside, then lunged toward the boy, police said.
In a matter of seconds, the dog ripped one of the boy's arteries. Blood quickly pooled on the red rocks just outside the friend's front door.
Derion was rushed to Sunrise Hospital and Medical Center's trauma unit, where he later died from blunt force injuries to the neck and head from the canine attack, the Clark County coroner's office said. His death was ruled an accident.
"I see stories about pit bulls all the time, attacking kids, things of that nature," said the boy's uncle, Gerald Lavender, 21. "Never would I have thought I'd be waking up, watching the news and having it be about my nephew."
Lavender said Derion had a difficult childhood. The boy was taken from his biological mother about three years ago, and his father is in prison.
"My mom, she was taking care of him," he said. "She honestly has been trying to make that change, to give him a better life."
Lavender said his mother, who was strict with the boy, has been inconsolable since the attack.
"He had grown so much with my mom, since he'd been with us," Lavender said, pausing to swallow his coming tears.
"My family, we're trying to hold up the best we can."
The 3-year-old "pit bull mix" that mauled the boy was taken into county animal control's custody after the Wednesday attack, county spokesman Dan Kulin said. The dog, originally referred to as a purebred pit bull, was euthanized early Thursday.
"This is a very tragic event," Metropolitan Police Department spokesman Jesse Roybal said Thursday, adding that it "affects the entire community."
"This 9-year-old young man was with friends when this incident occurred," Roybal said. "Not only is this tragic for this young man's family, but for his friends that had to witness it."
It's unclear if the boy had ever visited the Duck Hill Springs home before.
The coroner confirmed Derion was living in Las Vegas, but the Clark County School District was unable to confirm whether the boy was enrolled in a valley school for the upcoming year.
It's also unclear how long the Duck Hill Springs family had owned the mixed-bred pit bull or whether anyone at the home will face charges. Roybal said the investigation is ongoing.
On Thursday, outside the home where the boy was attacked, a neighbor who knew the dog owner expressed her shock.
"It was a freak accident," she said. The woman, who asked not to be named, said her children have played with the same dog at the Duck Hill Springs home many times before, adding that the dog owner "didn't raise the dog to be mean or vicious."
"It can happen to anybody," she said. As for Derion's family, she added, "His family, at the end of the day, has to bury a grandson, a son. It's heartbreaking."
In the past five years, the county coroner's office has investigated three deaths involving a dog attack, including that of Derion.
In March 2015, a 79-year-old Pahrump man was attacked by three of his neighbor's pit bulls. Though the attack was in Nye County, the man was airlifted to Clark County's University Medical Center, where he died about a month later. The dog owner in that case was arrested after the attack.
In April 2012, a 1-year-old Henderson boy died from blunt-force injuries to the head and neck the night of his first birthday party during an accidental attack by his family's dog.
The family did not face charges, but a two-year legal battle ensued over whether the family's dog would be euthanized.
The dog, Onion, a mastiff-Rhodesian ridgeback, was released in January 2014 to the Lexus Project, an animal rights group based in New York.
Other dog attacks include a February 2015 incident in which a 65-year-old woman and her 69-year-old neighbor were attacked by four dogs; an October 2013 incident in which two children were attacked by a neighbor's bullmastiff and pit bull; and a December 2013 incident in which a woman was hospitalized after two pit bulls attacked her while she was walking her dogs. None of those attacks was fatal.
On Thursday evening, as the sun began setting behind the west valley mountains, an ice cream truck drove up Duck Hill Springs, its jingle playing as it passed the home where the little boy was mauled.
A group of three girls each bought a treat. Nearby, two boys zoomed by on bikes. And one family walked their dog.
Las Vegas Review-Journal writer Christian Bertolaccini contributed to this report. Contact Rachel Crosby at rcrosby@reviewjournal.com or 702-387-5290. Find @rachelacrosby on Twitter.