RJ recognizes top high school journalists in Clark County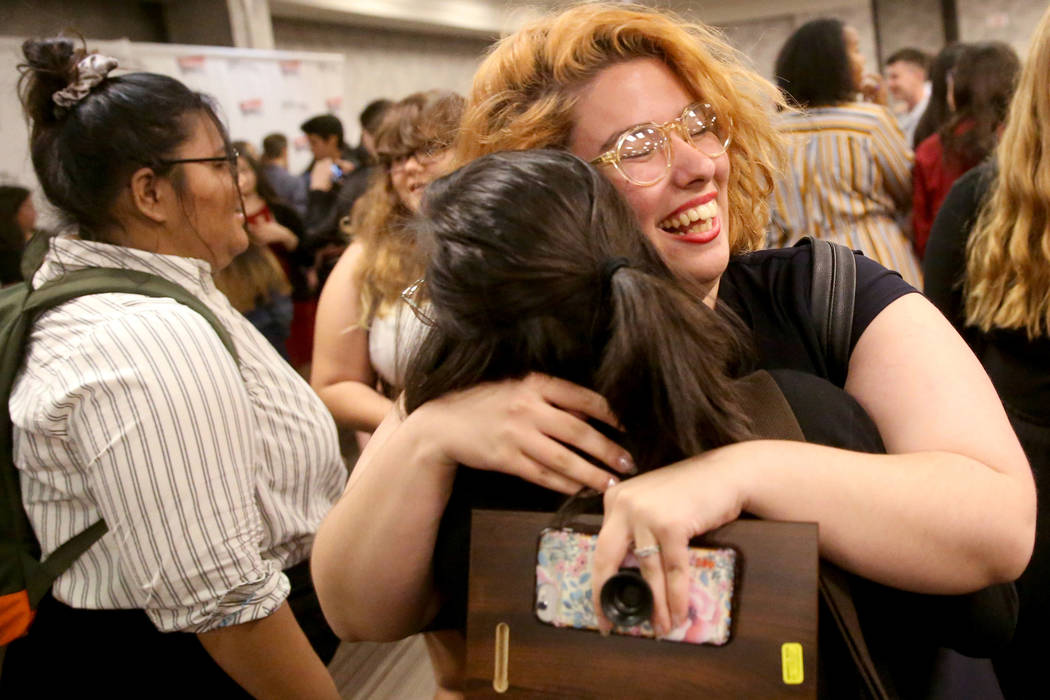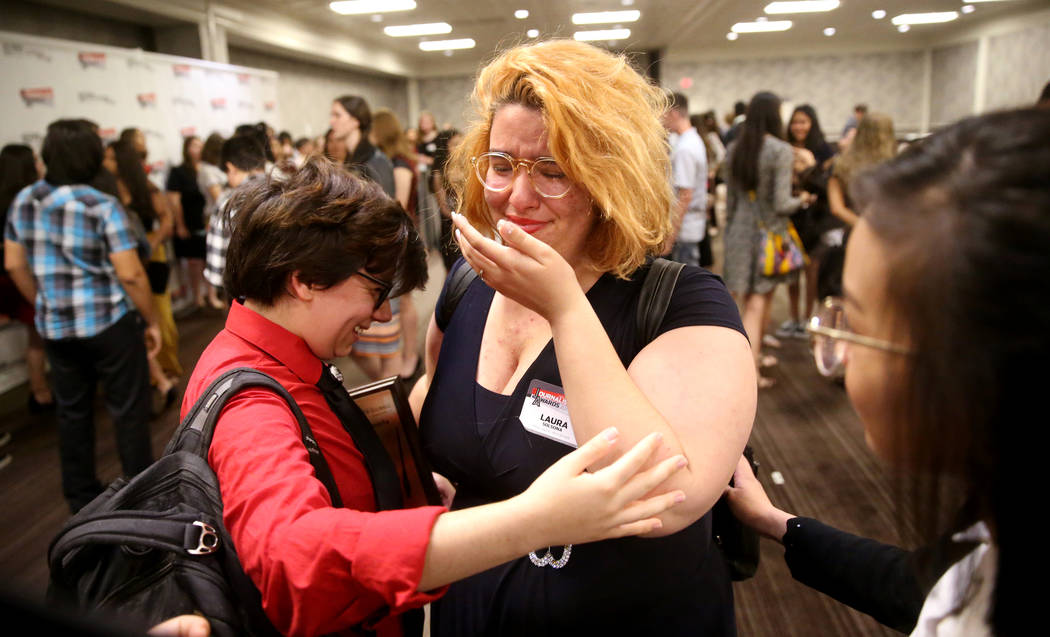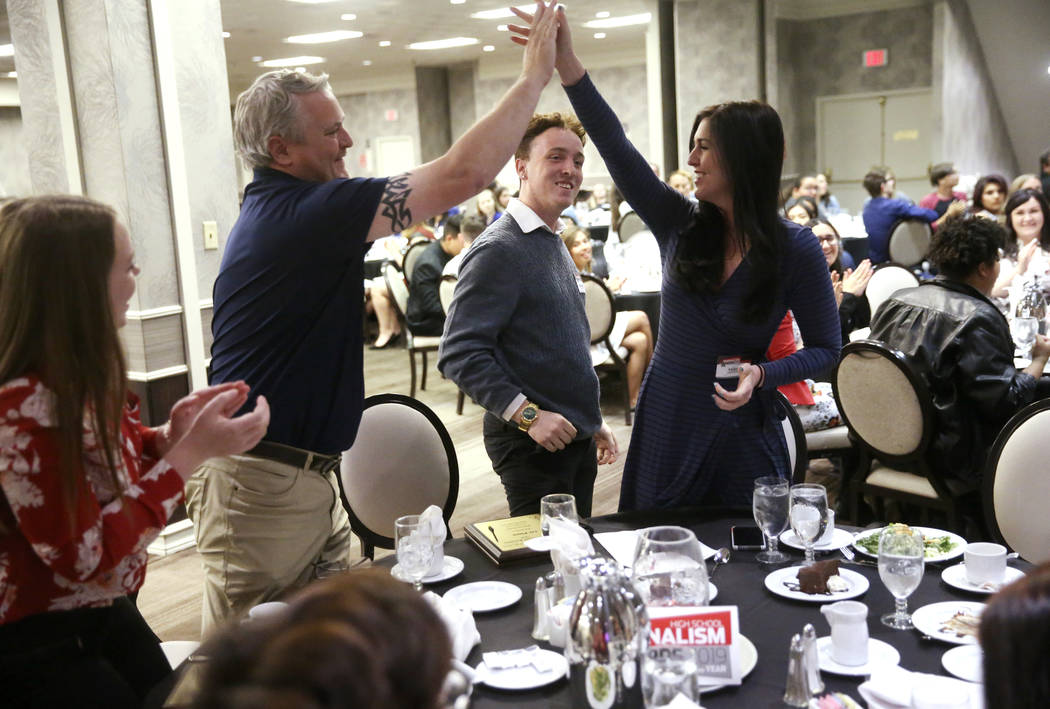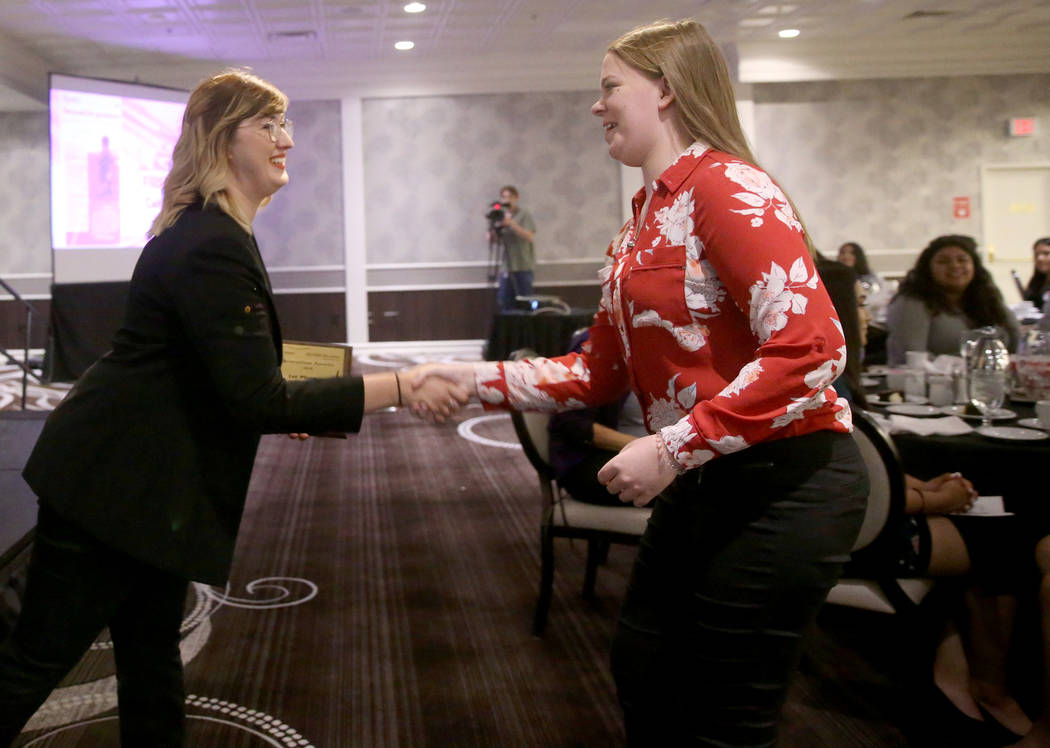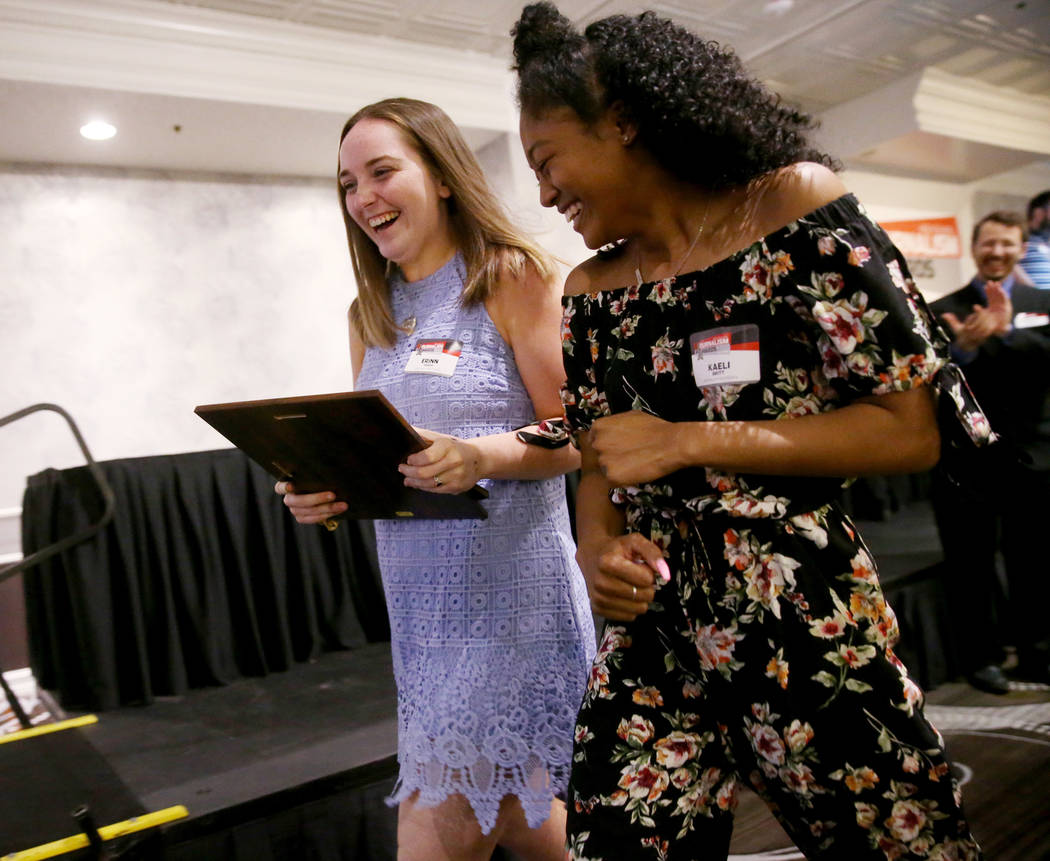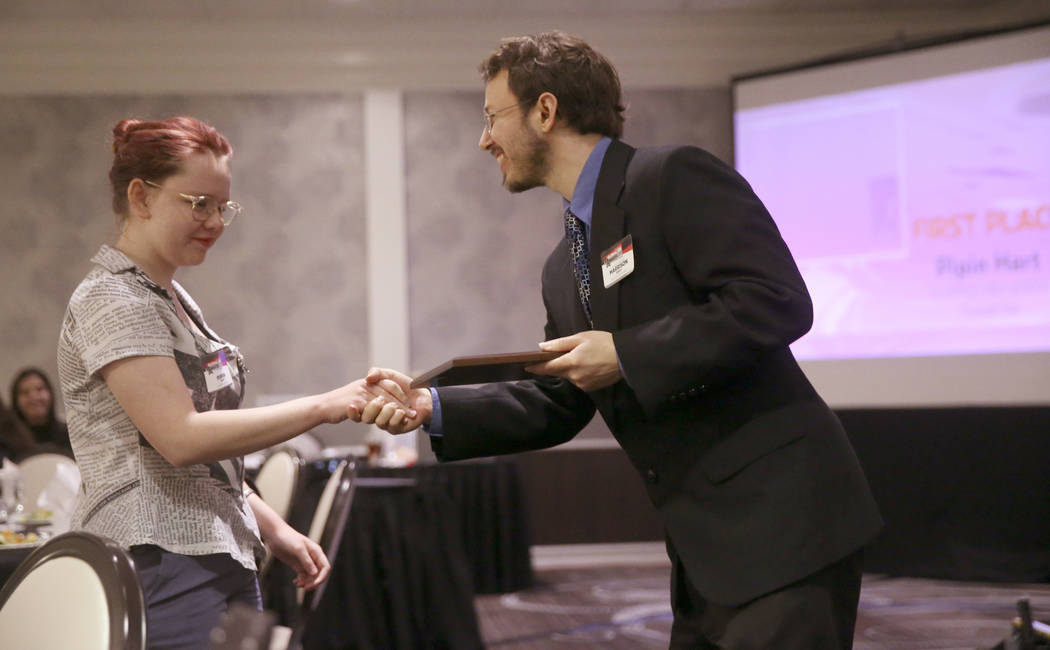 Students in Spring Valley High School's journalism program took the top honor at the 43rd annual Las Vegas Review-Journal High School Journalism Awards on Monday.
The staff of The Grizzly Growler, which was re-established four years ago, won the award for best standard-format newspaper, plus seven other first-place awards, three second-place awards and three third-place awards.
"To watch this grow from the ground up and get to this point, it's definitely shocking," Grizzly Growler Editor-in-Chief Donovan Souder said.
The Spring Valley senior has been part of the paper since his freshman year; he said previous editors-in-chief and the entire staff deserve credit for the wins.
"That's the quality part of our staff: Everyone gets along and works well together," said Souder, who took first place for headline writing and best sports feature. "… People stop us in the hall and thank us for our stories. It's so amazing; people really read what we write and they care about it. It's the best feeling."
Laura Solsona won best news story for an article about a program to improve test scores at Spring Valley, and Noa Ortega won for humorous opinion writing for a how-to guide for dealing with family during holiday breaks.
"This really solidified that this is what I want to do when I graduate," Solsona said.
As they clutched their awards, Ortega and Solsona excitedly announced that they'd never won first place in anything.
The staff of Green Valley High School's The InvestiGator won the award for best newspaper in the reduced-format category.
"There's a lot of pressure as EIC, because you're taking on the responsibility of being first again," Co-Editor-in-Chief Erinn Veach said, referencing previous years' wins.
The staff took home four other first-place awards, for best sports news story, best page one design, best news photo and best feature photo, along with four second-place awards.
Clark County School District Superintedent Jesus Jara, who attended the ceremony at Palace Station, commended the students for the work they put into reporting, editing, photography and design. He also acknowledged the advisers and teachers who oversee the programs.
"What I see here today is the best of both worlds, because you're going into the workforce or you're going into college," Jara said. "The skills you're learning here through this process are skills that will earn you money right out of high school while having the ability to pursue your college education."
Review-Journal Executive Editor Glenn Cook said that when the awards began, fewer than 10 high schools in Southern Nevada had journalism programs. Now, there are more than 40.
He said the future of journalism is in good hands.
"The quality of work produced by these students never ceases to impress our staff," Cook said. "There is terrific journalism taking place at high schools all over the valley, and we're proud to honor the best of the best every year."
Contact Max Michor at mmichor@reviewjournal.com or 702-383-0365. Follow @MaxMichor on Twitter.
Award winners
Best newspaper / standard format
1st Place – The Grizzly Growler, Spring Valley High School, Donovan Souder, Editor-in-Chief
2nd Place –The Mountain Lion Messenger, Sierra Vista High School, Arrah Glidewell, Elisha Martinez, Victorya Long, Kailah Vieira, Kaniala Franco, Braxton Simicich, ChrisLyn Mehrer
3rd Place – Sunrise Mountain Echo, Sunrise Mountain High School, Nidian Navarrete-Ramirez, Editor-in-Chief
Honorable Mention – Silverado Star, Silverado High School, Chaz Navarro & Zachary Johnston, Editors
Best newspaper / reduced format
1st Place – The InvestiGator, Green Valley High School, Kaeli Britt & Erinn Veach, Editors-in Chief
2nd Place – Hillside Hotwire, Foothill High School, Editors: Elly Davis and Kaylee Schwurack
3rd Place – Lone Wolf News, Basic Academy of International Studies, Kaitlin Graham, Editor-in-Chief
Honorable Mention – Accolades, Las Vegas Academy, Kloe Dougherty, Editor-in-Chief
Best news website
1st Place – Southwest Shadow, Southwest Career and Technical Academy
2nd Place – The Roar, Coronado High School
3rd Place – Maverick Pulse – Advanced Technical Academy
Honorable Mention –West Tech Times, West Career and Technical Academy
First Amendment
1st Place – Caitlin Gaddis, The Grizzly Growler, Spring Valley High School
2nd Place – Faith Evans, Eagle's Landing, College of Southern Nevada High School
3rd Place – Arrah Glidewell, The Messenger, Sierra Vista High School
Best editorial
1st Place – Southwest Shadow Editorial Board, Southwest Shadow, Southwest Career and Technical Academy
2nd Place – Sadie Hale, Kai Dixon, Malia Latham, Hillside Hotwire, Foothill High School
3rd Place – Southwest Shadow Editorial Board, Southwest Shadow, Southwest Career and Technical Academy
Honorable Mention – Ilana Rockwell, The Grizzly Growler, Spring Valley High School; The Roar Staff, The Roar, Coronado High School; Eagle's Landing Staff, Eagle's Landing, College of Southern Nevada High School
Opinion writing / Humorous
1st Place – Noa Ortega, The Grizzly Growler, Spring Valley High School
2nd Place – Sage Tippie, The Roar, Coronado High School
3rd Place – Faith Evans, Eagle's Landing, College of Southern Nevada High School
Honorable Mention – Pippin Hart, Silverado Star, Silverado High School
Opinion writing / Serious
1st Place – Victorya Long, The Mountain Lion Messenger, Sierra Vista High School
2nd Place – Kaylee Schwurack, Hillside Hotwire, Foothill High School
3rd Place – Caitlin Gaddis, The Grizzly Growler, Spring Valley High School
Opinion writing / Pro – Con
1st Place – Michelle Trajtman and Eli Duncan, Panther Print, Palo Verde High School
2nd Place – Noa Ortega and Jocelynn Estrada, The Grizzly Growler, Spring Valley High School
3rd Place – Kiara Thomson and Chaz Navarro, Silverado Starr, Silverado High School
Honorable Mention – Michelle Trajtman and Eli Duncan, Panther Print, Palo Verde High School
Best illustration
1st Place – Kalana Em, Sunrise Mountain Echo, Sunrise Mountain High School
2nd Place – Alex Estrada, The InvestiGator, Green Valley High School
3rd Place – Nikki Behjat, Crusader Chronicle, Faith Lutheran High School
Honorable Mention – Paris Saint-Marc, West Tech Times, West Career and Technical Academy
Best informational artwork
1st Place – Amanda Masek, Southwest Shadow, Southwest Career and Technical Academy
2nd Place – Amanda-Joy Lee, The Roar, Coronado High School
3rd Place – Elly Davis, Hillside Hotwire, Foothill High School
Honorable Mention – Jason Park, Maverick Pulse, Advanced Technologies Academy
Best editorial cartoon
1st Place – Kassidy Weber, The Roar, Coronado High School
2nd Place – Kalana EM, Sunrise Mountain Echo, Sunrise Mountain High School
3rd Place – Nubar Urfalyan, The Grizzly Growler, Spring Valley High School
Honorable Mention – Emily Anderson, Eagle's Landing, College of Southern Nevada High School
Best sports news story
1st Place – Erinn Veach, The InvestiGator, Green Valley High School
2nd Place – Donovan Souder, The Grizzly Growler, Spring Valley High School
3rd Place – Jenna Riccardi, The InvestiGator, Green Valley High School
Honorable Mention – Mecca Smith and Kiara Thomson, Silverado Star, Silverado High School
Best sports feature
1st Place – Donovan Souder, The Grizzly Growler, Spring Valley High School
2nd Place – McKayla Gardiner, Hillside Hotwire, Foothill High School
3rd Place – Zack Jackson and Bailey Trodahl, Hillside Hotwire, Foothill High School
Honorable Mention – Vivien Liebhardt, The InvestiGator, Green Valley High School; Matthew Eskridge, The Roar, Coronado High School; Gabriella Ghasserani, The InvestiGator, Green Valley High School
Best news story
1st Place – Laura Solsona, The Grizzly Growler, Spring Valley High School
2nd Place – Abigail Miller, Silverado Star, Silverado High School
3rd Place – Grinesa Bajrami, Southwest Shadow, Southwest Career Technical Academy
Honorable Mention – Elisha Martinez, The Mountain Lion Messenger, Sierra Vista High School
Best news feature story
1st Place – Lizbeth Juarez, Rodsheanna Lewis, Ericka Soliman, Sunrise Mountain Echo, Sunrise Mountain High School
2nd Place – Andrew Ochoa, Panther Print, Palo Verde High School
3rd Place – McKenna Bartuli, Danee Rojas, Chynna Whittacker, Brooke Gorman, Willow Seymour,
Emma Thom, Kloe Dougherty, Vivian Wu, Accolades, Las Vegas Academy
Honorable Mention – Rodssheanna Lewis, Sunrise Mountain Echo, Sunrise Mountain High School
Best feature story
1st Place – Southwest Shadow Editorial Board, Southwest Career and Technical Academy
2nd Place – Kaeli Britt, The InvestiGator, Green Valley High School
3rd Place – Isabel Hillers and Nubar Urfalyan, The Grizzly Growler, Spring Valley High School
Honorable Mention – Vivian Wu, Accolades, Las Vegas Academy
Best entertainment story
1st Place – Rehya Corral, Hillside Hotwire, Foothill High School
2nd Place – Isabel Hillers, The Grizzly Growler, Spring Valley High School
3rd Place – Ana Saia, The Oasis Review, Desert Oasis High School
Best review
1st Place – Pipin Hart, Silverado Star, Silverado High School
2nd Place – Kieran Armstrong, Maverick Pulse, Advanced Technologies Academy
3rd Place – Katherine Alexander, Accolades, Las Vegas Academy
Honorable Mention – Jessica Cabrera, The Grizzly Growler, Spring Valley High School
Best Page One design / standard format
1st Place – ChrisLyn Mehrer, The Mountain Lion Messenger, Sierra Vista High School
2nd Place – Caitlin Gaddis, The Grizzly Growler, Spring Valley High School
3rd Place – Zachary Johnston, Taylor Finelli, Silverado Star, Silverado High School
Honorable Mention – Caitlin Gaddis, The Grizzly Growler, Spring Valley High School
Best Page One design / reduced format
1st Place – Kaeli Britt, The InvestiGator, Green Valley High School
2nd Place – Angelica Velazquez, Danny Leonard, Kimberly Hernandez, Eye of the Tiger, Bonanza High School
Best sports page design / standard format
1st Place – Caitlin Gaddis, The Grizzly Growler, Spring Valley High School
2nd Place – Abril Rodriquez, Sunrise Mountain Echo, Sunrise Mountain High School
Best sports page design / reduced format
1st Place – Dain Bagley, Eagle's Landing, College of Southern Nevada High School
Best features, arts or entertainment page design / standard format
1st Place – Nidian Navarette-Ramirez, Leticia Gonzalez, Sunrise Mountain Echo, Sunrise High School
2nd Place – Kiara Thomson, Taylor Finelli, Silverado Star, Silverado High School
Best features, arts or entertainment page design / reduced format
1st Place – Elly Davis, Hillside Hotwire, Foothill High School
Best copy editing
1st Place – Emerald Green, The Roar, Coronado High School
2nd Place – Kaeli Britt, The InvestiGator, Green Valley High School
3rd Place – Hana Helfand, The Grizzly Growler, Spring Valley High School
Honorable Mention – Faith Evans, Eagle's Landing, College of Southern Nevada High School Shae Turner and Holly Edgington, Crusader Chronicle, Faith Lutheran
Best headline
1st Place – Donovan Souder, The Grizzly Growler, Spring Valley High School
2nd Place – Kori Shalmy, Silverado Star, Silverado High School
3rd Place – Taylor Finelli, Silverado Star, Silverado High School
Honorable Mention – Faith Evans, Eagle's Landing, College of Southern Nevada High School
Best advertisement
1st Place – Karlie Barton, Eagle's Landing, College of Southern Nevada High School
2nd Place – Faith Evans, Eagle's Landing, College of Southern Nevada High School
3rd Place – Elly Davis, Hillside Hotwire, Foothill High School
Best sports photo
1st Place – Caitlin Gaddis, The Grizzly Growler, Spring Valley High School
2nd Place – Hailey Gross, The InvestiGator, Green Valley High School
3rd Place – Shayne Saragosa, Crusader Chronicle, Faith Lutheran
Honorable Mention – Arrah Glidewell, Messenger, Sierra Vista High School
Best news photo
1st Place – Jakob Reber, The InvestiGator, Green Valley High School
2nd Place – Hailey Gross, The InvestiGator, Green Valley High School
3rd Place – Arrah Glidewell, Messenger, Sierra Vista High School
Honorable Mention – Kyle Bayudan, Southwest Shadow, Southwest Career and Technical Academy
Best feature photo
1st Place – Brynne Hilton, The InvestiGator, Green Valley High School
2nd Place – Nadia Pane, West Tech Times, West Career and Technical Academy
3rd Place – Zack Jackson, Hillside Hotwire, Foothill High School
Honorable Mention – Brynne Hilton, The InvestiGator, Green Valley High School
Best photo illustration
1st Place – Paul Jacob Barney, West Tech Times, West Career and Technical Academy
2nd Place – Elly Davis, Hillside Hotwire, Foothill High School
3rd Place – Lea Jensen, Eagle's Landing, College of Southern Nevada High School
MOST VALUABLE STAFFERS 2018-19
Advanced Technologies Academy – Kahlin Lindholm
Basic Academy of International Studies – Kaitlin Graham
Bonanza High School – Danny Leonard
College of Southern Nevada H.S. – Faith Evans
Coronado High School – Emerald Green
Desert Oasis High School – Ana Saia
Faith Lutheran High School – Shae Turner
Foothill High School – Elly Davis
Green Valley High School – Kaeli Britt
Las Vegas Academy of the Arts – Kloe Dougherty
Sierra Vista High School – Arrah Glidwell
Silverado High School – Chaz Navarro
Southwest Career and Technical Academy – Shareen Basyari
Spring Valley High School – Donovan Souder
Sunrise Mountain High School – Nidian Navarrete
The Meadows School – Minahil Tufail
West Career and Technical Academy – Yani Hadzhiev