Suen vs. Las Vegas Sands headed to second Supreme Court hearing
January 26, 2016 - 4:00 am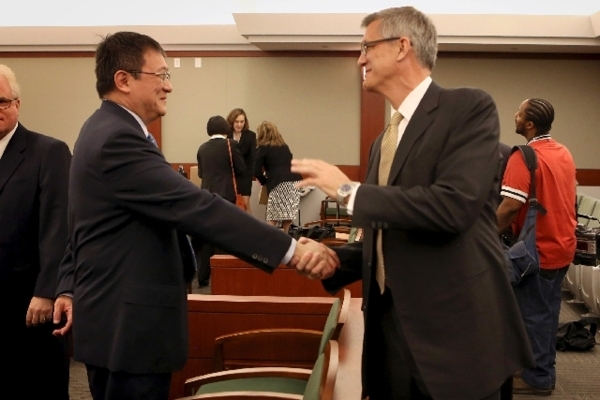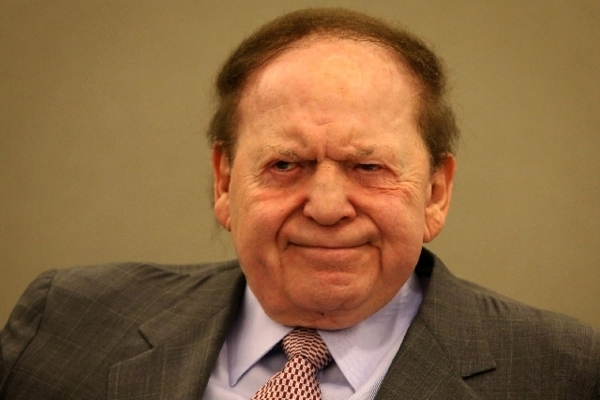 The behind-the-scenes dealing that allowed Las Vegas Sands Corp. to enter the lucrative Macau casino market will be the subject of a Nevada Supreme Court hearing Tuesday — the second time in almost six years that justices have considered the matter.
At the start of arguments on Richard Suen's 12-year-old case against the casino company, the Hong Kong businessman will be owed around $115 million by Las Vegas Sands. The award — resulting from two Clark County District Court judgments, the first of which was vacated by the Nevada Supreme Court in 2010 — is subject to court fees and interest has accrued at 5.25 percent since the case's filing in October 2004. The bill grows by $8,400 per day until the judgment is paid or overturned.
It's one of the longest continuing cases in the county's court system.
"It's unusual because most cases that have lasted this long usually settle," said University of Nevada, Las Vegas Boyd School of Law professor Jean Sternlight, who is also director of the school's Saltman Center for Conflict Resolution.
Renowned Harvard University law professor Alan Dershowitz is expected to handle the Las Vegas Sands appeal. All seven justices are scheduled to hear the case at 11:30 a.m at the Regional Justice Center in Las Vegas.
The Suen lawsuit, which involves his role in Las Vegas Sands gaining a Macau license, transcends a business dispute in China. The world's largest gaming market produced a record $45.2 billion in gaming revenue in 2013 and now accounts for nearly 60 percent of Las Vegas Sands' annual net revenue and 66 percent of the company's annual profits. In the dozen years since winning gaming licenses there, Sands has come to dominate the market through ownership of Sands Macau, Venetian Macau, Sands Cotai Central and the Four Seasons Macau. When the $2.7 billion The Parisian opens later this year, the company will control more than 13,000 hotel rooms there. (Las Vegas Sands operates The Venetian, Palazzo and the Sands Expo and Convention Center in Las Vegas.)
The first trial had reverberations in Macau. Analysts said Beijing authorities weren't pleased that the head of legal affairs for Macau's gaming commission and other officials had to travel across the world to testify on behalf of Las Vegas Sands, according to Review-Journal reports. Insiders speculated that government-imposed visa restrictions on travel by mainland China residents to Macau in late 2008 and early 2009 were retaliation for the inconvenience.
Former Las Vegas Sands President Bill Weidner testified in 2013 that the first trial "was injurious to (the company's) relationships in China." He also said the case never should have gone to trial.
Attorneys representing Las Vegas Sands have long argued that Suen "did virtually nothing" to help the casino company earn a Macau gaming license.
Two Clark County juries have disagreed. They found in favor of Suen, whose attorneys argue that relationships he forged with Chinese government and business officials were key to Las Vegas Sands' licensing efforts.
In 2008, after a 29-day trial, Suen was awarded $43.8 million. At the conclusion of a 33-day retrial of the same case in 2013, another jury awarded Suen $70 million.
The Supreme Court vacated the first verdict because of the amount of hearsay evidence Suen's attorneys put into the record. Legal experts who reviewed the 18-page unpublished order at the time said the justices left intact most the trial's evidence, and the court hinted the sides should work toward settling.
Sternlight said observers shouldn't read too much into Suen's two wins at the District Court level. In the first trial, jurors voted 7-1 to award Suen damages as high as $100 million. Jurors averaged their individual assessments to come up with the amount. In the second trial, a majority of the panel wanted to award Suen $125 million but settled on the $70 million to reach consensus.
"It does make it look like the plaintiff has a stronger case on the merits, and it does look like the defendant doesn't want to pay the judgment," Sternlight said. "To the defendant, it's worth a shot on appeal, although the likelihood of success might not seem too high."
Settlements have not been discussed since Suen sued, however, and Las Vegas Sands Chairman and CEO Sheldon Adelson, whose family owns the Review-Journal, has twice testified that Suen deserves nothing.
Hong Kong native
Settlement isn't in Las Vegas Sands vocabulary when it comes to Suen, a Hong Kong native whose business interests have included real estate, toy making and importing power cable and computers into China. He claims to be owed $328 million for using his influential contacts in China to introduce Las Vegas Sands to government officials, leading to the award of the gaming license.
Current and and former company executives testified in both trials that Suen wasn't responsible for the company's grant of a sub-concession by the Macau government, though they also have said they offered to pay him for his efforts before he sued.
Exactly what Suen did to help Sands win that license has been in dispute ever since, but the arguments have changed little through two trials.
The Las Vegas Sands appeal of the 2013 judgment lists more than a dozen reasons why it should be overturned. Among them: The judgment was "based on a legal theory" waived by Suen's now-inactive business, Round Square Company Ltd., in the 2010 appeal.
"In this case, a dormant corporation having no full-time employees or documented business operations obtained a $100 million judgment for allegedly arranging two meetings with Chinese officials that purportedly caused the government of Macau to issue a gaming sub-concession to Las Vegas Sands," attorneys wrote.
"The corporation … received this massive recovery even though the individuals who allegedly conceived and set up the meetings had no legal relationship with (Suen) and even though (Suen) expended no corporate resources in assisting Las Vegas Sands," according to the filing.
Las Vegas Sands attorneys also contend District Judge Rob Bare made several errors during the 2013 trial, including "not properly instructing the jury on the requirements for establishing liability" and measuring the recovery in a judgment.
Suen's lawyers counter that the $70 million award in the second trial "was not precluded" by the justices' order following the 2010 appeal, which was handed down under the legal theory known as quantum meruit, which sets a value on the work even without a signed deal.
Suen and his associates testified they set up meetings with top Chinese government officials in July 2001. Those talks led to a phone call from Adelson, a major Republican Party donor, to then-House Majority Leader Tom DeLay, R-Texas, to ask for help in blocking a nonbinding congressional resolution asking the U.S. Olympic Committee to oppose awarding the 2008 Olympics to Beijing. The vote never happened. China won the Olympics.
Suen's attorneys said the call to DeLay was viewed as a "no strings attached" favor for the Chinese government. Adelson, however, testified that it had zero influence. Either way, Weidner has testified that Sands took credit when dealing with Chinese officials in the United States.
"The jury was entitled to infer that (Suen's) strategic advice successfully positioned Las Vegas Sands' license bid to align with the Chinese government's position for Macau," Suen's attorneys wrote in the Supreme Court response, which also argues that Bare "did not commit error, much less reversible error" in the trial.
"Much of the evidence is undisputed and, where factual controversies exist, substantial evidence supports inferences in favor of (Suen)," wrote his attorneys. "The verdict amount is well within the uncontested range of valuation of the compensation formulas agreed between the parties. Las Vegas Sands has received a full and fair adjudication, and that is where this case should end."
Former Portuguese colony
In recent years, Macau's casino industry has been slowed by the troubled Chinese economy and government reform programs that crushed the high-end gambling business. The market fell to a five-year low in 2015, with casino revenue down 34.3 percent from 2014. But it still means big money for the gaming company, headquartered in Las Vegas. Adelson says the Macau market is recovering.
The long-running lawsuit has roots in the reversion of the former Portuguese colony, a short ferry ride from Hong Kong, which became a Special Administrative Region of China on New Year's Day 2000. The opening of Macau for foreign investment set off a heated bidding process that ended when Las Vegas Sands and five other companies were granted gaming licenses in 2004.
According to trial testimony, Las Vegas Sands offered Suen $5 million plus 2 percent of the then-planned Sands Macau's gaming revenue. Suen, who once sold hotel supplies to The Venetian, also was offered a chance to earn $100 million by overseeing a goods and services procurement for the casino.
Weidner testified in 2008 that Suen could have earned a consulting fee of $400,000 for a year's work, but a payment was never sought or offered.
In the first trial, Adelson's attorney told jurors in the opening statement the billionaire suffered from a rare neurological disorder that caused him to have severe pain down his side, that Adelson was on painkillers for much of the year and that his senior management handled day-to-day affairs, including dealings with Suen.
When asked about the medical condition during his testimony, Adelson said he didn't think his illness was enough of a material nature to file a public disclosure with the Securities and Exchange Commission.
"I guess (the Sands general counsel) could have filed something that said, 'Dear Public: Our chairman is a little cuckoo,'" Adelson testified.
In the 2013 trial, Adelson was combative and nearly caused a mistrial when he brought improper evidence to the witness stand. But his testimony was the same as six years earlier: His brother, Leonard Adelson, brought Suen to the company in mid-2000, but Suen's help was unnecessary.
Weidner testified in both trials, albeit under different circumstances. In 2008, Weidner was the company's No. 2 executive. A year later, he was fired by Adelson after months of internal battles.
In both trials, Weidner testified Suen deserved some type of compensation for his efforts, although not $328 million.
A second trial over how Las Vegas Sands obtained its Macau gaming license was averted in June 2009 when the company paid three men who claimed to have helped in the process $42.5 million to drop their lawsuit.
Suen's attorneys wrote in their Supreme Court brief that Las Vegas Sands "recognized" his work.
"Only after adverse judgment did Las Vegas Sands contend, for the first time, that this Court's reversal of the first judgment somehow precluded a quantum meruit claim," they said.
Dershowitz has familiarity with the case. In 2013, he argued unsuccessfully to bar cameras from the courtroom during Adelson's testimony, saying video and still images of the billionaire on the witness stand would threaten his security.
In a phone interview Monday, Adelson wanted to reiterate three points about the case. Las Vegas never received a concession from the government, only a sub-concession that it received for free from Hong Kong-based Galaxy Entertainment, another casino operator. Also, the Chinese government did not interfere in the process and Suen's company, Round Square, did not have any standing in the case.
"I don't settle cases in which I am right," Adelson said.
Adelson said the judge in the second trial "did not tell the jury that they were required to make a decision based upon evidence, presumably because there was no evidence submitted whatsoever."
He said Suen offered zero witnesses or documents and based the case on a "hypothetical that the central government in Beijing circumvented the basic law between China and Macau."
In an email, Suen's attorney, John O'Malley of Los Angeles, said, "We will be addressing these issues tomorrow [Tuesday] in argument. Suffice it to say that the juries got it right — twice."
— Contact reporter Howard Stutz at hstutz@reviewjournal.com or 702-477-3871. Follow @howardstutz on Twitter.