Fallen North Las Vegas officer honored in Nevada capital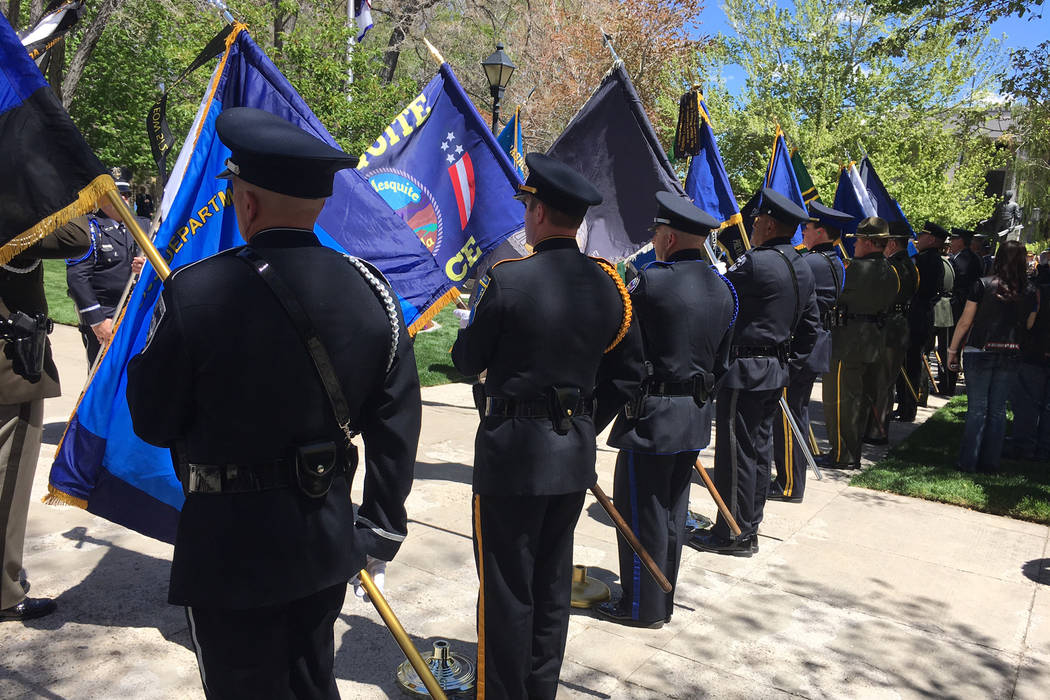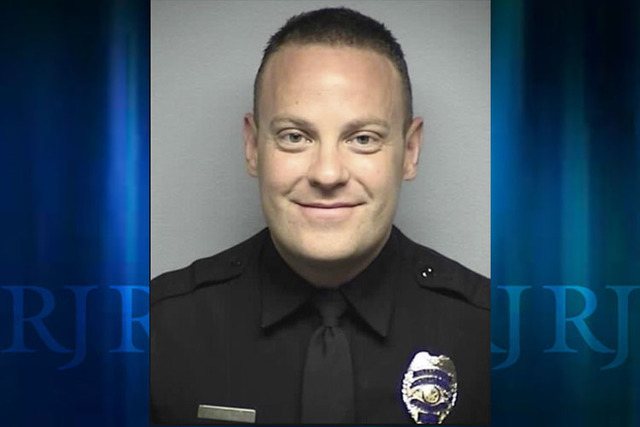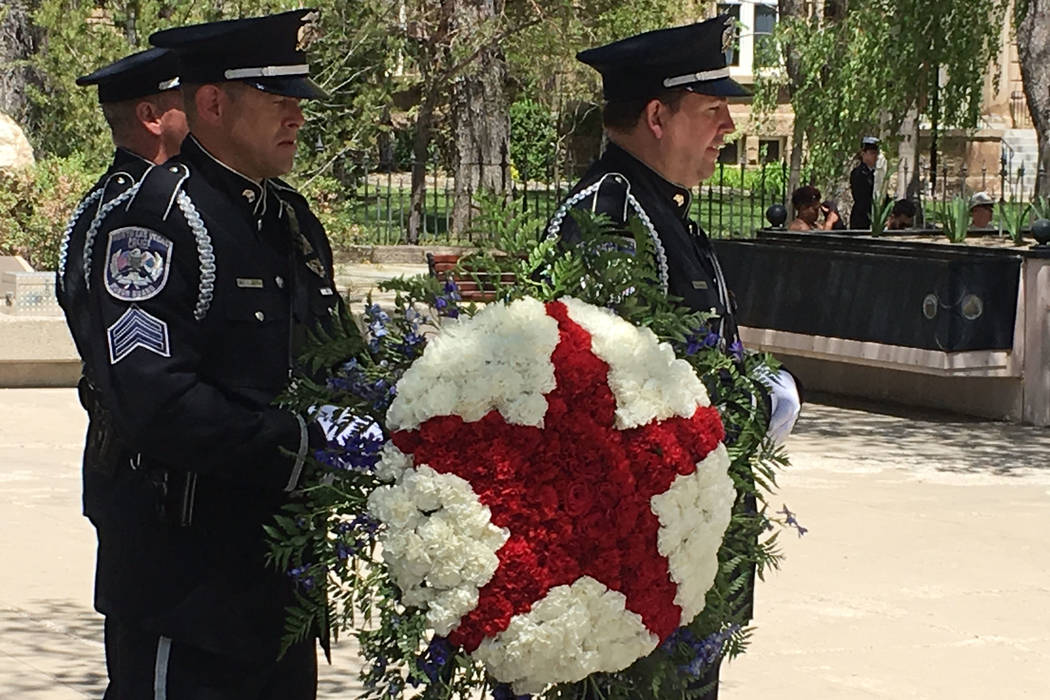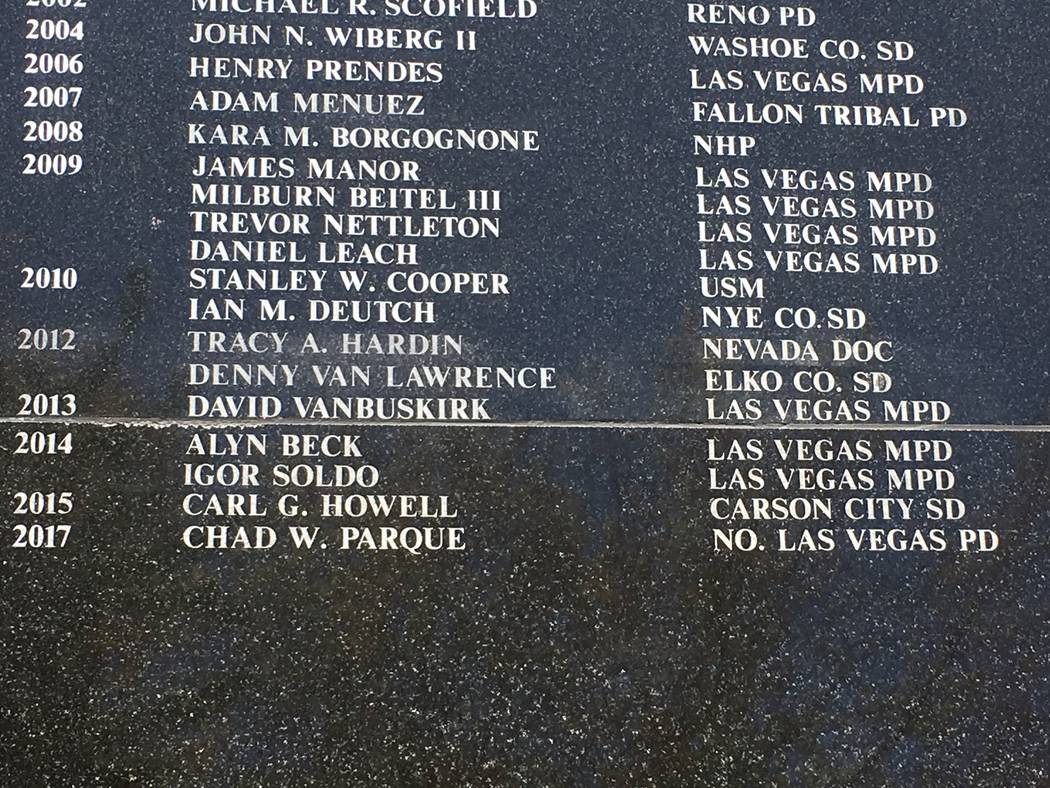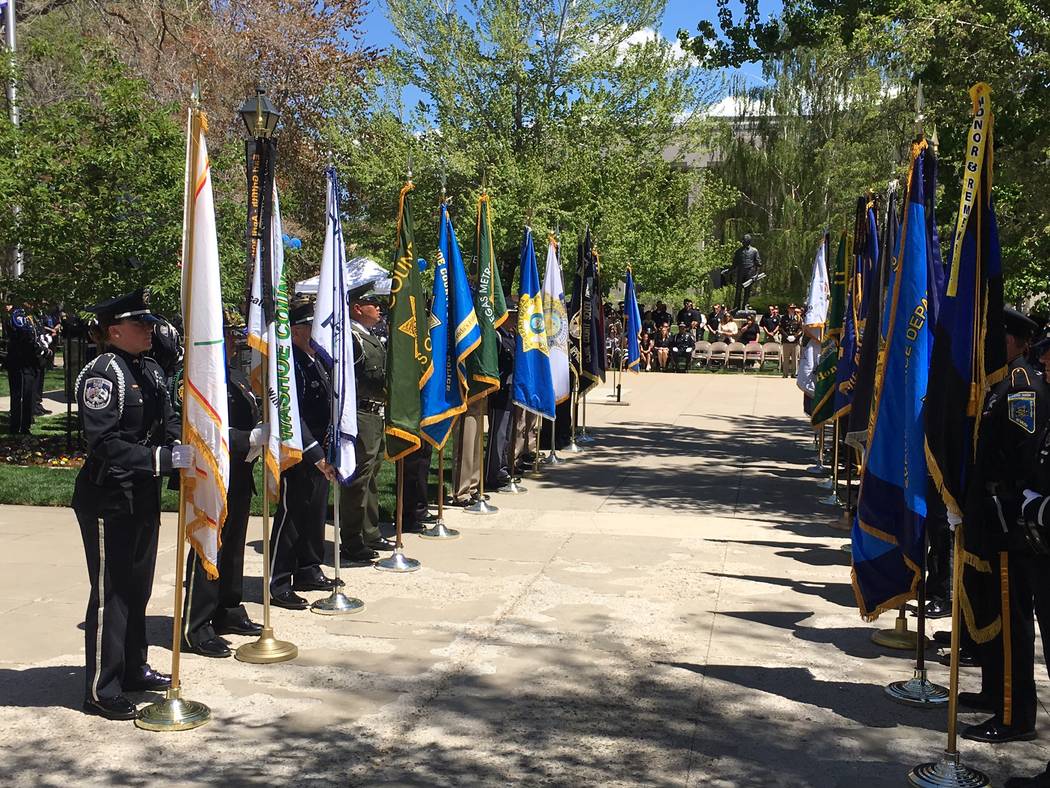 CARSON CITY — Fallen North Las Vegas police detective Chad Parque was honored Thursday in a somber ceremony marking the 130th name to be added to the Nevada Law Enforcement Officer Memorial on the state Capitol grounds.
Parque died from his injuries on Jan. 7 after being hit in a head-on auto crash and he was remembered at the 20th annual memorial ceremony for law enforcement officers who have died in the line of duty.
The Thursday ceremony included the presentation of the colors, bag pipes and a 21-gun salute.
Scores of officers from law enforcement agencies from around the state, wearing their dress uniforms, participated in the ceremony which culminated with the laying of a wreath on the memorial.
Gov. Brian Sandoval was among the dignitaries attending the ceremony. Sandoval ordered flags flown at half-staff in honor of the fallen officers.
While he said he did not know Parque personally, Sandoval said he learned that Parque loved serving his community and baseball, and only his love for his family ranked higher.
Law enforcement officers go out every day not knowing how the day may play out, he said.
"The most ordinary days can call for the most extraordinary actions," Sandoval said.
Many state lawmakers, on a brief break from their legislative duties also attended on a warm spring day on the mall.
Nevada lawmakers in February memorialized Parque during a ceremony at the Legislature.
Assembly Concurrent Resolution 3, sponsored by all 63 members, was approved after lawmakers in both the Assembly and Senate spoke about Parque's service.
The resolution detailed Parque's life and how the Cheyenne High School graduate enrolled in the Las Vegas Metropolitan Police Department's Law Enforcement Explorer Program to further his goal of becoming a police officer.
Parque was promoted to detective on July 23, 2016, and assigned to the Property Crimes Division.
Last year the focus was on Carson City was Deputy Carl Howell, who died Aug. 15, 2015 when he was shot and killed responding to a domestic violence incident in the capital city.
Between November 1861 and Jan. 7, 2017, 130 law enforcement officers have died in the line of duty in Nevada.
Contact Sean Whaley at swhaley@reviewjournal.com or 775-461-3820. Follow @seanw801 on Twitter.
Related
State lawmakers honor life of North Las Vegas police officer Chad Parque
North Las Vegas officer killed in crash fulfilled his law-enforcement, personal dreams
Route revealed for funeral procession for fallen North Las Vegas police officer
Hundreds gather for vigil to honor North Las Vegas police detective who died in crash
Funeral services set for fallen North Las Vegas police officer
Police remember fallen colleague, meet community at Law Enforcement Appreciation Day in Las Vegas