NTSB releases detailed reports on crash that killed 9
Updated January 27, 2023 - 5:46 pm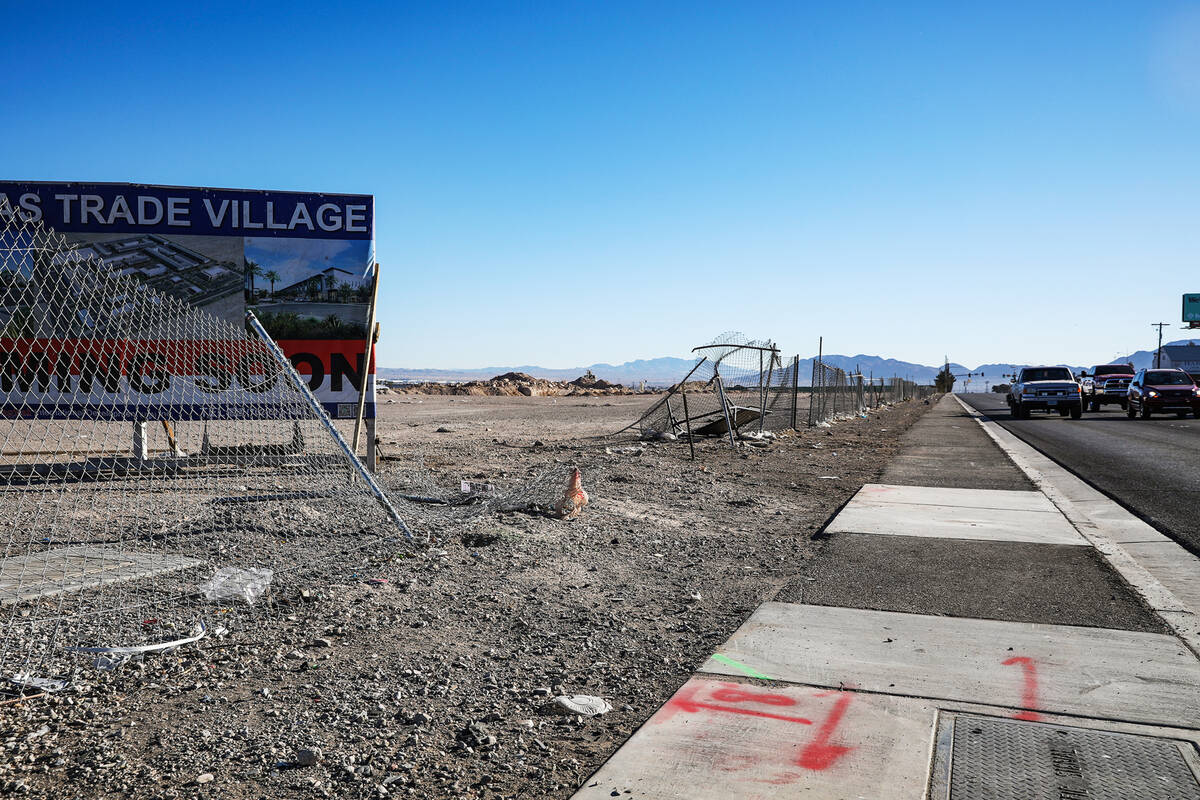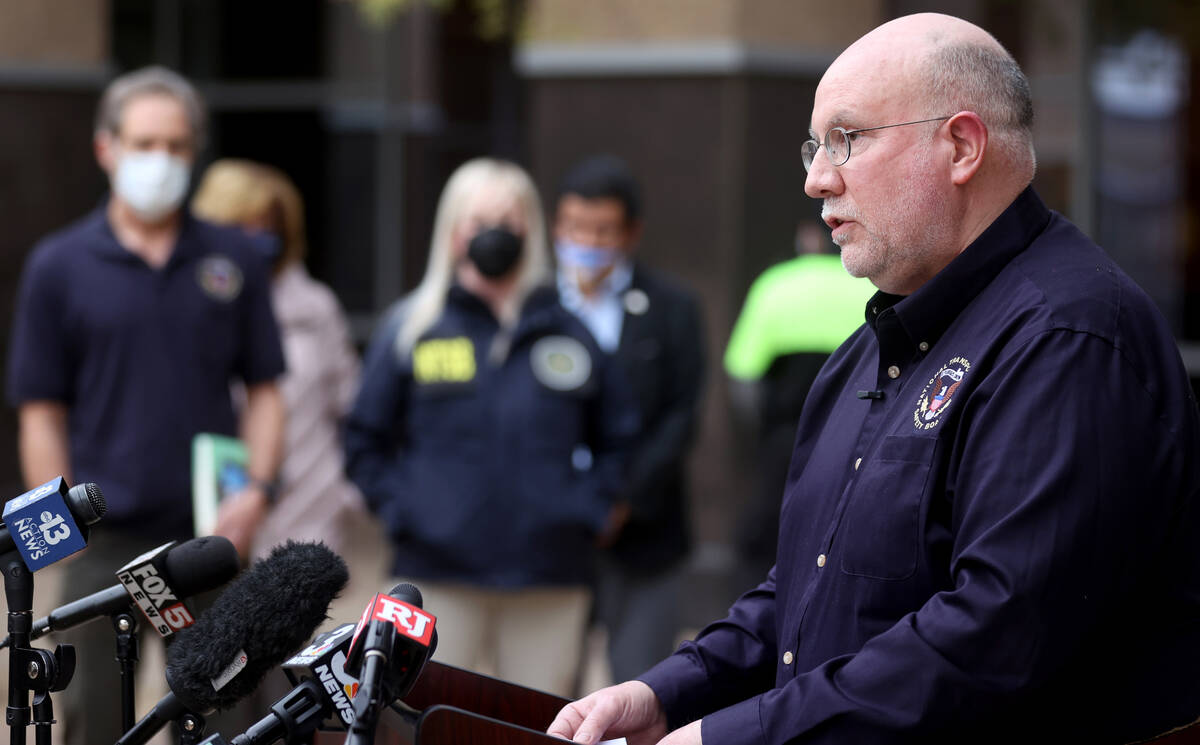 A man who drove over 100 mph through a North Las Vegas intersection last year had paid off two speeding tickets a month before causing a crash that killed nine people, including himself, according to a federal investigative report released Thursday.
The National Transportation Safety Board released investigative documents Thursday on the Jan. 29, 2022, six-vehicle crash, including 318 pages of call logs, interviews, photos of mangled vehicles, driving records and a copy of Southern Nevada fire departments' procedure for mass casualties.
Gary Dean Robinson, 59, ran a red light at Commerce Street and Cheyenne Avenue while driving his Dodge Challenger 103 mph. The speed limit on Commerce is 35 mph.
Robinson and his passenger, Tanaga Ravel Miller, 46, both died. The Challenger slammed into a Toyota Sienna, killing seven people inside who were all from a single household.
The victims in the family's minivan were Fernando Yeshua Mejia, 5; Adrian Zacarias, 10; Lluvia Daylenn Zacarias, 13; Bryan Axel Zacarias, 15; Gabriel Mejia-Barrera, 23; David Mejia-Barrera, 25; and Jose Zacarias-Caldera, 35.
The documents made public on Thursday were shared with North Las Vegas police last month, according to federal investigators.
"The purpose of the technical review is to verify the accuracy and completeness of the factual information on which our analysis will be based," the safety board wrote in an email to the police department. "We are inviting factual comments only, not analytical comments or editorial suggestions."
The crash was the deadliest on a Nevada roadway since officials began keeping track in 1991.
Robinson's autopsy and toxicology reports showed that he had high levels of cocaine and PCP in his system we well as some alcohol. He had 2,700 nanograms per milliliter of the cocaine byproduct benzoylecgonine in his blood and 390 nanograms per milliliter of cocaine in his system, according to Clark County officials.
Screams from the road
Thursday's reports showed Zacarias-Caldera, who was behind the wheel of the Sienna, was not under the influence of any substance and was driving 43 mph on Cheyenne, which has a 50 mph speed limit.
Three other vehicles — a 2005 Chevrolet Malibu, 2016 Hyundai Tucson and a 2021 Mercedes GLE 350 — were all driving around or under the speed limit through a green light.
Tiffani May was injured in the crash when her Ford Fusion was hit by the minivan. May was the only person hospitalized at the scene who survived the crash, but in an interview on Feb. 3, she told investigators she did not remember witnessing the crash.
"All I can remember is thinking that I was going to die if I stayed there," she said, describing her car being pinned against a sign. "I just was hearing screams and cries, and I didn't know what else was going on. I just thought it was just me."
May was on the phone with her husband while driving to pick up furniture from someone who lived three blocks from her home. The driver's side of her Fusion was struck, and her dog, Magic, was hiding under her seat.
May suffered severe bruising from her seat belt, a fractured collar bone, a herniated disk in her neck, and a week after the crash, she told investigators she was suffering from headaches and back pain.
Only one survived
North Las Vegas Fire Capt. Gary Polk told federal investigators that he was trying to figure out who needed medical attention or hospitalization, but most of the victims died at the scene.
"We actually didn't have very many, of course, because we only had one that actually survived the event," Polk said.
Three children had been ejected from the van, and a paramedic identified only as Poliku described the moments he found one child who was still conscious.
"He was still crying and kind of grunting a little bit," Poliku said. "He was prone and he had some — I remember he had bruising to his back and, like, some road rash as well. So, he was critical for sure, especially knowing that he was ejected from the vehicle."
Robinson still had a pulse when first responders arrived, but he was not breathing, and they pronounced him dead at the scene.
"It was decided to leave the person in place for investigation because it was going to be an extensive extrication to get him, and there was obviously extensive amounts of trauma," a fire chief identified only as Campbell told investigators.
The first call to the North Las Vegas Police Department came in moments after the deadly wreck, when a person kept saying "it's bad," according to the dispatch logs included in the federal reports. The caller said that multiple people, including a child, were ejected from a vehicle, and that more than one vehicle had rolled over.
By 4:45 p.m., less than two hours after the collision, one "small child" had died at the scene, according to the logs, another died before he made it to University Medical Center, and a third child was talking at UMC and would later die.
Five hours later, a woman named Ebony Heathman asked police to call her. She said her brother, Gary Robinson, was involved in the crash.
Extensive speeding record
Robinson paid off two speeding tickets, on Dec. 9 and Dec. 28, according to the documents. The first citation was for speeding one to 10 mph over the speed limit in North Las Vegas, and the second was for speeding 16-20 mph over the speed limit in Las Vegas.
Crash investigators discovered the two recent speeding tickets because the receipts were in his car, according to the report. The investigators also noted that Robinson's driving record had no demerits for the past 10 years, though the recent tickets should have shown up.
"This ticket was also not reflected on his Official Nevada Driving Record nor had the 2 demerit points been assigned for this offense," NTSB wrote for the second violation.
A Review-Journal investigation last year found that local police had caught Robinson speeding at least five times since August 2020, at rates from 19 to 40 mph over the limit.
The violation from Dec. 9 was not disclosed to the Review-Journal during the investigation last year.
Federal investigators reviewed Robinson's 10-year driving record, which should have included speeding, driving under the influence, and failure to obey traffic control devices, but they found one moving violation and a speeding ticket from 2017 that resulted in a two-year license revocation.
Robinson was arrested twice after driving under the influence in Indiana. The first arrest was in 1984. Details on those cases were not provided in the federal report.
In Nevada, he was convicted five times of driving with a suspected license, three times for speeding and one time each for failing to signal, failing to obey traffic devices and driving without liability insurance, according to the report.
NTSB said that the documents released Thursday would be used to determine the cause of the crash, but officials did not have an estimated date on when the final report would be available.
A tree at Craig Ranch Regional Park is expected to be dedicated to the victims of the crash in a ceremony at 11 a.m. Sunday, which is the one year anniversary of the crash. May, who was referred to in a news release as Tiffani May Noel, is expected to speak at the dedication.
Contact Sabrina Schnur at sschnur@reviewjournal.com or 702-383-0278. Follow @sabrina_schnur on Twitter. Contact David Wilson at dwilson@reviewjournal.com. Follow @davidwilson_RJ on Twitter.