Commercial development heats up around 215 'curve' in southwest Las Vegas
August 22, 2017 - 9:09 am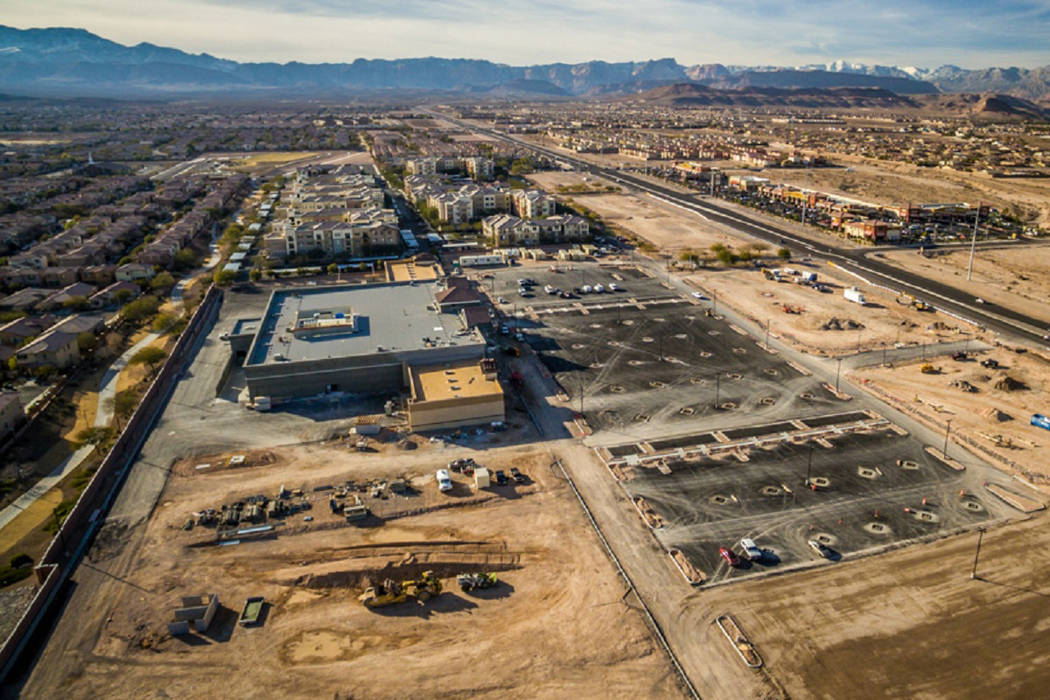 "The curve" is where everyone wants to be.
Developers and retailers are again flocking to the section of the 215 Beltway near South Durango Road that was stunted by the recession, and other developers in the area are following suit.
"What's happening in the southwest now is what was happening in 2005 or 2006," said David J. Tina, president of the Greater Las Vegas Association of Realtors. "Not in a bad way, in a positive way."
The areas of the Southwest and Henderson along the Beltway is advantageous for developers because of its visibility, Tina said.
"It's a great place to have a commercial space becase you have people that are passing it all day, every day" on their way to work between Summerlin and Green Valley. GLVAR headquarters are also moving to a spot between Sunset and South Rainbow Boulevards, from the association's location on East Sahara Avenue. Tina said it reflects the increasing number of members who live and work near that area.
Walker Furniture is scheduled to break ground next to rival furniture dealer Ikea, near Durango and Sunset Road, within two months, according to Walker marketing director Patti Gerace. It will be about a year before the store opens.
The company chose to build there because of the area's "tremendous" growth, Gerace said. And Walker is not concerned about competing with Ikea for customers.
"They're a totally different market than ours … We actually will benefit off of each other," Gerace said.
At Durango and West Post Road is a retail development set to break ground this month, the 5-acre Durango Post Pavilion. It is set to have 30,000 square feet of retail, including a Green Valley Grocery.
"I think the southwest is booming with a lot of new residential developments, and commercial real estate typically follows residential development," said Remington Nevada broker Tom Fehrman, who represents the property.
Remington Nevada also represents the Mountains Edge Marketplace, a 25-acre commercial development at Blue Diamond Road and South Buffalo Drive, which is anchored by Albertsons.
Tenants already have signed lease agreements for the property's unbuilt structures, Fehrman said, though he declined to name them, citing nondisclosure agreements in the leases.
"There's a lot of pent-up demand out there," he said.
Health care providers are moving into the area, too.
Dignity Health opened a 27,000-square-foot hospital in Enterprise, near South Decatur Boulevard and Blue Diamond Road on July 24. University Medical Center will open an urgent-care facility across the street in the Blue Diamond Ranch Shopping Center by the end of 2017, UMC spokeswoman Danita Cohen said in an email. Cohen told the Review-Journal in January that the facility expects to serve more than 90 patients a day.
Despite all this growth, Tina said, the southwest still lacks a focal point.
"It needs a Downtown Summerlin. I'd be reluctant to say it needs a casino, but it needs a hub," Tina said. Nonetheless, Tina believes that the curve is "going to blow up commercially," within the next three years.
"They'll fill in that space and it's going to be the hub for the southwest," Tina said.
Contact Madelyn Reese at mreese@viewnews.com or 702-383-0497. Follow @MadelynGReese on Twitter.
Housing trends
The percentage of single-family homes on the market for one month or less climbed to 67 percent in July from 57 percent a year earlier. The median price of new homes also increased to $274,000 from $250,000 in the same time.
Condo and townhouse units are also moving quickly, with more than 74 percent of inventory staying on the market for less than a month, compared with nearly 52 percent a year ago.
Greater Las Vegas Association of Realtors