Attacks increase urgency to install steel posts along Las Vegas Strip
August 17, 2017 - 6:20 pm
Updated August 17, 2017 - 11:56 pm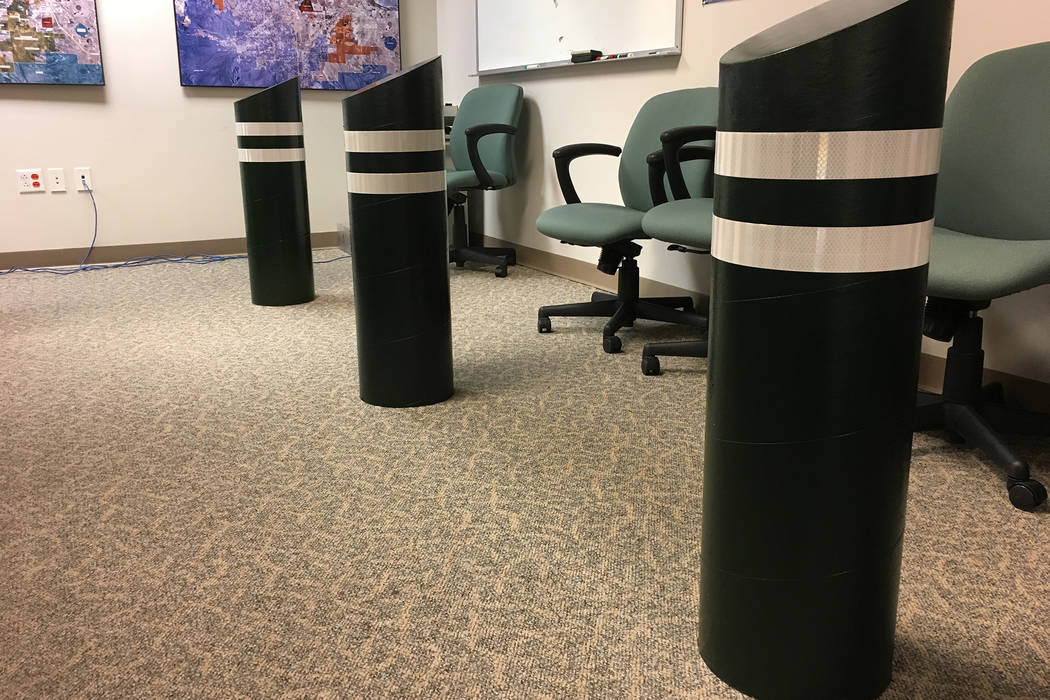 A pair of deadly attacks in which people have driven cars through crowds has increased the urgency for Clark County to install hundreds of steel posts along the Las Vegas Strip.
Construction on about 700 bollards along the sidewalk between Spring Mountain Road and Tropicana Avenue should begin by early October, county spokesman Erik Pappa said Thursday.
Commission Chairman Steve Sisolak said attacks have made installing the bollards a top priority for the county.
"There's always the risk that could happen," he said. "It brings up a sad reminder that every city and town could have things happen whether it's intentionally or accidentally."
The bollards will shield areas of the Strip including in front of the Bellagio fountains, Harrah's and Paris Las Vegas. County staff has said the posts are strong enough to stop a flatbed truck traveling 55 mph.
Commissioners have approved a contract with Las Vegas-based Muller Construction worth nearly $4 million, Pappa said. Completion will take up to 60 days.
"I think the timeline is as efficient as we can get it. If we can tighten it up public works will do it," said Commissioner Chris Giunchigliani. "We'll do whatever we can, and Metro (police) will continue to protect people on the Strip."
The 700 bollards are the first phase in a county plan to increase pedestrian safety along the Strip, Pappa said.
Safety concerns
On Thursday 13 people died and 100 were injured after being struck by a van in Barcelona. Reuters reported that Spanish Prime Minister Mariano Rajoy called the attack "jihadist terrorism."
A similar attack was carried out in the U.S. on Saturday, allegedly by a man who attended a white nationalist rally the same day.
Police say Ohio man James Alex Fields Jr., 20, deliberately drove a Dodge Challenger into a group of people protesting racism in Charlottesville, Virginia, killing 32-year-old Heather Heyer. Fields is charged with second-degree murder, hit-and-run and malicious wounding, according to The Associated Press.
Giunchigliani said commissioners should begin discussing the ban of personal vehicle use on the Strip and rely more on public transportation and taxis.
"Right now if something happens the time to get your emergency vehicles there is crazy," she said.
Contact Michael Scott Davidson at sdavidson@reviewjournal.com or 702-477-3861. Follow @davidsonlvrj on Twitter. The Associated Press contributed to this report.
One person died, 35 injured in 2015 Strip incident
On Dec. 20, 2015, a car careened onto a busy Strip sidewalk, near Planet Hollywood, killing one pedestrian and injuring 35 others.
Lakeisha Holloway is accused of driving the Oldsmobile that plowed into pedestrians on the crowded sidewalk, killing 32-year-old Jessica Valenzuela of Buckeye, Arizona, and injuring nearly three dozen other pedestrians.
After she was sent to a state psychiatric facility in Sparks for a mental evaluation in 2016, she was deemed competent to stand trial and made an initial appearance in Las Vegas Justice Court in February.
Police toxicology reports note that Holloway was above the legal limit for marijuana at the time of the incident.