2017 was deadliest year for pedestrians in Las Vegas Valley
January 4, 2018 - 6:51 pm
Updated January 5, 2018 - 9:03 pm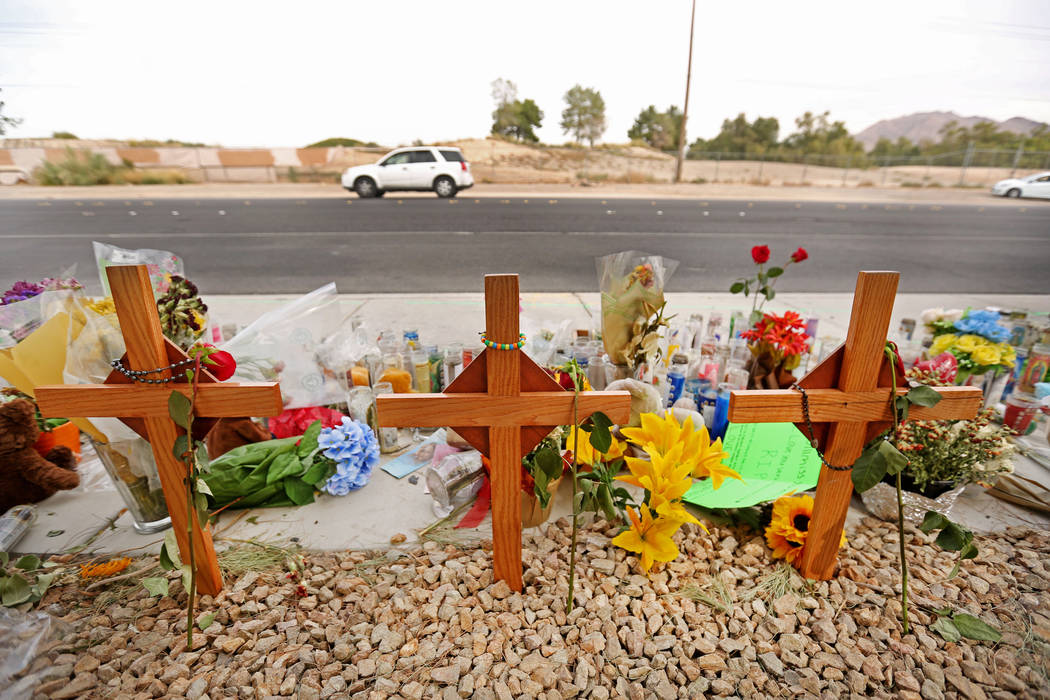 Last year was the deadliest on record for pedestrians in Clark County, where 78 people were fatally struck by vehicles on public roads, according to preliminary figures released Thursday by the state Office of Traffic Safety.
Speeding, alcohol impairment and inattention on the part of drivers and pedestrians helped drive up the deaths from 57 in 2016 and surpass the region's previous all-time high of 60 reported in 2015, law enforcement officials and traffic safety advocates said.
"That's a monumental number, so I'm a little wild-eyed about making sure the same thing doesn't happen again in 2018," said Erin Breen, head of the Vulnerable Users Project at UNLV.

"We're crying for a solution that no one has thought up yet, but it isn't for a lack of trying," Breen said. "We have to start looking at things like vehicle speeds, along with the location and number of crosswalks that are available to the people who live here."
Last year 48 men and 30 women were killed by oncoming vehicles, accounting for 38 percent of traffic-related deaths across Clark County.
State officials list the youngest victim as 11-year-old Jasmine Espana, who was fatally struck by a garbage truck Feb. 8 as she and several friends were crossing Viking and Sandhill roads in the east valley.
Donald Dodson, 85, was Clark County's oldest pedestrian to die in 2017, when he was struck Sept. 12 while walking outside a marked crosswalk near the Hard Rock Hotel at Paradise Road and Harmon Avenue.
Authorities said a common denominator in the deaths was age, as 36 of the pedestrians killed last year were 55 or older.
"As you get older, your perception changes and you think cars are moving slower than they actually are, plus you're not as quick or agile as you used to be," said Las Vegas police Sgt. Paul McCullough of the traffic bureau's fatal detail.
Reasons vary
Las Vegas police investigated 65 pedestrian fatalities last year, up from 45. Even though recreational marijuana sales were legalized July 1, McCullough said pot-impaired drivers did not strike any pedestrians in Las Vegas.
Some fatalities, however, resulted from distracted pedestrians who were looking at their cellphones while crossing an intersection, McCullough said. Others failed to remember the basic childhood lesson of looking both ways before crossing the street.
"People have to keep in mind that crossing the street is like swimming across a moat full of sharks," McCullough said. "If you aren't careful, they're going to get you."
In some instances reported last year, vehicles fatally struck jaywalking pedestrians who didn't use a crosswalk, including a man who was killed Dec. 23 in a hit-and-run collision at Algonquin Street and Flamingo Road.
Other times, those who followed the rules by staying on sidewalks and using crosswalks were struck by speeding or out-of-control vehicles.
Danny Miramontes, 12, Francisco Miramontes, 14, and 13-year-old Deandre Lyle were walking on a sidewalk along East Desert Inn Road, near Nellis Boulevard, when a car jumped the curb and killed them. The driver fled the scene but was arrested six hours later.
Not all pedestrian deaths were included in the state's official tally. Federal guidelines indicate that fatal accidents occurring within gated communities and on private roadways are counted separately from deaths reported on public streets.
"In reality, that number is much higher," Breen said.
As a result, Breen said, some deaths went uncounted, including that of a 1-year-old boy who was playing in the street when he was fatally struck by a vehicle in a hit-and-run accident Oct. 15 at the Liberty Village Apartments in the northeast valley.
The state's figures did include a 79-year-old woman who died Dec. 28 after she was hit by a U-Haul truck in the parking lot of a Walmart in Henderson. Officially, she was the last pedestrian to die in 2017.
Deadliest road
Nine pedestrian fatalities were reported last year on Boulder Highway, a high-speed street in the east valley that state officials have designated as Southern Nevada's deadliest stretch of roadway.
The number jumps to 10 if state officials include the death of a 55-year-old man who was walking outside a crosswalk on Flamingo Road when he was struck by a vehicle about 150 feet west of Boulder Highway.
Both the driver and the pedestrian were impaired by alcohol in the Jan. 20 incident, officials said.
"We're seeing more and more instances of pedestrians and drivers who are impaired by alcohol in all states," said Julie Gallagher, a data analyst for Nevada's Office of Traffic Safety.
The Nevada Department of Transportation is trying to make the road safer with a $3 million project, scheduled to start construction this month, that is aimed at installing flashing beacons, wider medians and crosswalks at eight intersections and midblock segments of Boulder Highway.
A $2.4 million study is underway exploring additional safety improvements on the 16-mile highway running between Las Vegas and Henderson.
Amy Davey, administrator for the state Office of Traffic Safety, said her department has earmarked roughly $500,000 this year for various pedestrian education and enforcement programs across the state.
Contact Art Marroquin at amarroquin@reviewjournal.com or 702-383-0336. Find @AMarroquin_LV on Twitter.