Alternative routes from Las Vegas to LA to avoid backups on I-15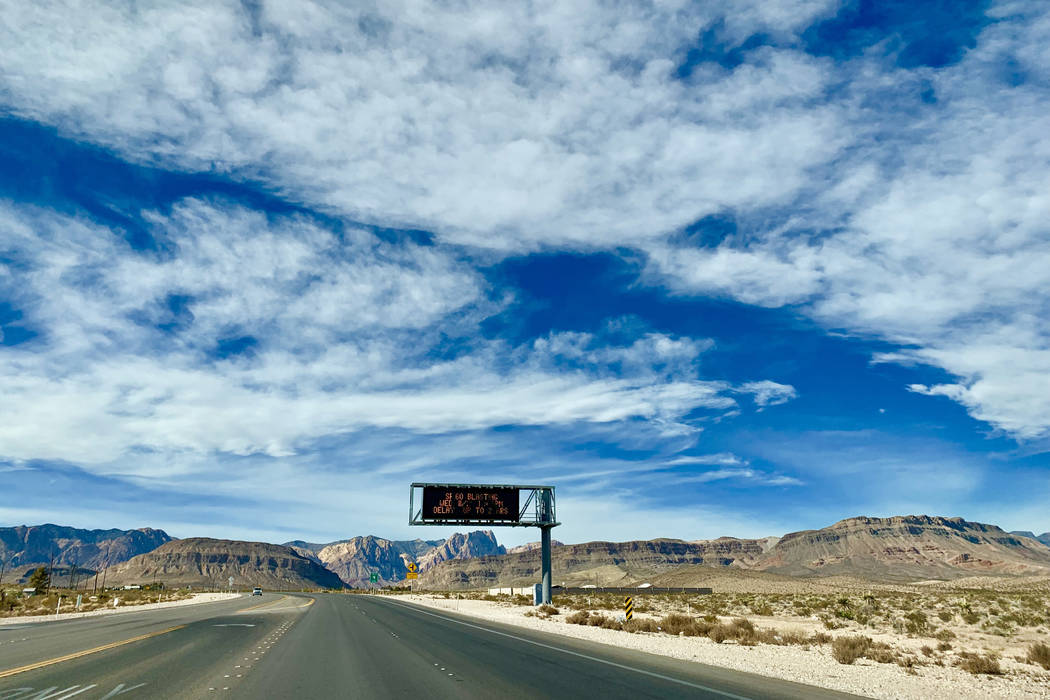 Nothing says a holiday is over for motorists traveling between Las Vegas and Southern California like the miles-long traffic backup that occurs on Interstate 15 southbound near Primm.
With over 20-mile backups experienced the Sunday following Thanksgiving, travelers' holiday glee turned to gloom even before leaving the Silver State.
If idling in traffic for hours doesn't sound like an ideal travel situation, take heart: There are alternatives.
Drivers who don't mind going off the beaten path, can look no further than State Route 160 (Blue Diamond Road) for the beginning of three-highway, 136-mile trip around the virtual parking lot.
"It's out of the way but you won't be in bumper to bumper traffic," the Nevada Highway Patrol tweeted just before noon last Sunday, as it warned drivers of the backup on I-15.
Jumping on State Route 160 from I-15, motorists will find a winding stretch of road leading out of Las Vegas — two lanes in each direction for the first 18 miles — that skims the edge of Red Rock Canyon, ahead of entering Mountain Springs.
Upon entering Mountain Springs, the road is condensed to one lane in each direction, as a $58.6 million widening project is underway. The project, due to be completed in August 2020, will create two lanes in each direction, add a raised median barrier and other features on the six-mile stretch of road.
Exiting the mountain, the road goes back to two lanes in each direction and drivers are led to the town of Pahrump, where there are plenty of dining options and gas stations for those who like to stay filled up while on a road trip.
As motorists enter the heart of Pahrump they're led to State Route 372 where they begin a 27-mile stretch to California, first traveling through a pair of roundabouts, exiting to one lane in each direction.
Almost immediately upon passing the California state line on State Route 372, the road gets a little bumpy for a couple of miles but then smooths out, with short stretches of wavy travel.
When State Route 372 dead ends into California Highway 127 in Shoshone, California, drivers can stop at the Chevron gas station to stock up on refreshments or to top off their gas ahead of the 56-mile stretch to Baker, California.
Highway 127 features a drive on a fairly narrow road, through desert and mountainous terrain, with interesting rock features strewn about the surrounding landscape. The road is winding at times and features several dips.
Cellphone service is spotty at times, but emergency phones are located at various points on the side of the road in case of emergency.
As the "World's Largest Thermometer" emerges in the distance, the trip is almost over. After passing a row of gas stations, fast food restaurants and the spaceship-themed Alien Fresh Jerky and other retail stores in Baker, the I-15 on-ramp is just ahead.
Travel time on this route is estimated at 2 hours, 19 minutes.
If ending up even further south on I-15 sounds like the route to go, a second alternative is available.
Motorists can opt to take a 234-mile detour through Las Vegas and Henderson, down south through the Nevada desert, and past the Nevada-California border, eventually ending up in Barstow, California. That's 77 miles longer than Las Vegas to Barstow via I-15.
Starting on I-15, motorists can jump on the 215 Beltway eastbound to U.S. 93 southbound to Interstate 11, where they'll exit at U.S. Highway 95 southbound.
From there, motorists travel 77 miles, through the dry lake beds, Searchlight, and Cal-Nev-Ari, Nevada, past the Nevada-California border until they arrive at Interstate 40.
From there motorists head west on I-40 for 137 miles until they arrive in Barstow, where several fast food and quick eat restaurants and multiple gas stations are located. Travelers can fill their stomachs and gas tanks to ready them for the home stretch into Southern California.
This route will take you an estimated 3 hours 42 minutes, which might be worth it on a holiday weekend.
"Alternate travel routes can relieve motorist congestion and driver frustration by freeing up added capacity along Interstate 15 near the Nevada-California border," said Tony Illia, Nevada Department of Transportation spokesperson. "It can also make for a smoother, safer commute with less traffic and reduced aggravation."
Contact Mick Akers at makers@reviewjournal.com or 702-387-2920. Follow @mickakers on Twitter.
Alternative Routes to Southern California
Route 1: State Route 160, to State Route 372 to State Route 127
Miles: 136
Estimated time: 2 hours 19 minutes
Route 2: U.S. Highway 95 to Interstate 40
Miles: 234
Estimated time: 3 hours 42 minutes