Brightline West inks building trade unions deal with 2027 start date in mind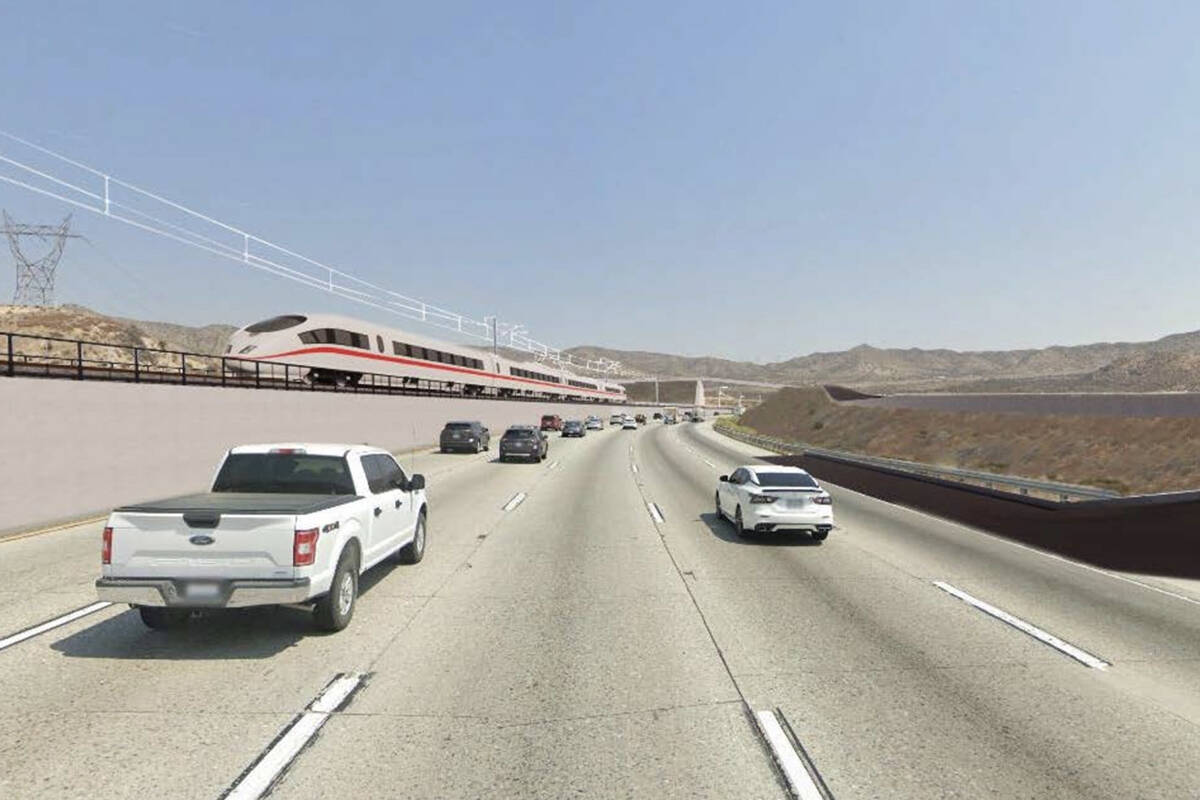 Brightline West is tracking to begin its planned Las Vegas-to-Southern California rail operations in as little as three-and-a-half years.
Work on the long-talked-about, high-speed rail project plan to link Las Vegas and Southern California is slated to get underway at the end of this year, according to Brightline. With the project set to take between three-and-half-to-four years to complete, plans are to have trains operating on the line at the end of 2027 or beginning of 2028.
A landmark deal that will help see the train project come to fruition was announced Thursday with major building trade groups in Nevada and California inking a deal to build the system.
The Southern Nevada Building Trades Union and the State Building and Construction Trades Council of California announced a memorandum of understanding to build the 218-mile high-speed rail system, slated to run within Interstate 15 right-of-way between Las Vegas and Rancho Cucamonga, California, the two groups announced Thursday.
'A momentous day'
Brightline estimates the the train system would generate around 35,000 jobs in total, with 10,000 of those tied to the construction phase.
The Southern Nevada Building Trades Union includes 14 local labor unions across the area representing thousands of skilled laborers including iron workers, insulators and electrical workers.
"This is a momentous day for the workers of Southern Nevada, specifically members of the Southern Nevada Building Trades Union, as we announce our partnership with Brightline West and the California Building Trades to create our country's first true high-speed rail system," Vince Saavedra, executive secretary-treasurer of the Southern Nevada Building Trades Union, said in a statement. "Our thousands of high-skilled members of our allied unions are standing at the ready to build this rail system. Nevada was built on the backs of our labor union members, and this historic rail project will continue that legacy. This project will create hundreds of thousands of jobs and bring millions of dollars into our economy, and I am proud of the role our unions will play in it."
The SBCTC, the California affiliate of North America's Building Trades Union, features 157 affiliated unions from 14 different construction craft unions, 22 local building trades councils and about 125 affiliated Joint Apprenticeship Training Committees.
"The California Building Trades is excited to partner with Brightline West and the Southern Nevada Building Trades on this historic project bringing high-speed rail and thousands of new construction jobs to Southern California and Southern Nevada," Andrew Meredith, president of the State Building and Construction Trades Council of California, said in a statement. "Our members are ready to get to work building this vital transportation project linking California to Las Vegas. It's important to remember that we have a long history of building California's most vital and groundbreaking projects."
The partnership brings the project one step closer to connecting Las Vegas and Southern California with a eco-friendly, high-speed, all-electric rail system.
Funding for the project would consist of a mix of federal grants, capital and private activity bonds that Brightline would apply for in both Nevada and California. Brightline and the Nevada Department of Transportation hope to land up to $3 billion in federal grants to go toward construction of the system.
The project would break ground later this year, depending on the Federal Railroad Administration's decision on the project environmental assessment and the awarding of funding.
'One step closer to putting a shovel in the ground'
Brightline West is a planned 218-mile system connecting a Las Vegas station, envisioned to be located on Las Vegas Boulevard between Warm Springs and Blue Diamond roads, and Southern California. Riders would be able to link to and from the Los Angeles area via a Brightline station planned for Rancho Cucamonga. Other stations are planned to be built in Hesperia and Apple Valley in California.
Today's agreement comes on the heels of February's announcement that Brightline West and the High-Speed Rail Labor Coalition entered into an agreement for the coalition to operate and maintain Brightline West.
Economic studies commissioned by Brightline West revealed the high-speed rail system would create a $10 billion economic impact between California and Nevada. The system is projected to create 1,000 permanent jobs for operations and maintenance.
"We continue to build a powerful coalition around Brightline West and our vision for high-speed rail in America," Mike Reininger, CEO of Brightline Holdings said in a statement. "Brightline West will provide unmatched economic benefits and career opportunities for thousands in Nevada and California. This partnership brings us one step closer to putting a shovel in the ground."
Contact Mick Akers at makers@reviewjournal.com or 702-387-2920. Follow @mickakers on Twitter.