Centennial Bowl flyover bridge opens in northwest Las Vegas
Updated July 12, 2017 - 8:35 pm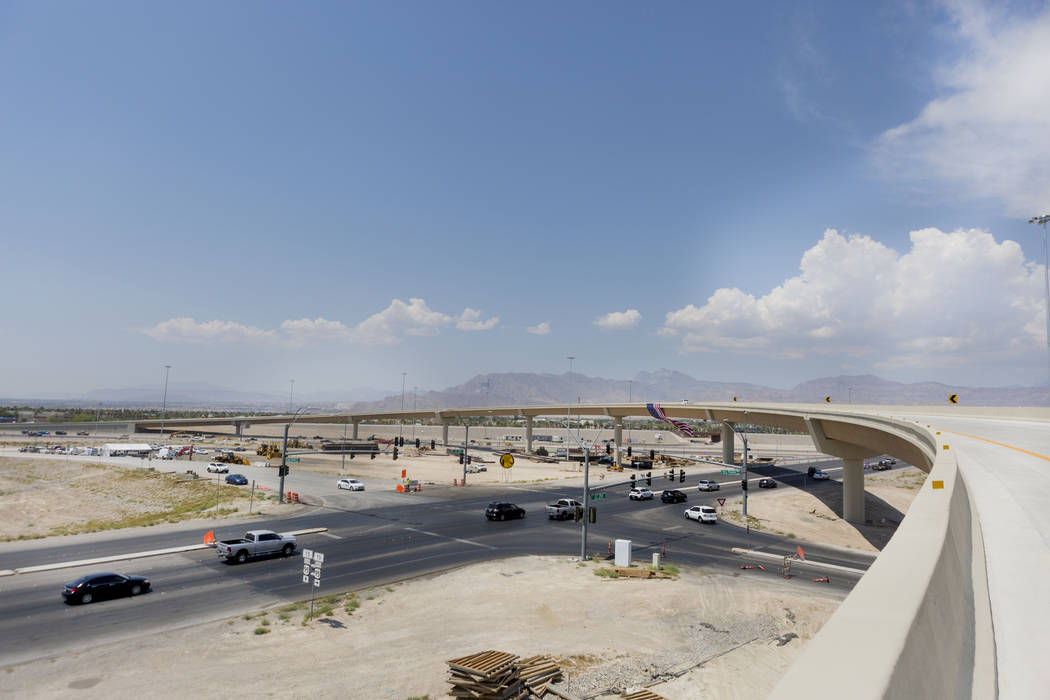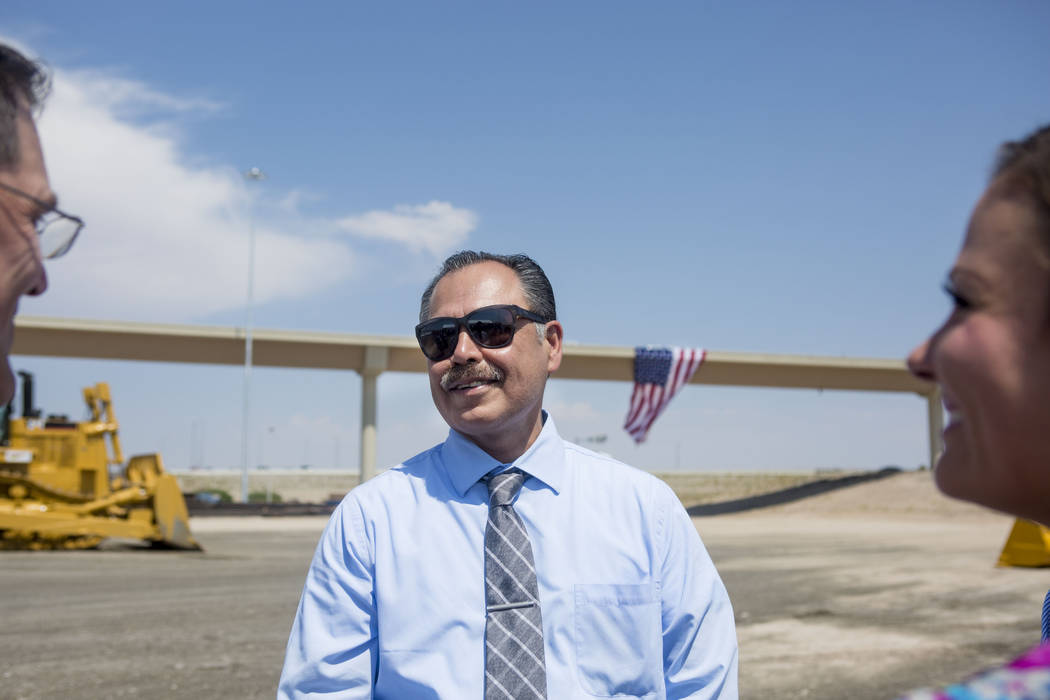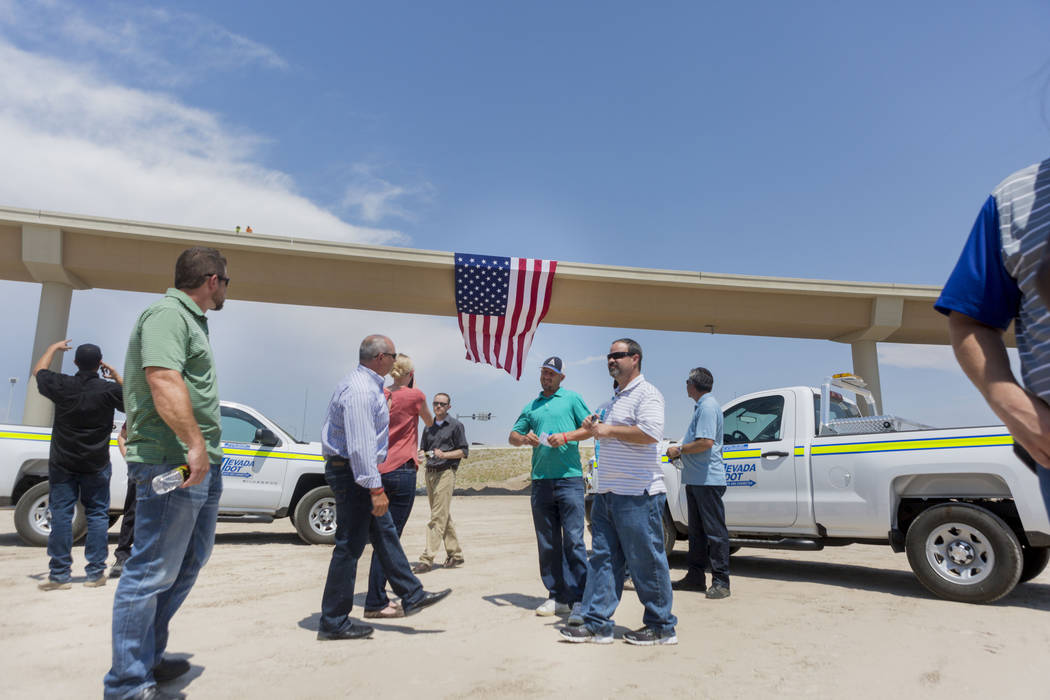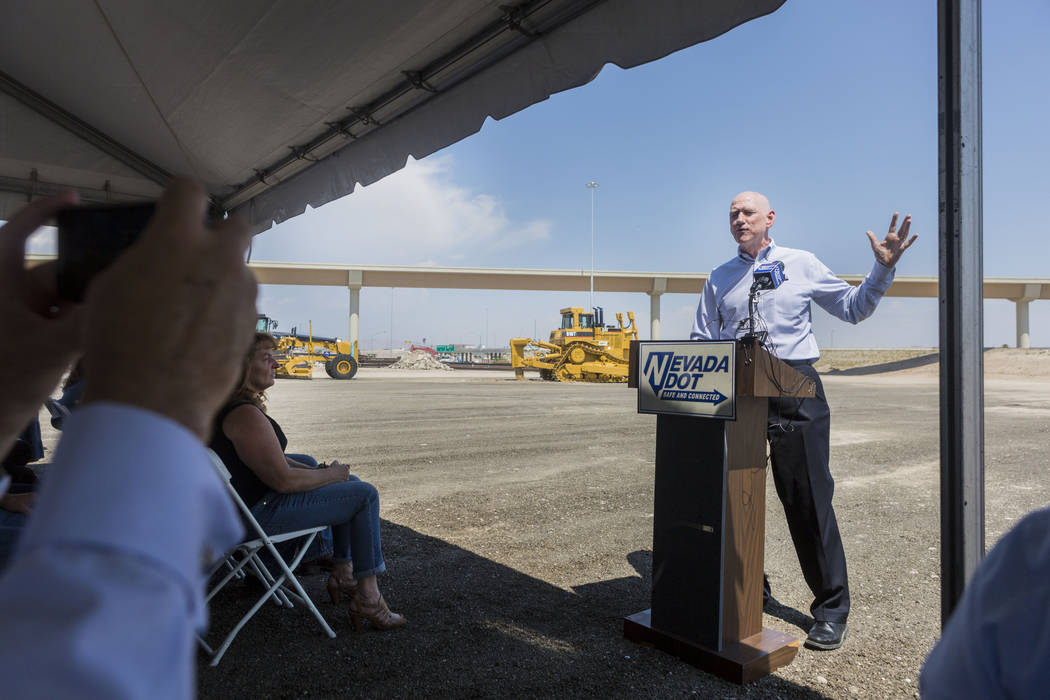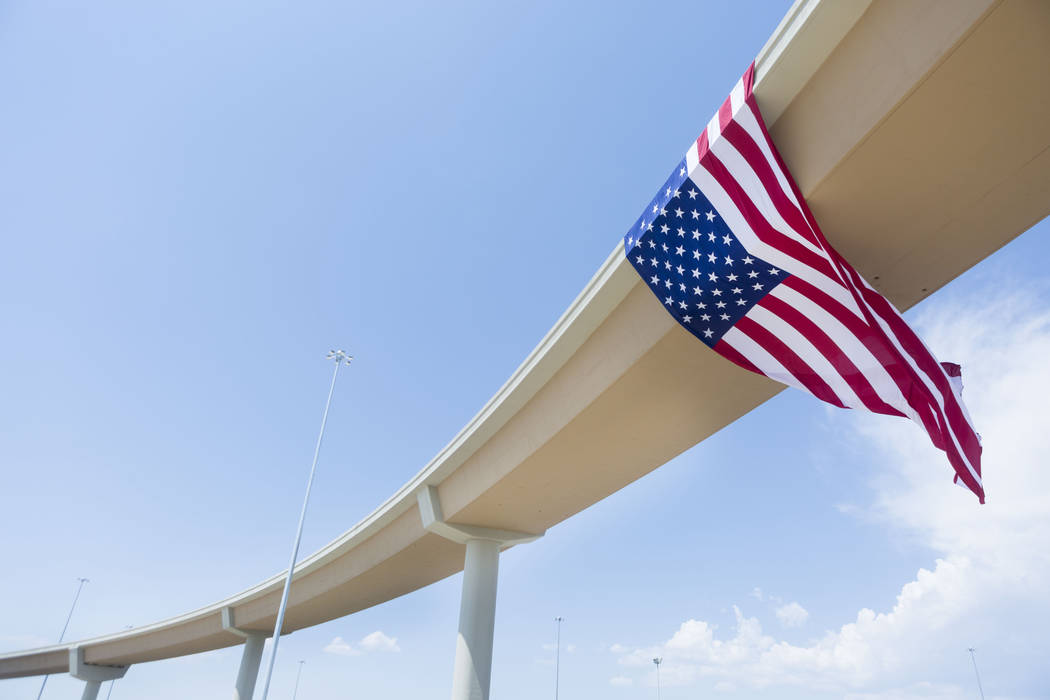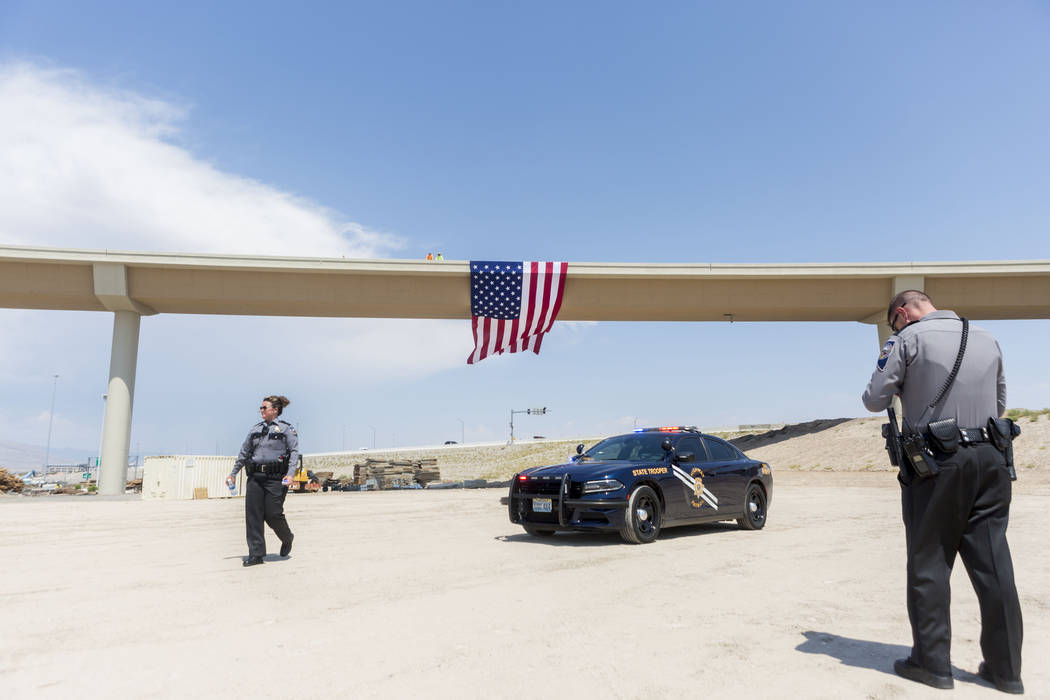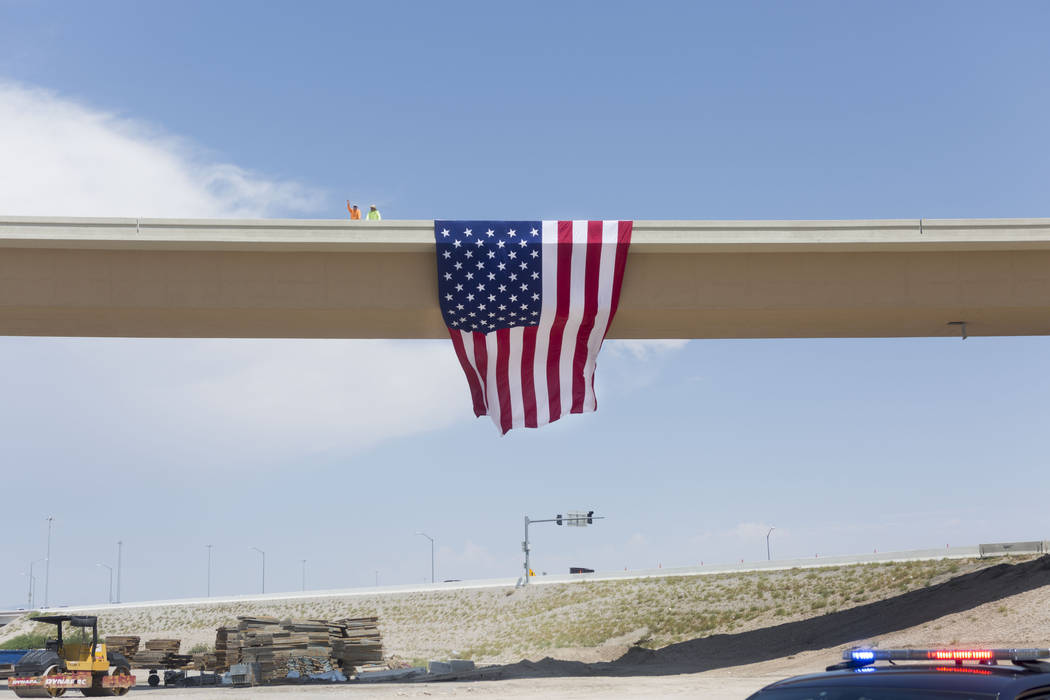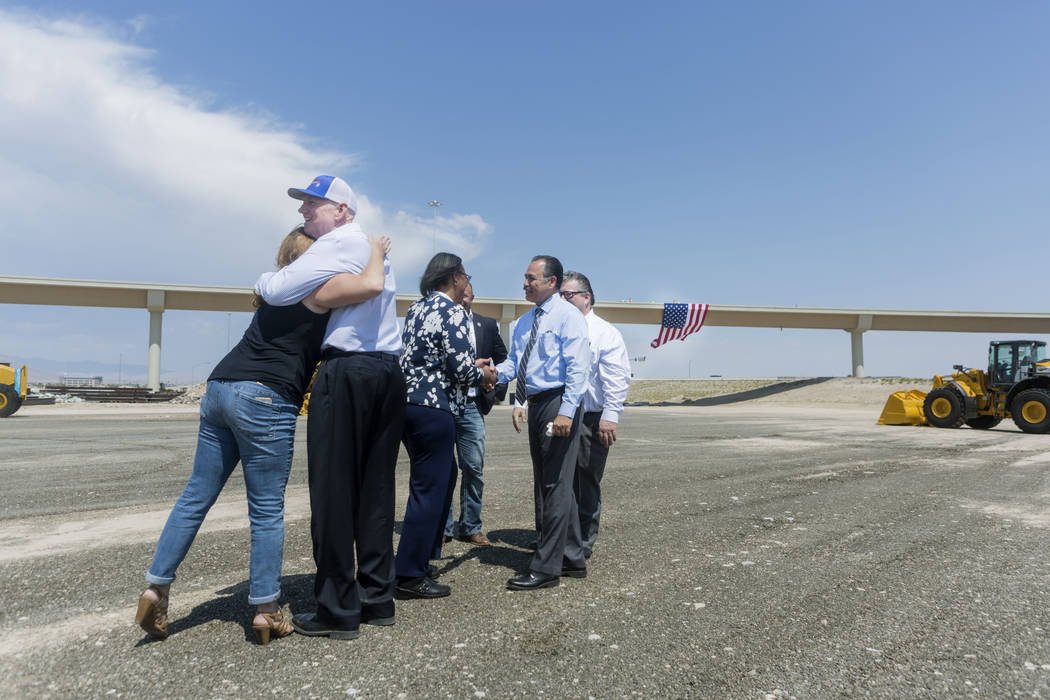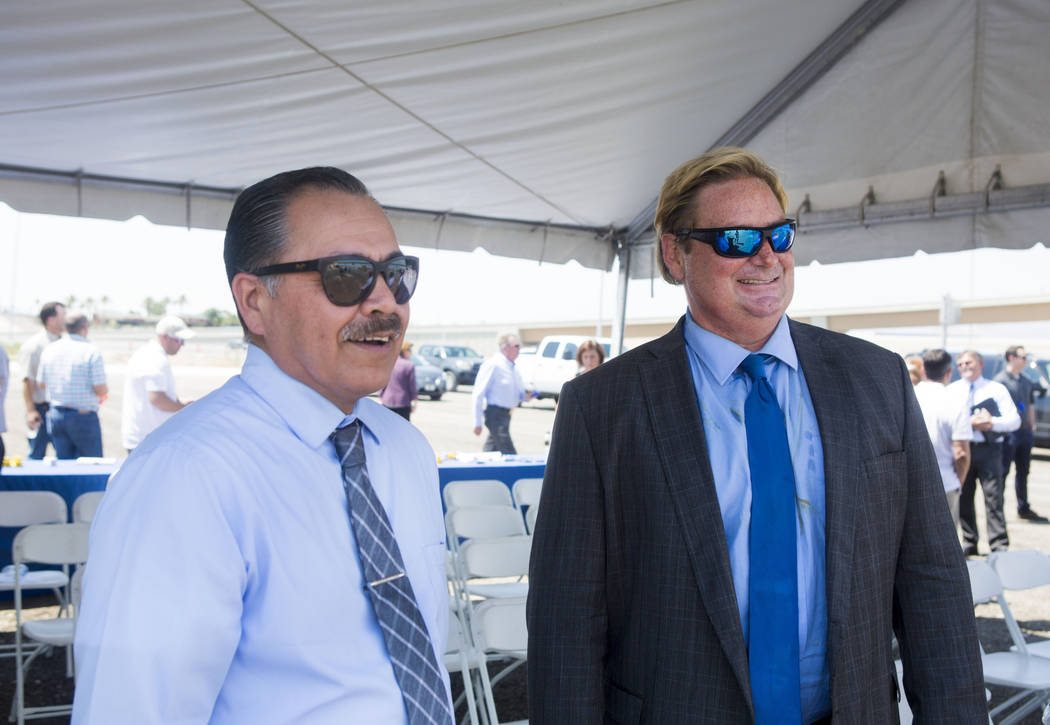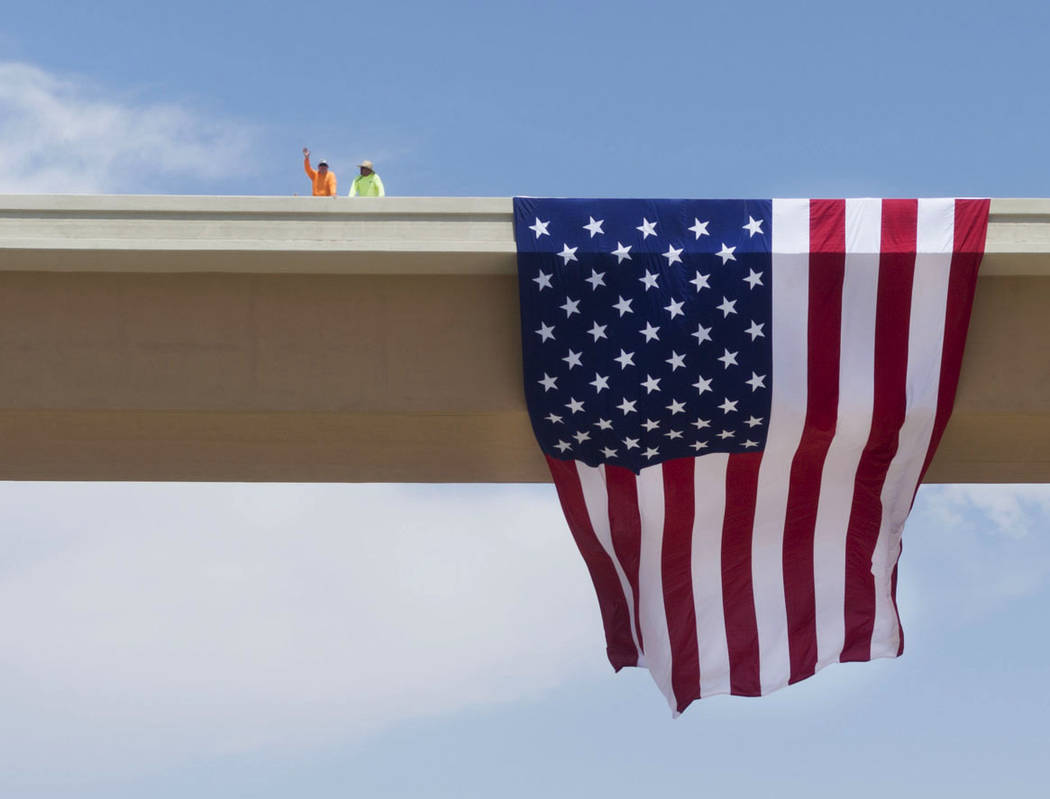 As an air horn blared, crews unfurled a giant, 85-pound American flag at the Centennial Bowl freeway interchange Wednesday to signal the opening of a passage that transportation planners say will relieve traffic congestion in northwest Las Vegas.
Shortly after 2 p.m., vehicles began climbing the new $47 million flyover bridge, a half-mile span that links the westbound 215 Beltway and southbound U.S. Highway 95, the Nevada Department of Transportation said.
"I think that it's going to pay off huge benefits, not only with accessibility and mobility, but also with safety," NDOT Director Rudy Malfabon said while hailing the "impeccable new structure."
About 107,500 vehicles travel daily through the Centennial Bowl, the second-busiest freeway interchange is Southern Nevada.
Assemblyman Richard Carrillo, D-Las Vegas, said the interchange is vital to the region because sections of U.S. 95 will eventually have a dual designation with Interstate 11, which is under construction between Henderson and Boulder City.
Supporters envision I-11 as an eventual trade route extending from Mexico's border to Canada and running through Arizona, Nevada and Idaho.
"It will provide a direct link between Southern and Northern Nevada, reduce miles traveled and it will be used by freight carriers," said Carrillo, chairman of the Assembly Transportation Committee. "The result of this combination means lower prices for goods delivered throughout the state."
Crews also widened U.S. 95 in both directions between Ann Road and the Beltway. Connection ramps were added, along with 8,200 feet of storm drainage, signs, lights and landscaping. Road striping, landscaping and other finishing touches will completed within the next few weeks.
What driving new #CentennialBowl ramp from WB 215 Beltway to SB US95 looks like! It opens @ 2pm (pay no heed to truck going wrong way) pic.twitter.com/Dpc66Cwofb

— Clark County Nevada (@ClarkCountyNV) July 12, 2017
The project was funded by federal and state money, the Clark County Regional Flood Control District and local fuel revenue indexing taxes.
"Infrastructure such as this is the backbone to our community," said Susan Klekar, Nevada's division administrator for the Federal Highway Administration. "Efforts like this improve connectivity and mobility in this area."
Construction of the Centennial Bowl began in August 2015, and the initial phase was completed last year with the opening of a ramp linking northbound U.S. 95 to the eastbound Beltway.
Next year, construction at the Centennial Bowl resumes with a $55 million project that calls for construction of a flyover ramp carrying vehicles from northbound U.S. 95 to the westbound Beltway, a ramp connecting southbound U.S. 95 to the eastbound Beltway and a third ramp linking the westbound Beltway to northbound U.S. 95, NDOT officials said.
Those ramps are expected to be completed by 2020.
Shortly afterward, bids will be solicited for the final construction phase, expected to take another two years to complete. That last chunk, estimated at $110 million, calls for an upgrade of the 215 Beltway to a divided, six-lane freeway through the Centennial Bowl interchange.
Contact Art Marroquin at amarroquin@reviewjournal.com or 702-383-0336. Follow @AMarroquin_LV on Twitter.
Building a bridge
More than 5.2 million pounds of concrete was used to build the new Centennial Bowl bridge — enough to build a 120-mile sidewalk stretching from Las Vegas to St. George, Utah.
The flyover ramp was crafted in three separate segments, with each measuring roughly 860 feet that range from 1.68 million pounds to nearly 1.83 million pounds.
Source: Nevada Department of Transportation