County commission to consider elevated expressway contract
September 14, 2016 - 7:35 pm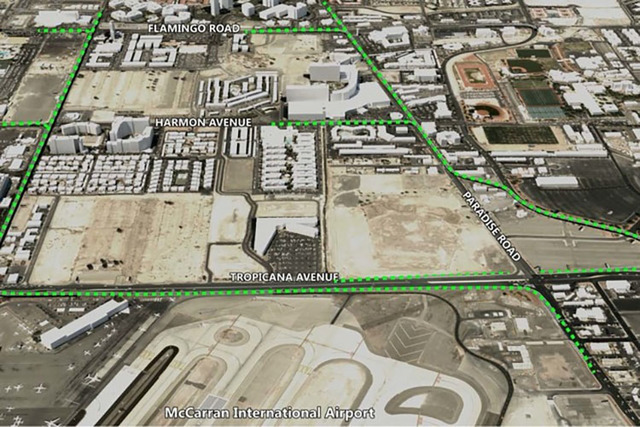 Next week Clark County commissioners will be asked to approve the second of two engineering contracts to evaluate whether to build an elevated expressway linking McCarran International Airport with the Strip.
The expressway would be built over existing roads to cut commute time in the resort corridor. Preliminary estimates place the project's price tag at about $200 million.
"These studies will help show whether these roadways are a valuable investment," said Joe Yatson, design engineering manager for the county's Public Works Ddepartment. "We do a benefit-cost analysis to show spending that kind of money is a benefit to the community."
Last week commissioners unanimously approved a contract worth up to $2.26 million with CH2M Hill Engineers concerning the expressway's northbound portion. Another $1.16 million contract with the Louis Berger Group for the southbound portion of the project will be up for approval at Tuesday's commission meeting.
The contracts will be funded with resort corridor room tax dollars, and the work is expected to take about a year to complete.
Both companies will collect traffic data and conduct utility research, but the first contract is worth more because CH2M Hill Engineers will be responsible for conducting the upfront land surveying, Yatson said.
"They're doing a lot of the overlap work that will be shared with the other company," he said.
CH2M Hill Engineers will also put to paper up to 30 percent of the northbound expressway's design drawings.
According to proposed concept plans, the expressway would be a pair of two-lane, traffic signal-free roadways spanning more than 3 miles.
The northbound roadway would cost about $92 million, start on Swenson Street just south of Tropicana Avenue and take vehicles from McCarran along Paradise Road.
The southbound roadway would cost about $108 million, have entrance ramps at Flamingo Road and Harmon Avenue, and move traffic to the airport on Koval Lane and Tropicana Avenue.
But that all could change because both CH2M Hill Engineers and the Louis Berger Group will be searching for better alternative alignments to the plans as part of their contract work, Yatson said.
The county could also decide to scrap the elevated expressway idea.
That would be all right with Tom Skancke, a transportation expert with more than 25 years in the industry. He opposes the county building an elevated expressway, which he describes as outdated.
"What if they invested the $200 million in a light-rail system?" he asked. "If you're going to be a truly global destination, then you have to be a multimodal community."
Talks of building a light-rail system in the Las Vegas Valley have been ongoing for years. The county has said it's waiting for more information from the Regional Transportation Commission of Southern Nevada before moving forward with such an initiative.
Contact Michael Scott Davidson at sdavidson@reviewjournal.com or 702-477-3861. Follow @davidsonlvrj on Twitter.
RELATED
Panel to consider transportation modes to connect airport, Strip
Elevated expressways vs. light-rail system: Which is best for Las Vegas?