Las Vegas' Flamingo Road completes its $46.4M makeover
October 28, 2016 - 6:25 pm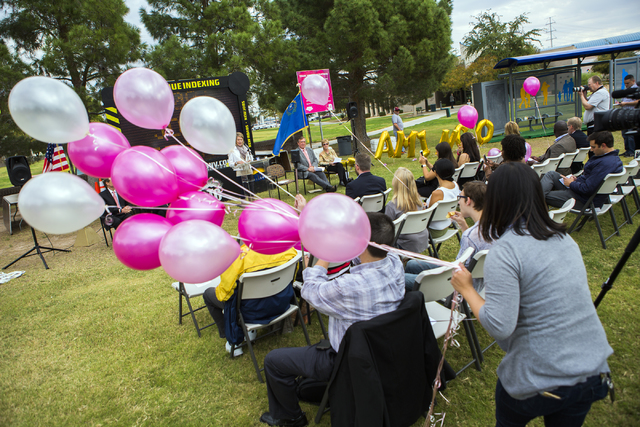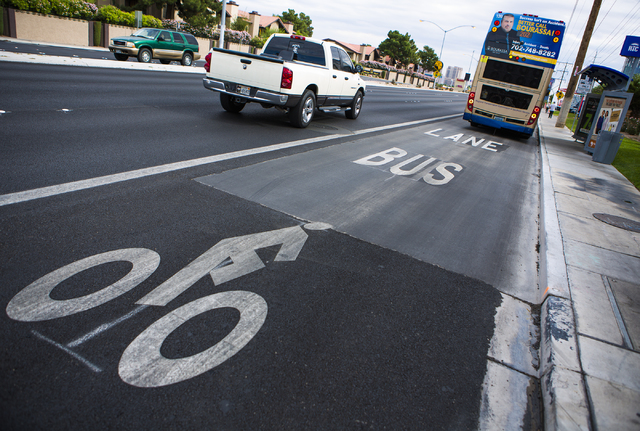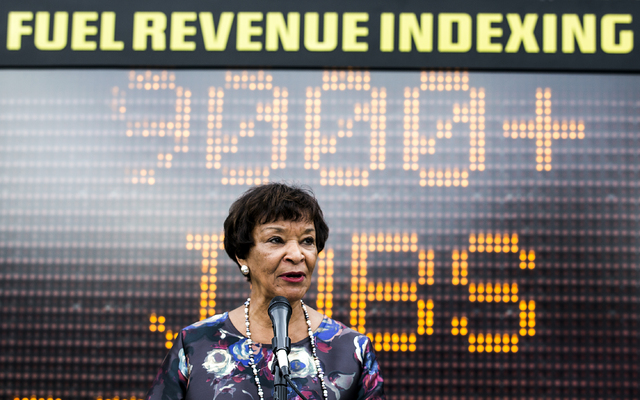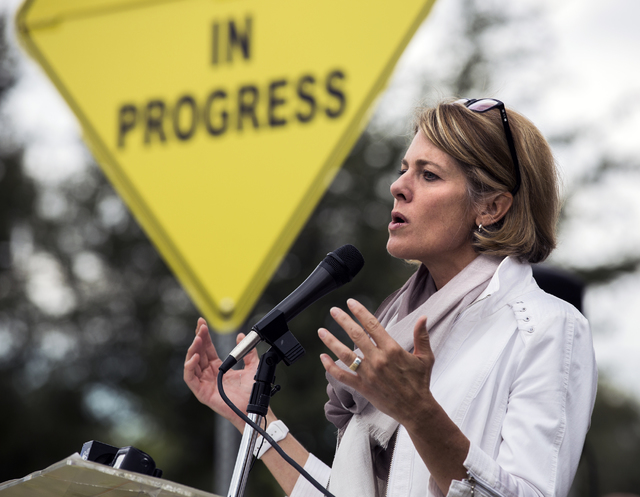 After more than a year of construction, Flamingo Road is back in the pink.
A $46.4 million overhaul of the bustling corridor officially wrapped up Friday, aimed at improving efficiency and safety along a 14-mile stretch from Jimmy Durante Boulevard to the east and Grand Canyon Drive to the west.
"It doesn't matter where you live, eventually you end up needing to traverse Flamingo Road," Tina Quigley, general manager of the Regional Transportation Commission, said during a news conference held at West Flamingo Park.
More than 90,000 vehicles travel daily along Flamingo, a major east-west corridor that touches on the Strip, UNLV, parks and several shopping centers.
Construction started in April 2015 and was completed in phases, allowing for several sections of Flamingo to be repaved. New bicycle lanes, crosswalks, traffic signals and median landscaping were added along the road.
Additionally, more than 100 bus shelters were built along the route. The RTC reported more than 12,000 daily passenger boardings along Flamingo, making it one of the most used routes in the Las Vegas Valley's transit system.
"You've been patient, you persevered and now you get to enjoy the benefits of progress," Carolyn Flowers, acting administrator for the Federal Transit Administration, told about 50 people gathered for the news conference.
"All together, the improvements along Flamingo Road are going to make it possible for a city of over 2 million, and one that welcomes over 40 million visitors a year, to continue growing while maintaining a good quality of life," Flowers said. "These are all well thought-out improvements that will make it quicker, easier and safer for you get get home, to work and back again."
Federal officials approved a $13.3 million Transportation Investment Generating Economic Recovery grant for the project, while another $8 million came from fuel revenue indexing taxes. Other funding sources include the RTC, the Federal Transit Administration and the Nevada Department of Transportation.
"I live right off of Flamingo and taught at UNLV for 34 years, so I spent a lot of time on this road and appreciate the fact that it's gotten bigger and better," said Rep. Dina Titus, D-Las Vegas, who helped lobby for the federal economic recovery grant.
Contact Art Marroquin at amarroquin@reviewjournal.com or 702-383-0336. Find @AMarroquin_LV on Twitter.