Las Vegas HOV lanes could go away in 2 years
Updated May 9, 2023 - 7:27 pm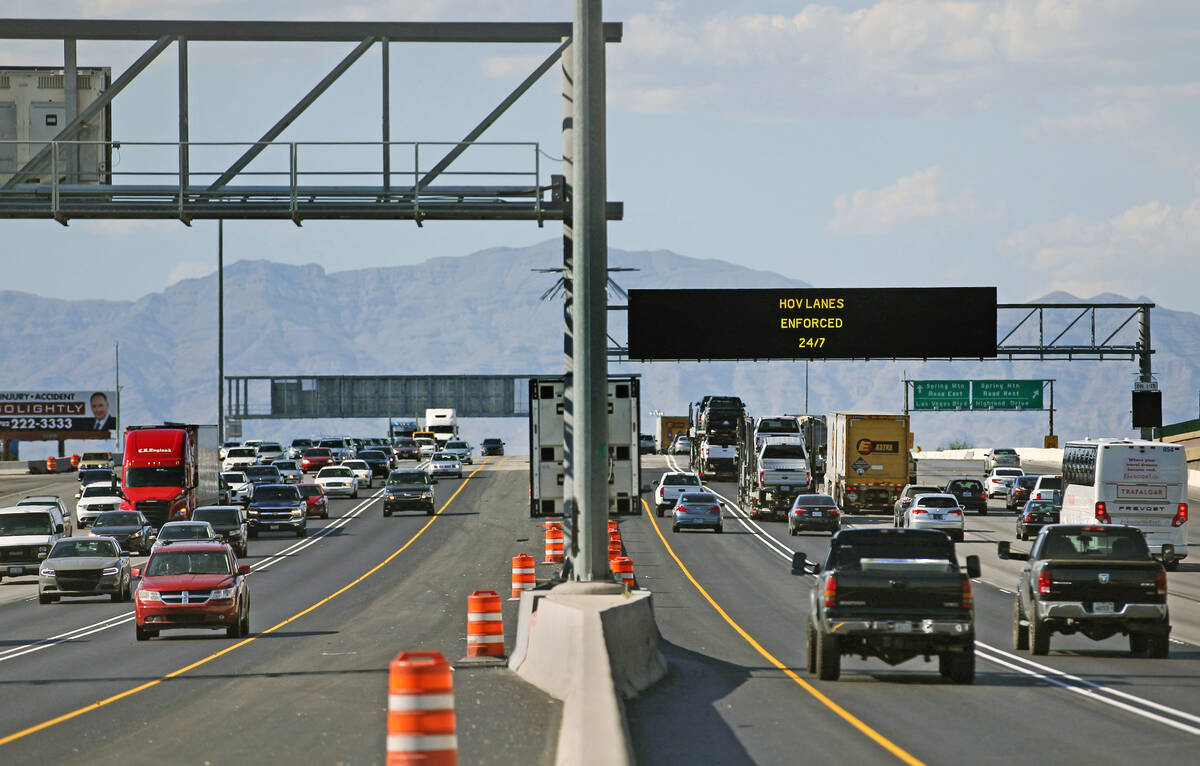 With shorter regulated carpool lane hours going into place last month in the Las Vegas Valley, work toward potentially removing high occupancy vehicles lanes altogether is underway.
The Nevada Department of Transportation has begun the process of an environmental study, aimed at determining the potential impacts that eliminating HOV lanes would have on Southern Nevada.
The study is a requirement of the National Environmental Policy Act and takes between 18-24 months to complete.
"The process is underway, but will still take time to bid the contract and have it approved by the transportation board of directors," NDOT spokesman Justin Hopkins said. "It's important to note that the scope of this NEPA will be larger than most NEPA studies we conduct because it touches on multiple stretches of highway and through multiple neighborhoods in Clark County and Las Vegas."
The hours HOV lanes are regulated on Interstate 15 and U.S. Highway 95 were reduced from 24/7 last year to between 5 a.m. and 10 p.m. seven days per week. Last month those hours were further reduced to between 6 a.m.-8 a.m. and 4 p.m. and 6 p.m. Monday-Friday, with the lanes open to all drivers outside of those four hours on the weekdays and 24/7 on weekends.
Eliminating HOV lanes could result in multiple flyover ramps and offramps also being taken offline, depending on what the environmental study results yield. Those include the Neon Gateway to downtown Las Vegas, the HOV flyover ramp between I-15 and U.S. 95 and the Summerlin Parkway HOV flyover ramp to and from U.S. 95.
"It's too soon to know what, if any impacts there could be to HOV-specific ramps and flyovers," Hopkins said. "We need to see what the NEPA concludes and what steps the transportation board takes next."
Contact Mick Akers at makers@reviewjournal.com or 702-387-2920. Follow @mickakers on Twitter.