Project Neon begins in April with most traffic disruptions in 2017
February 9, 2016 - 8:36 am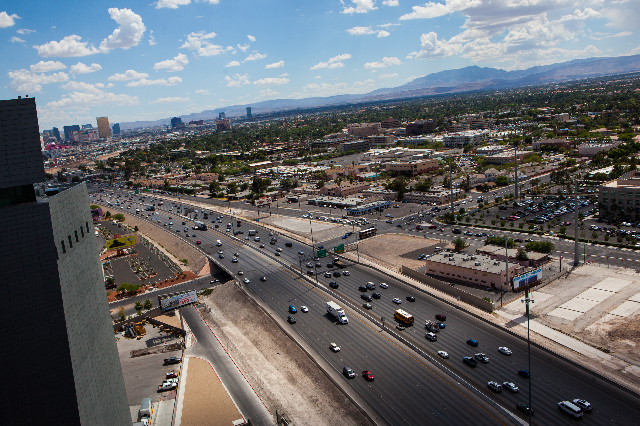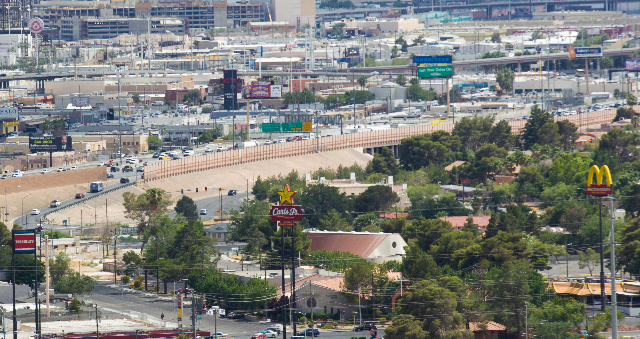 When Project Neon, the $1.5 billion, 3.7-mile Spaghetti Bowl-to-Sahara Avenue rehabilitation project, gets underway in April, it won't immediately disrupt freeway traffic.
In fact, crews won't close lanes of U.S. Highway 95 for the project until the first quarter of 2017 with the biggest disruptions planned from the third quarter of 2017 through the second quarter of 2019.
Nevada Department of Transportation Project Neon Manager Dale Keller on Monday gave the state Transportation Board a preliminary look at the development schedule for what will be the largest transportation project in state history.
Work is expected to begin in April.
The intersection of Interstate 15 and U.S. 95 is the busiest stretch of roadway in the state and on average sees 300,000 vehicles a day, 25,000 lane changes an hour — and three crashes every day.
Although traffic won't be disrupted on the freeways for at least a year, that doesn't mean motorists won't have to dodge some orange cones on surface streets in the early going.
Project Neon is a design-build project, meaning that design and construction are undertaken by one entity. The process speeds delivery of the project because the bid process is incorporated within the overall project. For Project Neon, Kiewit Infrastructure West in Las Vegas is the lead builder and is working with Atkins North America, a local subsidiary of a global British design and engineering firm.
Motorists traveling at night already have seen some evidence of Project Neon preparations. Crews are completing some geotechnical drilling at night to test stability for future bridge structures just off I-15 and along Charleston and Martin Luther King boulevards.
Early next month, a Project Neon public information office will open Mondays through Saturdays to field questions about the project.
An official groundbreaking ceremony is planned April 7. Once the last of the confetti is tossed, the work — and for motorists, the pain — begins.
Through July, crews will continue to demolish properties on right-of-way the state has acquired over the past two decades when plans for Project Neon first began.
The state still hasn't settled with every landowner but most of the court dates are in place to finish the acquisition process. By July, work will begin on some of Project Neon's surface-street projects with the reconstruction of Martin Luther King Boulevard at the top of the list. Other surface street work will occur with the extension of Grand Central Parkway to Industrial Road and a high-occupancy-vehicle exit at Wall Street to be known as the "Neon Gateway."
Through the design-build process, Project Neon won't progress as one linear project. Instead, different sections of the project will occur simultaneously at different locations along the 3.7-mile length of the construction zone.
In addition to the early surface street work, crews will begin developing active traffic management signage on I-15 and U.S. 95 north and south of the project to keep motorists aware of upcoming lane closures.
Things will start to get messy for freeway users in the first quarter of 2017 when crews begin work on ramp-braiding projects, the additions of ramps designed to keep exiting freeway traffic away from vehicles merging onto the highway..
I-15 mainline improvements will occur from March to November 2018, avoiding high-traffic convention and holiday periods.
The most high-profile piece of the project will come last — construction of the high-occupancy-vehicle flyover connecting I-15 and U.S. 95 HOV lanes. That will occur from November 2018 through July 2019.
Project Neon plans also incorporate little onsite steel girder construction. Most of the overpasses planned in the project will use precast concrete poured offsite and transported to the construction zone and installed with a pair of cranes.
Keller said through January, $11 million has been spent on Project Neon and there are 159 employees working on the project. Over the length of the project, more than 4,000 direct, indirect and induced jobs are expected to be created.
Follow @RickVelotta on Twitter. Contact reporter Richard N. Velotta at rvelotta@reviewjournal.com or 702-477-3893.