Work crews confident I-15 will reopen — partly — by Friday
September 10, 2014 - 5:41 pm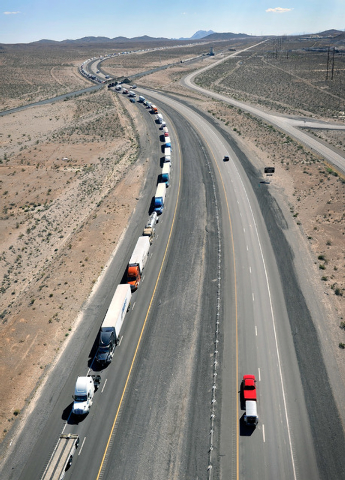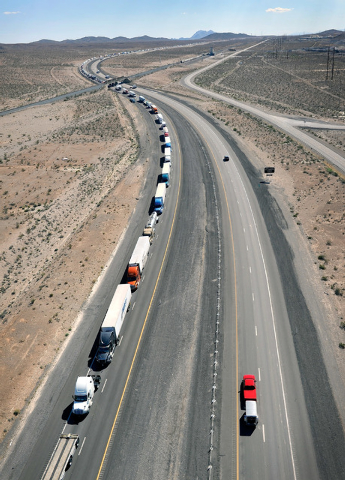 Nevada Transportation Department crews say they're optimistic they will be able to have one lane of traffic flowing in each direction of Interstate 15 by Friday.
Until then, traffic is painfully slow on detour routes around the two-mile, 20-foot gash in I-15's median that filled with floodwater, washing out portions of both the north- and southbound lanes about 50 miles northeast of Las Vegas.
Transportation Department officials say nothing could have been done to prevent the highway from washing out as a result of what's being called a 100-year flood. Meteorologists estimated that 4 inches of rain fell in the area in two hours.
"There was no malfunction in the infrastructure," Julie Duewel of the department said Wednesday. "We simply got too much rain to handle in such a short period of time."
Nevada is seeking $5 million in emergency funding through the Federal Emergency Management Agency to pay to repair the damage. The Transportation Department was in the midst of a 26-mile highway overhaul when the flood occurred, so it issued a multimillion-dollar change order on the project to expedite work.
Department crews from Las Vegas, Ely, Alamo and Panaca have been working around the clock since Tuesday with Las Vegas Paving to make the highway passable as soon as possible.
The transportation departments of Nevada, Arizona, Utah and California are bracing motorists for delays by informing them of the detour on their dynamic signage on various highways.
Duewel didn't have a total number of workers committed to the project, but said it would continue in 24-hour shifts to get the highway open.
It hasn't been determined whether truck traffic would be permitted on I-15 once it opens. One of the problems that has been encountered since construction began on the project in June is that a steep incline climbing out of Moapa on the northbound side of the highway would bog down truck traffic and create a bottleneck that resulted in cars overheating and having to pull over onto the shoulder.
Mario Gomez, assistant district engineer for construction, said meetings are planned today to determine when I-15 would reopen, whether trucks would be allowed on it and what the speed limit would be when it's open.
"Even when the highway is open, there's still a lot of damage and a lot of work to do, so speeds will be reduced," Gomez said.
In addition to rebuilding the highway, workers will have to repair slopes and right-of-way fences that were damaged by the flood.
Gomez compared the volume of water hitting that portion of the highway to attempting to load a half-ton truck with 3 tons of payload.
"If you do that, your truck isn't going to run for very long," he said.
I-15 was built under Federal Highway Administration standards to withstand a 100-year storm.
Gomez said it's possible to build for even worse events, such as 200- or 300-year floods, but construction costs would escalate exponentially.
"And then," he said, "you'd have to consider where you're going to build to a higher standard. Just there? Throughout the whole state? There are some places on (U.S. Highway) 95 that flood out frequently. To build to that level of standard would be cost-prohibitive."
Once traffic is flowing both directions, transportation officials will meet again to determine what will happen next.
The I-15 project that was underway when the storm hit included a mill-and-pave surface profile repair and adding a northbound climbing lane at the steep incline. Gomez said leaders would have to determine whether workers return to the original project or continue with repairs to flood damage.
SLOW GOING
Cars and recreational vehicles are being directed to exit at the Valley of Fire State Park highway, drive into the park — where admission fees are being waived — then along State Highway 169 through Overton back to I-15. It's a distance of about 40 miles on a two-lane road compared with 18 miles of four-lane highway.
But truckers are bearing the brunt of the detour pain.
Truckers are being directed to take U.S. Highway 93 about 20 miles north of Las Vegas through Alamo and Caliente to the town of Panaca, then head east on state Route 319, which becomes Utah Route 56 and connects to I-15 at Cedar City. That's a distance of about 227 miles on two-lane roads compared with 150 miles on the four-lane interstate.
The resulting truck detours have been good for some truck stops, but bad for others.
"Traffic has been pretty heavy, but today it's a little bit lighter," Robert Foremaster, grocery manager at Great Basin Foods in Alamo, said Wednesday.
The grocery store that doubles as a gas station has plenty of fuel and groceries to sustain the increased traffic through the small town, Foremaster said, adding that the detour has been great for business.
But in North Las Vegas, at Morton's Travel Plaza on Cheyenne Avenue, several of the refueling bays that are nearly constantly in use were vacant Wednesday. The reason: Truckers have pulled off the road and are awaiting instructions from their managers on whether to take the U.S. 93 detour and its seven-hour travel delay or take an alternative route, possibly Interstate 40 east through Arizona and U.S. Highway 89 north into Utah.
"I had a customer tell me it was bumper to bumper for five hours on Highway 93 at 7 this morning," Morton's manager Ryan Cotrell said.
Because Love's Travel Stop is at the point of the truck detour on U.S. 93 and I-15, it's getting a high volume of traffic. Fuel sales are steady, but groceries are moving faster.
"It's putting our customer service skills to the test," said Duncan Stoops, the district manager for Love's who oversees eight truck stops in Nevada, Arizona and Utah.
He said the worst traffic jam appears to be between Caliente and Panaca, where one trucker told him it took four hours to travel 20 miles. The big problem is that southbound traffic has a stop sign on Route 319 at the intersection of U.S. 93 a mile west of Panaca. Big rigs aren't able to pull out into traffic on U.S. 93, resulting in congestion that has backed traffic back to the town.
FLOOD HURT POWER GRID
Southern Nevada's power resources also were affected by Monday's flash flood.
NV Energy's Reid Gardner Generating Station near Moapa remains offline after floodwaters entered the plant and filled its parking lot to a depth of 6 feet.
Company spokeswoman Jennifer Schuricht said workers there literally saw the floodwater approaching, so they shut the plant down about 3 p.m. and "electrically isolated" it to minimize the damage and keep everyone safe.
The facility is undergoing inspection and testing that is expected to keep the coal-burning plant off the grid for about a week, she said.
NV Energy is phasing out the aging plant, which has drawn fire from environmentalists and nearby residents from the Moapa Band of Paiute Indians, who blame coal pollution for health problems on the reservation.
Schuricht said the plant's waste ponds and coal-ash landfill survived the flood intact.
The Nevada Division of Environmental Protection received no reports of spills or breaches at Reid Gardner, but state regulators plan to check on the situation "once the roads are passable," said JoAnn Kittrell, spokeswoman for the division.
Schuricht said NV Energy's other power plants are operating normally, so "we're fine from a load standpoint."
Contact reporter Richard N. Velotta at rvelotta@reviewjournal.com or 702-477-3893. Follow @RickVelotta on Twitter. Contact Henry Brean at hbrean@reviewjournal.com or 702-383-0350. Follow @ReFriedBrean on Twitter. Contact Colton Lochhead at clochhead@reviewjournal.com or 702-383-4638. Follow @coltonlochhead on Twitter.
Map:
More information on the Interstate 15 story as it develops.