Monsoon season arrives in Las Vegas Valley; more rain possible
Updated July 10, 2018 - 3:07 pm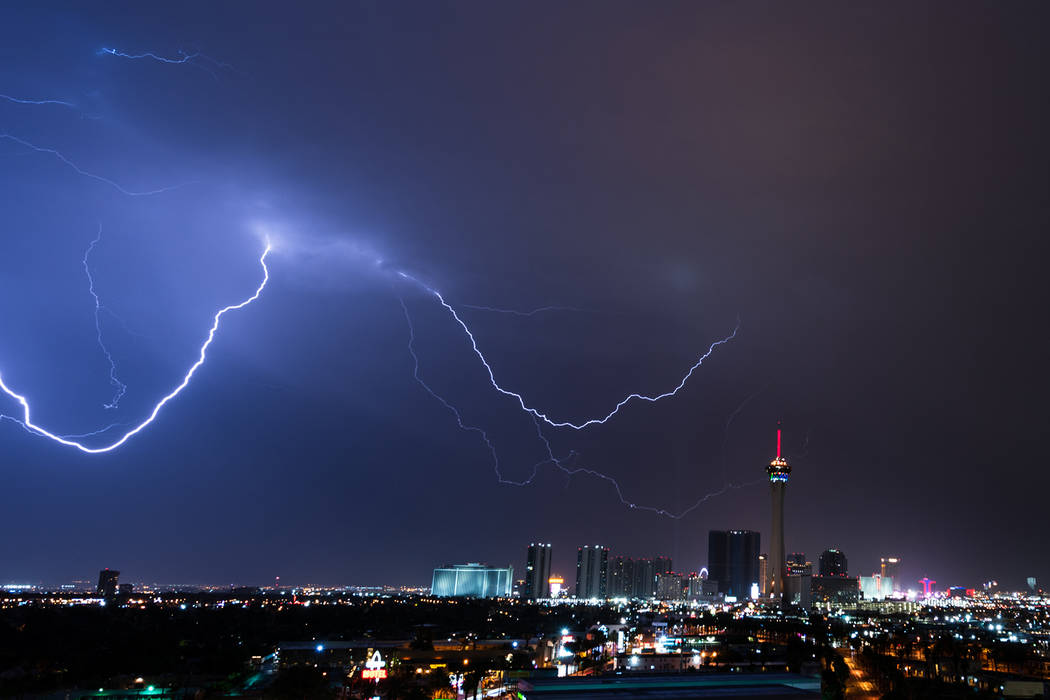 An overnight thunderstorm gave Las Vegas its first taste of monsoon season, blowing the valley's normal rain totals for the month of July out of the water in just over five hours.
The storm lasted between 9 p.m. Monday and 2 a.m. Tuesday, picking up a rainfall total of 0.66 inches, according to the National Weather Service. The valley typically receives about 0.40 inches of rain for all of July.
"So just with that storm yesterday, we are now at 165 percent normal for July rainfall," meteorologist Chris Outler said Tuesday morning with a hint of excitement in his voice.
The downpour was most intense between 9 and 10 p.m., leading to at least one swift-water rescue, diverted flights at McCarran International Airport, power blackouts, and flooding across the Las Vegas Valley.
10:55PM Radar Update: Mostly scattered t-storms across much of Clark and Mohave counties as well as portions of eastern San Bernardino County. Expect lightning, gusty winds & possible flooding. #nvwx #cawx #azwx pic.twitter.com/gLCZtraEgD

— NWS Las Vegas (@NWSVegas) July 10, 2018
At about 10:10 p.m., a man got caught in a wash on the 800 block of East Flamingo Road. Clark County Fire Department crews used ladders and ropes to pull him from the flood channel. He was uninjured, the department said.
Much of the valley saw wind gusts between 40 and 45 mph during the storm, but at the airport, which is the weather service's official recording site, a gust of 68 mph was recorded. It was the strongest gust since at least 2008.
By midnight Tuesday, more than 80 flights had been diverted from McCarran, according to spokeswoman Christine Crews said.
Roads and intersections quickly flooded across the valley, and Las Vegas police responded to at least 46 crashes during the storm, according to dispatch logs. Metropolitan Police Department Lt. David Gordon said officers were sent to help deal with or direct traffic around road hazards, such as downed trees.
No significant clean-up work was being done Tuesday morning in the valley, a spokesman for the Nevada Department of Transportation said. The rain, however, did cause NDOT to delay Project Neon construction work planned for Monday night by one day.
As police and first responders worked through the thunderstorm, there were roughly 230 cloud-to-ground lightning strikes, the weather service said.
Monday's storm also wreaked havoc with electrical equipment, leading to blackouts and minor fires across the valley.
More than 40,000 NV Energy customers were without power Monday night, according to the power company, with the majority of outages clustered around the central valley. By noon, power had been restored to all but about 300 customers in Clark County as NV Energy crews replaced damaged equipment.
Replacing a pole at Jones & Alta – Crews are still out working diligently to get everyone restored after lightning left about 40,000 customers without power last night. Thanks for your patience. pic.twitter.com/9sKLuOvfQz

— NV Energy (@NVEnergy) July 10, 2018
A 30 percent chance for more rain will linger through Thursday before dropping to about 20 percent through the weekend, according to the weather service. Rain and thunderstorms will likely come in the afternoons.
At 3 p.m. Tuesday, the weather service was monitoring several storms in Mohave County and Kingman, Arizona, which could bring more showers to the valley late Tuesday, meteorologist Barry Pierce said.
Rainy days also mean lower temperatures, and Tuesday's high should reach 98 degrees, with highs near 100 forecast for Wednesday and Thursday. Temperatures will start rising again Friday, with a high of 102 followed by Saturday's forecast high of 105.
Monsoon season usually hits the valley in early to mid-July, meteorologist Kate Guillet said, and lasts through early to mid-September. It's marked by an increase in moisture moving up from the Pacific Ocean to the southwest or the Gulf of Mexico to the south.
Contact Rio Lacanlale at rlacanlale@reviewjournal.com or 7002-383-0381. Follow @riolacanlale on Twitter. Contact Max Michor at mmichor@reviewjournal.com or 702-383-6239. Follow @MaxMichor on Twitter.