Las Vegas' Kyle Wilson finds redemption, wins Class 4A state bowling title
February 2, 2018 - 6:55 pm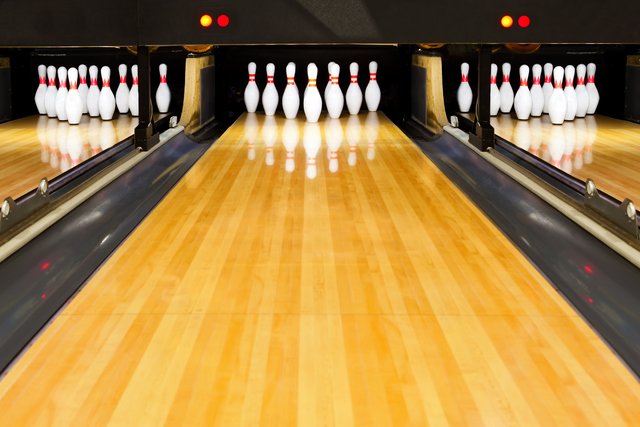 Las Vegas High's Kyle Wilson missed out on an individual bowling title by only 11 pins last season.
He found redemption Friday.
Wilson rolled games of 258, 220 and 277 for a 755 series on his way to the Class 4A state title at the Gold Coast Bowling Center.
Desert Oasis' Zach Dobbs finished second with a 706 series. Defending state champion Caleb Andrews of Clark was third at 623.
Wilson rolled a 698 series last year, finishing second to Andrews.
Spring Valley's Brysen Mortensen was fourth at 564, followed by Liberty's Terrance Rock (523) and Spring Valley's Ku'uleialoha Mortensen (500).
In the girls 4A final, Valley's Savannah Decker rolled a 278 in the middle game on her way to a 695 series and the individual championship.
Decker, who began the day with a 201 and finished with a 218, finished sixth in last year's final.
Sierra Vista's Vanessa Fuzie was second with a 638 series, including a 279 final game.
Basic's Olivia Lampkin (561) was third, followed by Durango's Jaylyn Jenkins (558), Arbor View's Makenzie Derezotes (529) and Desert Oasis' Jazmyne Compehos (410).
Class 3A
Tech swept the Class 3A individual titles with Brendan Lindsey grabbing the boys crown and Eri Leong successfully defending the girls title she won last year.
Lindsey rolled games of 247, 192 and 235 for a 674 series and held off Del Sol's Skylur Pinkus, who finished second for the second consecutive season. Pinkus had a 654 series.
Cheyenne's Josue De Alba (625) was third, and defending champion Cerell Cardines of Chaparral was fourth at 580. Del Sol's Jabour Clark (547) and Boulder City's Jamison Kaboli (482) rounded out the top six.
Leong rolled games of 181, 196 and 205 for a 582 series and an easy victory.
Western's Justyce McCoy was second at 487. Tech's Angelica Rosado (460) and Kristina Flores (393), Chaparral's Losi Brown (378) and Mojave's Maria Richardson (370) completed the six-bowler field.