BOYS CROSS COUNTRY: Centennial's Braxton leaves field behind, claims crown
November 8, 2014 - 8:22 pm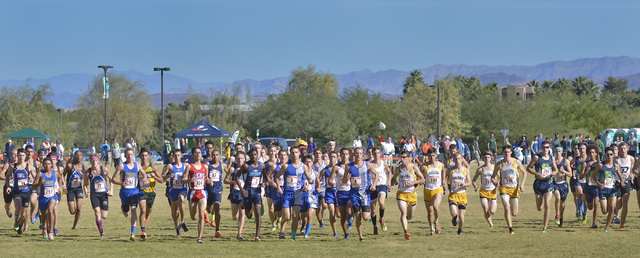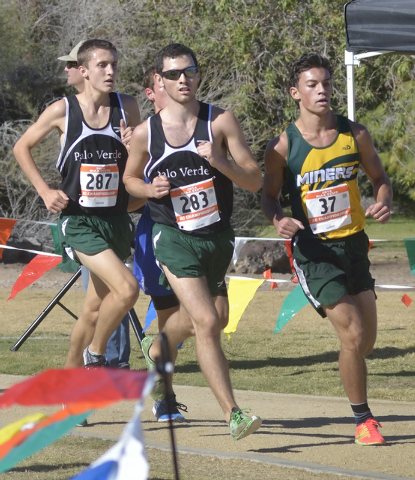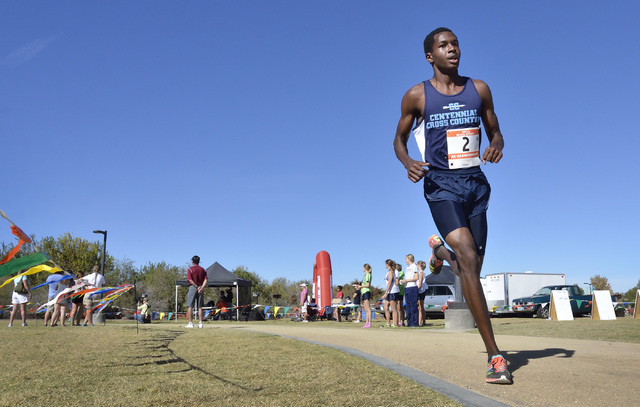 Dajour Braxton could have sworn he heard footsteps in the closing stretch of Saturday's Division I boys state cross country race at Sunset Park.
The Centennial senior might have heard something, most likely thunderous applause for a record-breaking effort.
Tested early in the race, Braxton pulled away in the final mile and finished strong, competing the 3.1-mile course in 15 minutes, 34.2 seconds to win the state title. His time was 10 seconds faster than the course record he set in the Sunset Region meet on Oct. 30.
"I thought they were right behind me the whole time," Braxton said. "I was surprised. I didn't think I would (set a personal record) by this much. The last two years, I was so close. I just wanted to be a state champion."
Braxton, who finished third in both the 2012 and 2013 state meets, was pushed early by the McQueen duo of Kai Benedict and Connor Ross, and Green Valley's Austin Rogers, but opened up a two-stride lead just past the midway point of the race.
He led by three seconds at the two-mile mark, but saved his best for the final 1,600 meters.
"Throughout the season, I've been working on always trying to get a gap," Braxton said. "I knew I had to pick it up."
Benedict (15:58.9) finished second and Ross (16:06.0) third to help McQueen easily win the team title. The Lancers, ranked 30th nationally by dyestat.com, had 27 points. Green Valley was second with 81.
"It's the best finish any boys cross country team has ever had at our school," Green Valley coach Blaine Thompson said. "We knew after the first mile that we were running for second, and the boys had no problem with that. It's a great, great sendoff for our four seniors."
DIVISION I-A
Chase Wood ran the final 200 meters as though it were a 50-yard sprint.
He didn't need to. The Faith Lutheran junior already had the Division I-A race in hand.
Wood, who finished third in last year's state meet, wasn't about to let anyone take Saturday's race away from him, sprinting to the finish line in 16:37 to capture a state title.
"It was just motivation to keep going all the way through as fast as I can," Wood said. "I tried to push myself every week to get faster in that final stretch.
"It feels good. I really don't know what else to say."
Wood, locked in a battle with Truckee's Noah Oberriter and Elko's Kyler Simpkins for most of the race, had the strongest finishing kick and won by seven seconds over Simpkins. Oberriter was third in 16:47.1.
"I realized I had to start going because they got too far ahead of me last year at the state meet, and that killed me," said Wood.
Pahrump Valley's Bryce Odegard took fourth in 16:56, and Desert Pines' Abdirahman Mohamed overtook Tech's Garrett Meyer in the final 15 meters to earn fifth in 16:57.9. Meyer, who led early in the race, finished in 16:58.2.
Spring Creek won the team title with 50 points to Clark's 70. Elko was third with 83, three points better than Faith Lutheran.
DIVISION III
Silver Stage's Brandon Perez won an exciting Division III race, separating from a pack of four runners in the final 200 meters, to finish first in 17:49.3.
Perez, Whittell's Cole Snyder, Yerington's Brandon Chico and Sage Ridge's Ethan Hardacre were within arm's reach of each other for much of the race before Perez started to separate and other runners began to creep up on the lead pack.
Hardacre was second in 17:55.1.
Adelson School's Cutty Zanghi was the top Southern Nevada finisher, placing ninth in 18:32.1.
North Tahoe was the team champion with 31 points. Silver Stage was second with 59.
Summaries: