BOYS CROSS COUNTRY: Defending state champs take top four spots in region; Coronado pulls out Sunrise
November 2, 2013 - 8:52 pm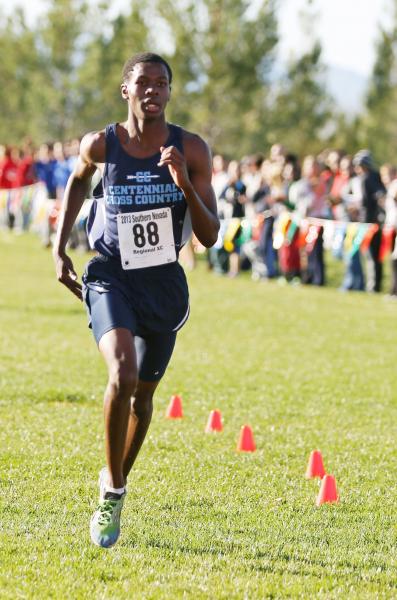 Centennial's boys left little doubt Saturday about which is the best Sunset Region boys cross country team.
The defending Division I state champions had the top four finishers and five of the top nine in a dominating showing at Veterans' Memorial Park.
Dajour Braxton, Jackson Carter, George Espino and Seth Wright broke away from the field early as the lead group of the race turned into a Centennial challenge race.
Braxton won the 3.1-mile race in 16 minutes, 11.1 seconds. Carter (16:16), Espino (16:23.9) and Wright (16:55.5) followed. Arbor View's Cole Jones almost broke up the pack, finishing fifth in 17:01.5.
"We've really come together as a team," Carter said. "We just stuck behind (Braxton) and let him do the work."
Centennial had a team score of 19. Palo Verde finished second with 76, followed by Shadow Ridge with 84. The top three teams and top five individuals not on a qualifying team advance to next week's state meet in Reno.
"It's all about team," Braxton said. "I just run hard and try to run for the team."
The Sunrise race was much closer, with defending region champion Coronado holding off Green Valley, 59-60. Las Vegas finished third with 96 points.
Green Valley placed all seven of its runners in ahead of Coronado's fifth runner, but the Cougars prevailed mainly because of a higher placing of their first three runners (2-6-7) to the Gators' top three (3-4-15).
"Colin (Schaefer) ran really well, which we expected," Coronado coach Mark Tondryk said. "Xavier Cummins came up big. Sterling Saltz had been our number two all year. Today he was our number three, but in the last 200 meters he passed seven people. You can make a case that right there is where we won the meet."
The individual race came down to a duel between defending Sunrise champion Eddie Esquivel of Eldorado and Schaefer. The two ran like they were glued together the entire last mile, until Esquivel (16:42.6) outkicked Schaefer (16:44.9) in the final 20 meters.
"I've trained really hard over the season, so I was ready for it," Esquivel said." It was a tough race. I was just trying to keep up with (Schaefer). I knew I had a better finish, so I just stayed with him."
Green Valley's Austin Rogers was third in 17:12.8, and teammate Leonardo Rubi took fourth in 17:22.5.
The Division I-A Southern Region race and the battle for the three spots at state took an odd twist when Clark showed up late and missed the race.
With its top competition out of the race, Tech won by a comfortable margin, scoring 43 points. Boulder City was second with 69, six points better than Faith Lutheran.
Tech No. 1 runner, Martin Ponce, was disqualified in last year's race, but the Roadrunners prevailed without him. This time there was nothing stopping the Tech senior.
Ponce had an easy time of it, winning going away (17:03.4) over Faith Lutheran's Chase Wood (17:19.8).
With Clark out, "I didn't expect to have anyone close by," Ponce said. "I was trying to slow down after the first mile. I was taking it easy today."
Tech's Garrett Meyer (17:23.7), Faith Lutheran's Austin Hunt (17:34.2) and Boulder City's Chandler Harkins (17:34), rounded out the top five.
West Wendover won the Division III race with 36 points. Lincoln County, led by race winner Cameron Frehner (18:42.8), finished second with 50 points.
Full results:
Division I-A Southern Region Meet
Division III Southern Region Meet