BOYS STATE: Balanced Centennial comes through again
November 3, 2012 - 9:16 pm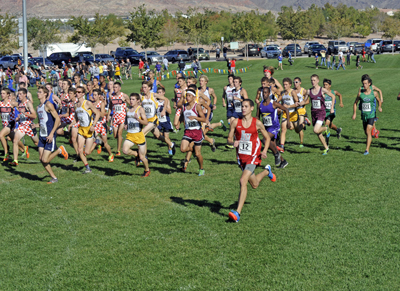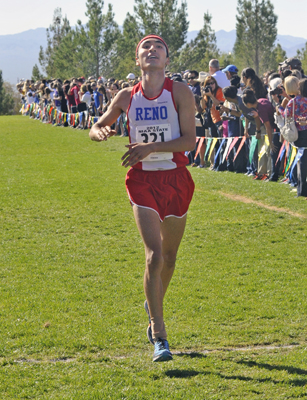 Things couldn't have worked out much better for Mike McGuire on Saturday.
Centennial's boys cross country coach had just watched his team place all five scoring runners in the top 10 for team scoring.
It added up to the Bulldogs taking a 27-44 victory over Galena to win the Division I state meet at Veterans Memorial Park in Boulder City. The state title is the third since 2008 for Centennial, with all three coming in Southern Nevada.
"The kids ran out of their minds today," McGuire said. "We did exactly what we needed to do: win the matchups. We did that, all five. It was an incredible win for us."
Reno's Jordan Cardenas won the individual title on the 3.1-mile course in 16 minutes, 15.9 seconds.
The team race was settled early as Centennial's trio of Dajour Braxton, Jackson Carter and George Espino, followed by Wyatt Morris and Tyler Giles, each were among the leaders from the start and finished 3-4-10-17-20 for Centennial's 27 points.
Coronado (101 points) finished a distant third.
Individually, the race was settled late.
Eldorado junior Eddie Esquivel, the Sunrise Region champion, finished second in 16:31.4.
Braxton was third in 16:37.3 and Carter fourth in 16:38.2.
"It was a great team win for us," Carter said. "I just stayed up there with Dajour. I knew our other guys would come through, and they did."
A pack of eight runners blasted through the 2-mile mark in 10:38.
In the final mile, Cardenas, who finished third as a sophomore on the same course, broke away and cruised to victory.
The Division I-A title went to Elko. The Northern Region champion outscored Tech, 57-66. South Tahoe and Truckee finished with 67 points; South Tahoe claimed third on a tiebreaker.
"We were up against tough competition," Tech coach Tony Kyriacou said. "We were underdogs going in. So taking second, I can't complain. Martin (Ponce) ran really well. Our kids performed as well as I could have hoped for."
South Tahoe's Connor Henderson took the I-A individual crown with a wire-to-wire victory (16:37.8) over Tech's Ponce (16:50.8). Also finishing in the top five were Elko's Kyler Simpkins (17:08.8), Clark's Mucuranyana Amon (17:12.1) and Elko's Alex Byars (17:16.3).
The Division III race was all North Tahoe, which placed runners 1-2-5-6-8 for a score of 19. Incline was runner-up with 50 points.
Noah McDermott (16:56.8) and Patrick McElravey (17:12) of North Tahoe took first and second. Excel Christian's Zachary Hunt was third in 17:16.