Centennial continues to be top dog at first race of 2018
August 25, 2018 - 1:17 pm
Updated August 26, 2018 - 6:25 pm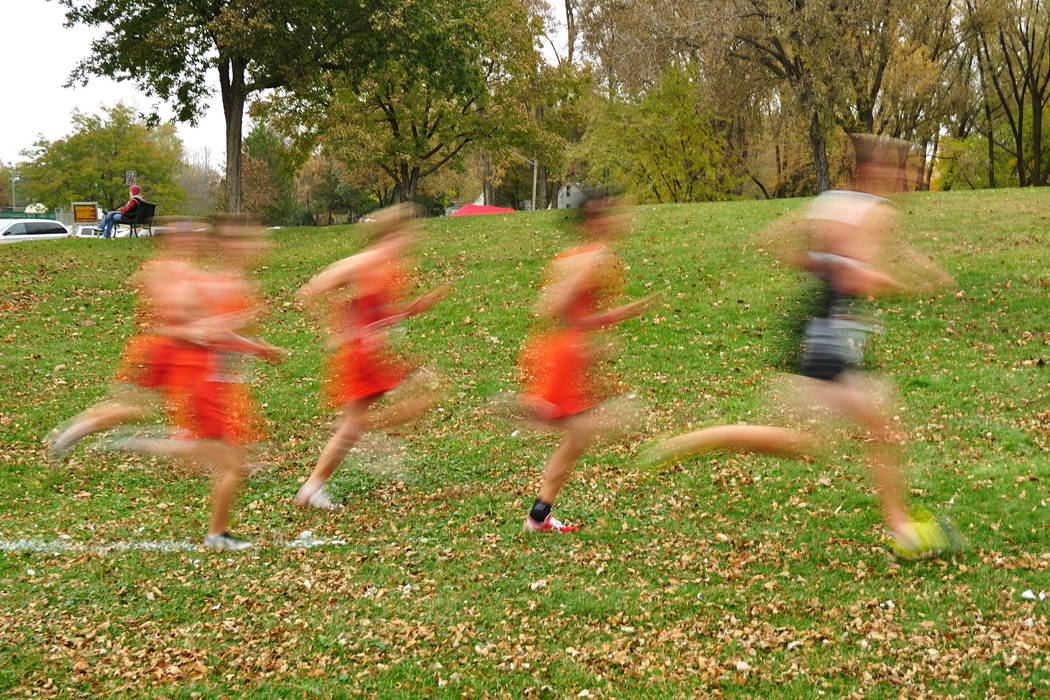 While the Centennial girls team has been the state powerhouse recently, Alexander Miller believes that 2018 could also be the Bulldogs' year in boys cross country.
Miller led the Centennial boys to victory in the season-opening Red Rock Running Company Invitational meet with a first-place finish in the newly reconfigured Mountain Region at Floyd Lamb Park on Saturday.
The senior pulled away from Faith Lutheran's Aiden Baughan to win in 15 minutes, 51 seconds over the 3-mile course. With four teammates finishing among the top 15, Centennial also won the team competition of the Mountain Region with 41 points, five fewer than Shadow Ridge.
"I always want to win, but I am also big on team results," Miller said. "We have six of our top seven guys back from a team that qualified for state, I think we have a chance to be really strong. But for us to (do) well, I have to run well."
Miller did that thanks to a strong third mile that saw him win comfortably. Baughan, a junior, was second in 16:03 while Dane Cobb took third in 16:10, three seconds in front of teammate Joseph Hughes.
The Red Rock Invite was the first cross country race under the new north-south region alignment, but some things still remain the same.
The Centennial girls are featuring a younger squad this season, but still delivered a 1-2-3 finish in the season opener. Bulldogs senior McKenzie Morgan led for most of the race and easily won in 19:06. Junior teammate Josephine Ruggieri took second in 19:38 and sophomore Ashley Roberts was third (20:47). Shadow Ridge's Amanda Simpson finished fourth and was quickly followed by a trio of Faith Lutheran runners (Sidney Bihrer, Natalie Behmer, and Madeline Work).
Centennial scored 26 points to top the team standings, with Faith Lutheran coming in second (40).
The Desert Region girls race had a quartet of runners quickly separate themselves. Basic's Raquel Chavez and Bishop Gorman's Emilia Puskas moved to the lead early on with Green Valley's Mia Smith and Coronado's Claire Rawlins roughly 10 meters back.
Shortly after the two-mile point, Chavez surged forward and gradually pulled away for the victory in 18:17. Chavez was particularly impressive in the final mile, showing an ability to pull away during the back portion of the race.
"I am really excited with the race," Chavez said. "I've been working on some mental aspects about running my race and staying consistent. The third mile is where I was able to show my strength a bit more compared to the past."
Puskas managed to outsprint Smith for second place, though both were credited with a time of 18:44.
Rawlins was fourth in 19:07 and was followed by teammates Erin Shannon and Caitlin Shannon. That 4-5-6 result helped Coronado finish first with 29 points. Bishop Gorman was second with 50 points.
The most exciting finish was in the boys Desert Region race, which ended up being decided by a final sprint between Bishop Gorman's Massimiliano Swenson and Spring Valley's Jacob Potere.
Swenson had a slight lead for much of the race with only Potere able to stay with him. Heading toward the finish, Potere was within a few meters and sprinted ahead with 50 meters to go. However, Swenson managed to counter with a sprint of his own to edge Potere at the finish line with both finishing in 16:11.
"It wasn't as good of a time as I had hoped," Swenson said. "But I am competitive and want to win when I have the chance. He sprinted ahead and, for a few moments I thought I would lose, but something snapped me back and my will pushed me to go ahead."
Esondre Christian was third in 16:35, the first of five Green Valley runners in the top 13. The Gators easily topped the steam standings with 43 points while Coronado was a distant second with 80.
Results