New to cross country, Christian Franklin earns first big win
September 22, 2018 - 12:55 pm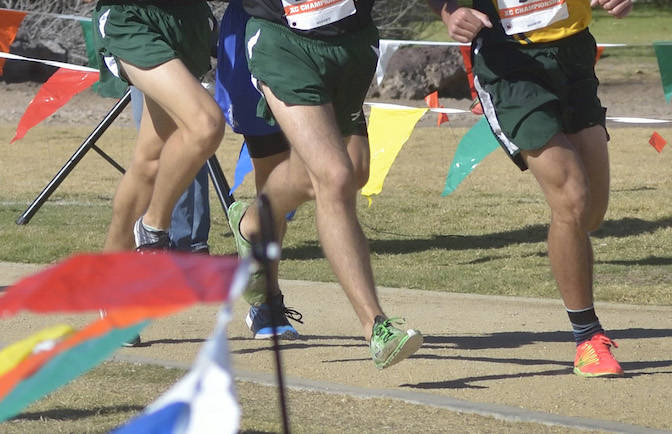 For a first-time cross-country runner, Christian Franklin may already stand among the best in Southern Nevada.
The Valley junior earned his first major meet victory Saturday, winning the boys varsity A race of the UNLV Invitational held at the Lake Las Vegas Sports Club.
Franklin led for most of the 3.1-mile race and then held off Centennial's Alexander Miller in the final 75 yards to cross the finish line in 17 minutes, 2.1 seconds. Miller finished in 17:05.6, the first of four Bulldogs in the top six.
In the girls varsity A race, Desert Pines junior Jazmin Felix was impressive in running away from a top-heavy field to win in 19:59. Bishop Gorman sophomore Emilia Puskas was second in 20:28.9.
Franklin has run distance events in prep track and field at Valley in his first two years, but took on cross country for the first time this fall. So far, Franklin has handled the changes quite well.
"It is a big difference," Franklin said. "You have to stay focused because it is a longer distance in cross country."
He found out himself in front early with first Bishop Gorman's Massimiliano Swenson and then Miller trailing him by a few yards. Eventually, Franklin and Miller built up a big lead over the rest of the field on the new course at Lake Las Vegas Sports Club.
Franklin was consistently in front by five-to-10 yards for the second half of the race. By the final turn, Miller made one last move and got close to Franklin, but the Valley runner utilized his experience in running middle distances in track to give one last down the final stretch.
"I absolutely knew he would make a move," Franklin said. "You have to remain relaxed and be ready to respond in a situation like that."
Swenson finished third (17:29.8), but Centennial runners Tucker Raymond, Eduardo Lopez-Cortez, and Noah Norris were the next three runners across the finish line. This allowed Centennial to score 33 points to finish atop the team standings. Green Valley was second with 63 points, and Shadow Ridge was third with 91.
The Lake Las Vegas course proved to be different from the majority of the courses at other big meets during the prep cross country season. Most of the course is on grass, and there were a number of small hills and sharp turns for the runners to navigate. With a mens and womens collegiate races going on earlier Saturday morning, the course was also muddy in certain spots.
"This is a course that has a hot of hills and a number of tricky turns," Centennial boys coach Chris Martinez said. "It is not super fast."
Felix noted that she had some difficulty with some slippery patches, but no one could tell by the strong run the junior delivered.
Felix started out in a front trio pack involving Puskas and Basic's Raquel Chavez. The three ran side-by-side-by-side at times through the first loop of the course. Around the halfway point, Felix and Puskas moved out in front.
"I was just trying to hang with the leaders as long as possible," Felix said. "The longer I was able to be up there, the more confident I got. I still had some concerns, but I was telling myself to run to my pace."
With roughly a 1000 yards to go, Felix pushed up a hill and left Puskas behind. She then pulled away leaving a field that included several meet winners from earlier this season.
Centennial placed four runners in the top 10, paced by senior McKenzie Morgan's third-place finish (20:52.5). The Bulldogs had 41 points to finish first in the standings with Bishop Gorman in second with 57. Tech was third with 108.