Small-school regions: Pahrump Valley's Bryce Odegard, Desert Pines' Jazmin Felix win titles
October 27, 2017 - 5:49 pm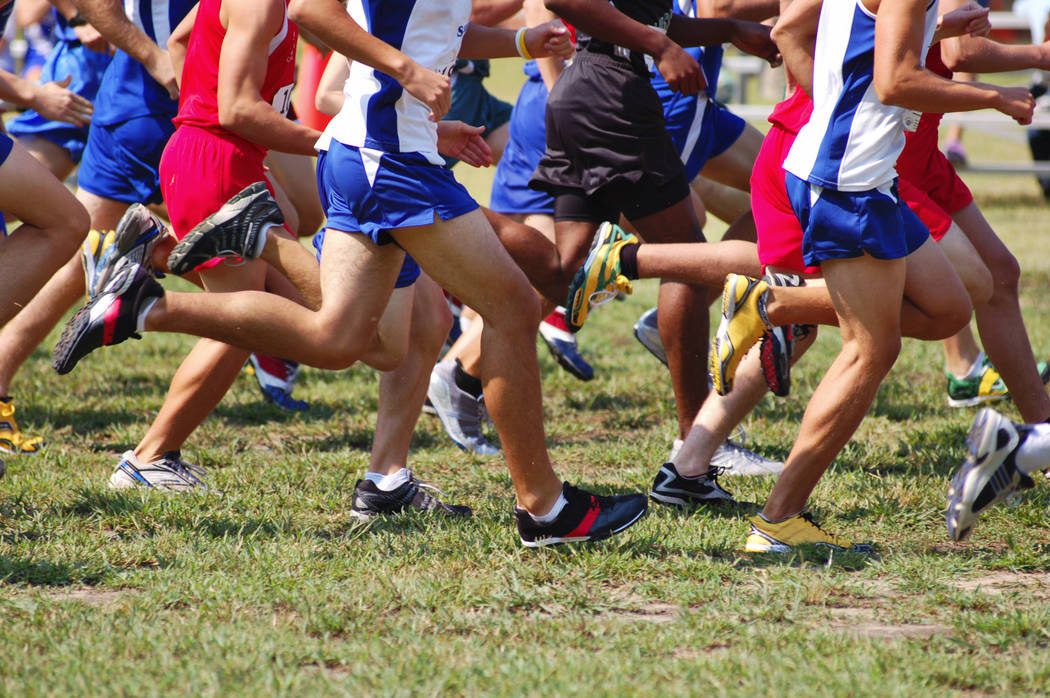 It wasn't a matter of who would win the Class 3A Southern Region boys meet at Veterans Memorial Park in Boulder City on Friday. Just by how much.
Pahrump Valley senior Bryce Odegard finished the 3.1-mile race in 17 minutes, 36 seconds to capture his second consecutive individual region title and lead the Trojans to the team title.
"It's a tough course with all the sand and stuff," Odegard said. "It's not what we traditionally run, so we just kind of had to adapt. I knew what I was up against coming in, so I strategized to really work up the wash through the thick sand."
It was the first time in six meets this season that Odegard failed to eclipse the 17-minute mark over 3.1-mile races.
But his perfect record against 3A runners remained in tact when he pulled away from the pack with about a mile left and won the race by 18 seconds.
Desert Pines' Jovan Ibarra was second in 17:54, ahead of Cheyenne's Jaime Chavez (18:01), Moapa Valley's Jerrick Stastny (18:14) and Pahrump Valley's Cole Goodman (18:22).
Ibarra, who set a personal record in the race, improved his time on the course by nearly a minute from his sophomore year.
"I'm really proud of how I ran today," Ibarra said. "Because everything went perfectly how I wanted it to. … It's been amazing (to see my growth), honestly. I never would have expected myself to reach this far."
Chavez, in his first year of cross country, and Ibarra each credited Odegard for pushing them all season — and once again — on Friday. Both runners acknowledged Odegard's dominance this season, and said they hope to finally catch him next weekend at state.
"That's all of our goals," Ibarra said.
Chavez added: "He's the No. 1 competitor."
Pahrump Valley won the team title with 39 points. Moapa Valley finished second at 60, ahead of Cheyenne (72), Tech (101) and Del Sol (182).
"We needed to run our best race of the year here and we did that," Pahrump Valley coach Matt Kolodzieczyk said. "I was very impressed with the performance."
In the Class 3A girls race, Desert Pines' Jazmin Felix huffed and puffed down the final strip of grass at Veterans Memorial Park.
And the sophomore blew away the competition, winning the 3.1-mile meet by nearly one minute.
Felix finished in 20:39, beating Jaguars teammate Nayeli Perea-Barco (21:34), to claim her first individual title.
"I wasn't expecting this," said Felix, who transferred from California this season. "I paced myself a lot to run better in the race."
With loud cheers scattered throughout the crowd for her, Felix's kicked hard and eventually collapsed at the finish line.
It was worth it.
"I couldn't breathe at all," Felix said. "But it went really well. I liked (the course). It was a really nice."
Boulder City's Sierra Selinger was third in 21:52, Pahrump Valley's Diamond Sonerholm was fourth in 22:11 and Virgin Valley's Viviana Archuleta-Vegas was fifth in 22:21.
Tech had five of the next seven finishers to claim its second consecutive region title with 44 points. Desert Pines (75) was second, Pahrump Valley (92) was third and Boulder City (93) and Moapa Valley (110) were fourth and fifth, respectively.
"They're such a good, tight-knit group of girls," Tech coach Cathy Meyer said. "They just support each other and have a good time and have fun. They're right there together. It's a fun group."
Class 2A
The Meadows boys and girls swept the Class 2A Southern League titles at Veterans Memorial Park.
The Mustangs had three runners in the top 10 and finished with 31 points to earn the boys title.
Ian Cook placed second in 17:52, Tucker Hansen was fourth in 18:33 and Julius Santo Pietro finished in 10th in 19:43 for The Meadows, which captured its second title in three seasons. West Wendover finished second with 36 points, ahead of Lake Mead (45), Laughlin (55) and Lincoln County (63).
Lake Mead's Shay Rutledge won the race in 17:36. West Wendover's Jorge Aguirre was third in 18:07, and Lincoln County's Cody Dirks placed fifth in 18:46.
In the girls race, Ellen Hirsberg (21:38) and Ashley Lee (22:54) took the top two spots to lift The Meadows to a sixth consecutive league title.
Laughlin finished in second place with 40 points. White Pine was third with 41 points, and Lincoln County (45) and Needles (85) rounded out the top five.
Lincoln County's Hannah Bleak was third in 23:22, ahead of White Pine's Odessa Stewart (23:36) and Laughlin's Maritza Cruz (23:48).
Contact reporter Ashton Ferguson at aferguson@reviewjournal.com or 702-383-0430. Follow @af_ferguson on Twitter.
Meet results: