Williamses lead Bulldogs' runners into regional meet
October 29, 2008 - 10:08 pm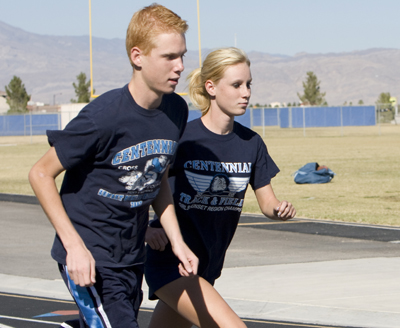 It's not unusual to see siblings on sports teams, but rarely are they as talented as Nathan and Brittany Williams, or on teams as good as Centennial's cross country squads.
Nathan and Brittany Williams are the only brother-sister duo to win the Southern Nevada Frosh-Soph Championships both as freshmen and sophomores.
In 2006 as a freshman, Nathan Williams finished second at state. Last year he was third.
Brittany Williams placed 18th at state last season as a freshman.
This year both are front-runners for their teams, and both Centennial squads are ranked No. 1 in Southern Nevada heading into the region championships Friday at Boulder City's Veterans Memorial Park.
The meet begins with the Sunrise Region boys race at 9 a.m.
Nathan Williams came to cross country about the same time he started cycling. He said the sports complement each other.
"One works on my quads, and one works on my calves. Cycling has helped tremendously with my cardio."
Brittany Williams spent much of her childhood on a dance team and competed in gymnastics. Nathan's success as a freshman motivated her to try running.
"We've done other things together sports-wise, such as speed skating," Brittany Williams said. "I was interested in whatever he was doing, pretty much."
Brittany Williams quit speed skating "about a year ago" to concentrate on running. She attended a cross country camp at Pepperdine over the summer and now runs year-round.
Both of Centennial's cross country teams have had success this season.
The Bulldogs' boys placed sixth out of 22 teams at the Nike Pre-Nationals in Portland, Ore. Centennial's girls placed third out of 26 teams at the Central Park Invitational in Huntington Beach, Calif.
Bulldogs girls coach Bill Miller said Brittany Williams is a great athlete to coach.
"She runs every workout hard and is a great leader out there," Miller said.
Brittany Williams considers Arbor View's Katie Carrell her toughest opponent. Carrell outdistanced Brittany Williams in a recent race.
"I don't like to lose," Brittany Williams said. "Even if it's by a second, I get so mad … but I get over it."
Nathan Williams looks farther north for his toughest opponent — Galena's Bryan Tibaduiza, who won state in 2007 as a junior.
"I probably should work harder than what I do, but when I'm in a race I'm prepared to win," Nathan Williams said. "I have to have somebody to run with, to push me."
Nathan and Brittany Williams might go their separate ways after high school, but they also could end up together at Pepperdine.
After her positive experience at camp, Brittany Williams is leaning toward the Waves. Nathan Williams is looking at Pepperdine as well, but he's also being recruited unofficially by Brown.
Until then, there is a lot of running for both of them to do in high school.