GIRLS CROSS COUNTRY: Centennial's Alexis Gourrier dominates again as Bulldogs win team title
October 28, 2016 - 5:31 pm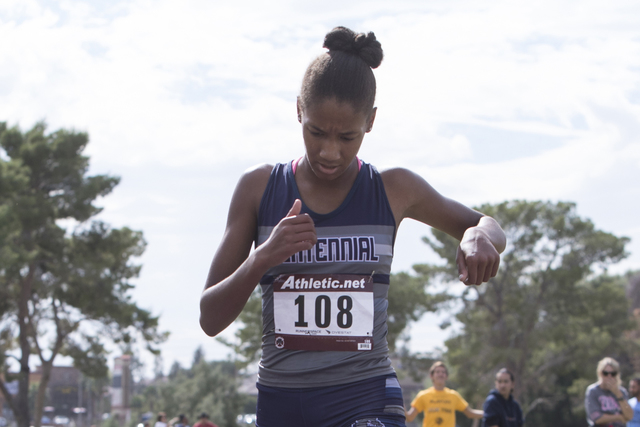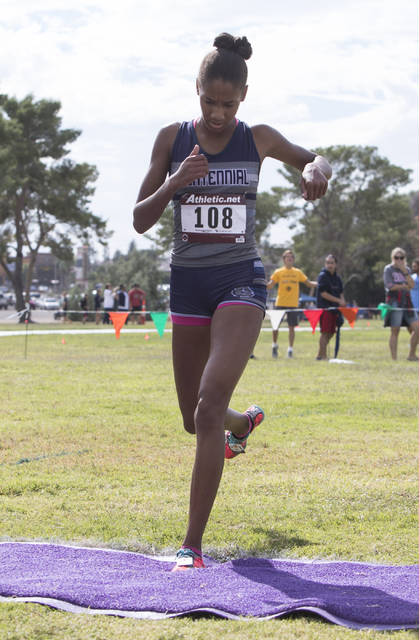 Centennial junior runner Alexis Gourrier wasn't as concerned about posting a phenomenal time as she was about winning the 3.1-mile Sunset regional cross country meet at Craig Ranch Park.
Turns out, she did both.
Gourrier coasted to the individual championship in a time of 18 minutes, 41 seconds Friday afternoon, more than 30 seconds faster than second-place finisher Emma Wahlenmaier of Palo Verde.
The Bulldogs also coasted to the team title with 21 points. Palo Verde finished second with 63. Shadow Ridge and Arbor View tied for third with 119 points.
"They've all really come together at the end of the season," Centennial coach Kisha Finch said of her Bulldogs. "Alexis has been leading the pack all year long, and she's bringing her teammates along with her. This is exactly what we needed going into next week."
Gourrier practically won the individual race in the first mile. The final two were just a formality, as she built a sizable advantage after the first lap.
She said after the race that she expected to do well, but wanted to pace herself to clinch the victory without wearing herself out before next week's state meet.
"I expected to be up there, but I just wanted to get out to a nice pace and see if I could hold it," she said. "My goal wasn't really to blow everything out. I just wanted to get the win. During the race, I was constantly asking where (other runners) were so I know if I could back off or keep going to win."
Despite the individual accolade, Gourrier seemingly preferred to talk about her team's success. Bulldogs runners finished in succession long after Gourrier, and she was at the finish line encouraging them.
"Our goal was to win, and we got it. We've been working hard all season, packing and pushing each other in practice," Gourrier said. "It's been working for the races."
Finch said Gourrier is a contender to win the state championship.
"She definitely has the ability to do that," Finch said. "We want to make sure that we're focused, that we don't put too much pressure on the state and go out and run the race that she's been running all season. If she does that, she's going to set herself up."
SUNRISE REGION
Green Valley's girls edged Foothill 46-47 to win the Sunrise Region team title.
Mia Smith finished second in 19:31.6 to lead Green Valley, which had four runners in the top 12.
Foothill had four runners in the top 13
The Gators girls won the Sunrise region by just one point over Foothill, 46-47, collecting big on sophomore Mia Smith's second-place finish with a time of 19 minutes, 31.6 seconds. Four Gators finished in the top 12, just better than Foothill, which put four racers in the top 13.
Myna Buckley finished third in 19:38.2 to lead the Falcons.
Coronado finished third with 94 points. All three teams advance to state.
While the team results had the drama, Basic's Raquel Chavez made sure the individuals did not have that same level of intrigue. Chavez dominated, finishing in 18:57.9, more than half a minute faster than Smith.
Skyler Free of Liberty finished fourth at 19:54.6, and Green Valley's Amy Amezcua rounded out the top five with a time of 20:06.1.
Results: