Sophomore Emilia Puskas shows future is bright in cross country win
September 8, 2018 - 1:21 pm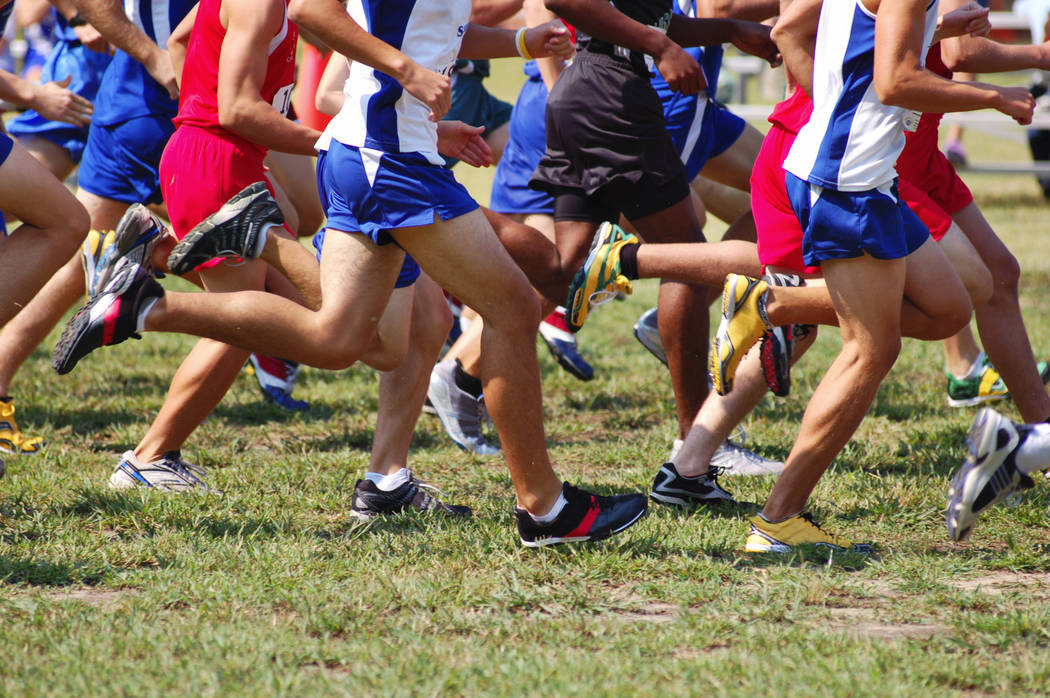 After a stellar freshman cross country season, Emilia Puskas appears ready for even more.
The Bishop Gorman sophomore finished first overall in the varsity girls A race at the Larry Burgess-Las Vegas Invitational at Sunset Park on Saturday.
Puskas surged to the lead entering the final mile and held off the rest of the field to finish the 3-mile course in 18 minutes, 25.7 seconds, for her biggest cross country win of a still-young prep career.
"I had been practicing on trying to speed up for the final mile this offseason," Puskas said. "I was always near the front for the race. After a couple of miles, I noticed some of the other girls in front were tiring so I went for it."
Puskas emerged as one of Southern Nevada's better prep runners as a freshman last year, so she came into the 2018 season with a lot more attention focused on her. Puskas admitted that she felt expectations weighing on her in her first race of the year — the Red Rock Running Company Invitational on Aug. 25 — though she finished second overall.
"I felt so much more pressure because people knew me entering this season," Puskas said. "I didn't feel I ran my best there. After that, I told myself I had calm down a bit."
At Sunset Park, things fell into place for Puskas. She tucked in right behind the leaders in the front pack and made her move coming off the pavement and right before a sandy trail at the two-mile point. Once in the lead, Puskas stayed there the rest of the way.
Cedar (Utah) seniors Harley Taylor (18:29) and Kaysie Klemic (18:40) finished 2-3 among large school girls. Basic's Raquel Chavez barely held off Green Valley's Mia Smith for fourth place, both coming in at 18:48.
Hurricane's Hailey Odekirk had the top performance among small-school girls, coming in at 18:33.6. Valley seniors Isabella Davis (19:53) and Frida Reyes (19:54) were fourth and fifth overall.
Utah-based schools still finished atop team standings. Cedar was first among large schools with 40 points. Coronado edged Centennial for second, scoring 85 points to the Bulldogs' 88, despite missing one of their better runners. Hurricane scored 21 points to top the small schools. Valley just edged out Moapa Valley 73-74 for second.
The boys varsity A race began with Desert Oasis senior Conner Nicholas leading a pack of 10 through the first half. After two miles, the pack had been whittled down to four with Hurricane sophomore Joshua Armstrong taking the lead followed by Nicholas, Valley junior Christian Franklin, and Cedar City's Bailey Oswald.
Armstrong ended up first overall in 15:25.3 with Nicholas making a late run for second in 15:25.7.
Because final results are divided among large schools and small schools, Nicholas still finished first among large school boys followed by Oswald in 15:39.4. Still, Nicholas found himself in the uncomfortable position of pace-setter for the early part of the race as everyone, including Armstrong, ran off his shoulder.
"It wasn't a bad race for me, but it wasn't quite what I wanted," Nicholas said. "I am more used to running off the pace. I need to learn to race in the lead and how to push the pace earlier."
Desert Oasis senior Landon Morrison was fourth in the large-school division in 15:58.9 followed by Centennial senior Alexander Miller (16:04) in fifth.
Franklin was third overall and second to Armstrong in the small school division in 15:31.8 despite taking a wrong turn with 200 meters to go.
Cedar took first among large-school boys in the team standings with 50 points. Centennial was second with 119, just ahead of Shadow Ridge (124). Green Valley (153) and Arbor View (159) were fourth and fifth respectively.
Hurricane scored 23 points to win the small-school boys title. Pahrump Valley (83) and Moapa Valley (86) rounded out the top three.
Cimmaron-Memorial freshman Olivia Garcia won the girls freshman-sophomore race in 19:58.4. Foothill freshman Nathan Carlin took first in the boys freshman-sophomore race in 16:33.2 ahead of a trio of Cedar runners.
Results:
Larry Burgess Invitational Large School Boys
Larry Burgess Invitational Large School Girls
Larry Burgess Invitational Small School Boys
Larry Burgess Invitational Small School Girls