Bishop Gorman star Chuck O'Bannon commits to USC
December 23, 2016 - 3:24 pm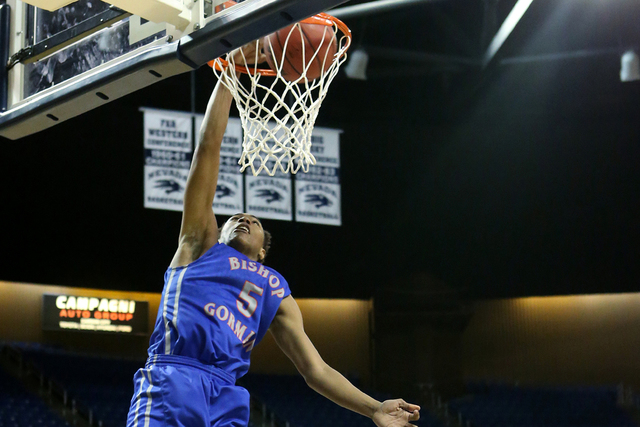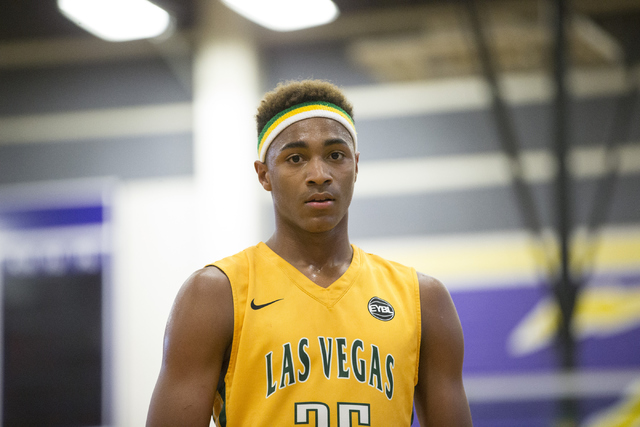 Bishop Gorman senior shooting guard Chuck O'Bannon opted against family tradition and made an oral commitment to Southern California on Friday.
O'Bannon made the announcement on Twitter. His commitment is nonbinding, and the first day O'Bannon can sign a letter of intent is April 12. USC's coaches cannot comment until that time.
When reached by phone, O'Bannon said he could not talk at the time about his decision.
"I'm excited for Chuck," Gorman coach Grant Rice wrote in a text message to the Review-Journal. "USC did a great job recruiting him, and it felt like the perfect fit for him with their coaching staff and style of play. He has a lot of family in the LA area, and they will get to see him play.
"It was always a sensitive topic with his Dad and Uncle being legends at UCLA, but he was ready to create him own path and legacy."
O'Bannon, a consensus top-50 recruit, picked the Trojans after narrowing his choices to North Carolina State, Texas, UCLA and UNLV.
His father, Charles Sr., and uncle Ed were key members of UCLA's 1995 national championship team and are widely considered two of the Bruins' top players of the past 25 years.
"They want what's best for me and my future," Chuck O'Bannon told ESPN.com. "They totally support me going to USC."
The 6-foot-6-inch O'Bannon led Gorman in scoring as a junior, averaging 21.4 points, 5.3 rebounds and 2.2 assists, and was a first-team all-state selection after helping the Gaels to their fifth straight Class 4A state title.
This season, O'Bannon is averaging 19.0 points despite missing four games because of injury for the Gaels (6-3). He scored 29 points in Gorman's 66-64 victory over Roosevelt (California) on Tuesday in the third-place game of the Tarkanian Classic Platinum Division.
O'Bannon is expected to be an ideal fit on the wing in USC coach Andy Enfield's up-tempo offense.
The Trojans are 12-0 entering Friday's game against Wyoming at Orleans Arena and reached the NCAA Tournament last season for the first time since 2011.
"I bonded with the USC coaches the best, and their style of play fit me perfectly," O'Bannon told ESPN.com. "I believe I can help them on the perimeter. Coach Enfield is chilled and laid back, but he corrects you when you need it. I trust the coaches at USC."
Contact reporter David Schoen at dschoen@reviewjournal.com or 702-387-5203. Follow @DavidSchoenLVRJ on Twitter.