Findlay Prep's Bol Bol adjusts to Las Vegas, prepares for future
January 4, 2018 - 4:19 pm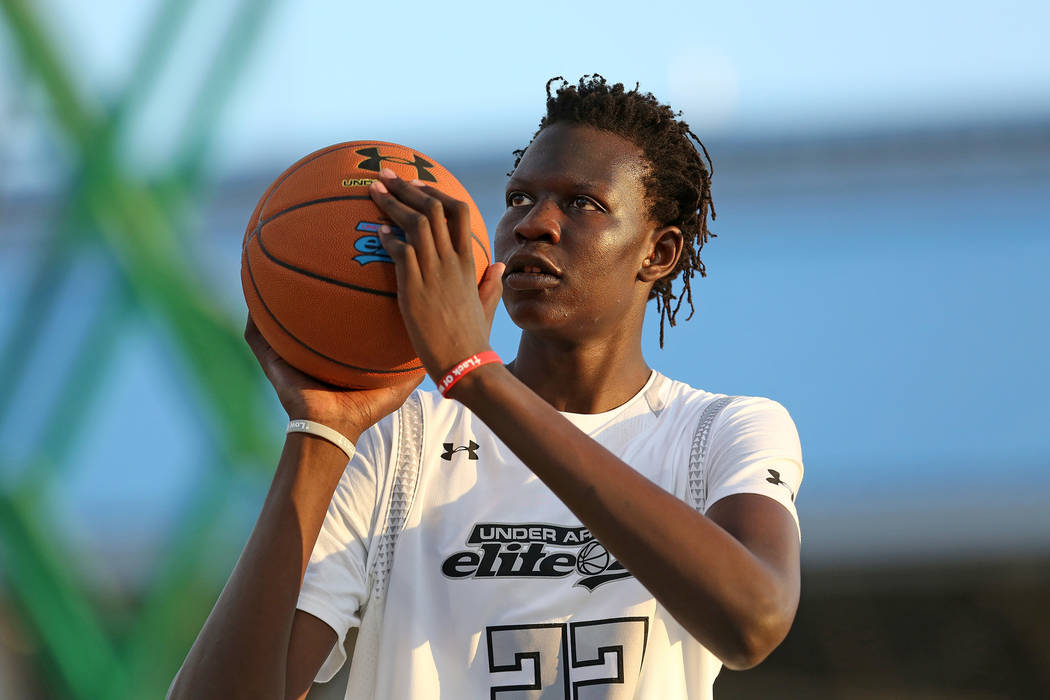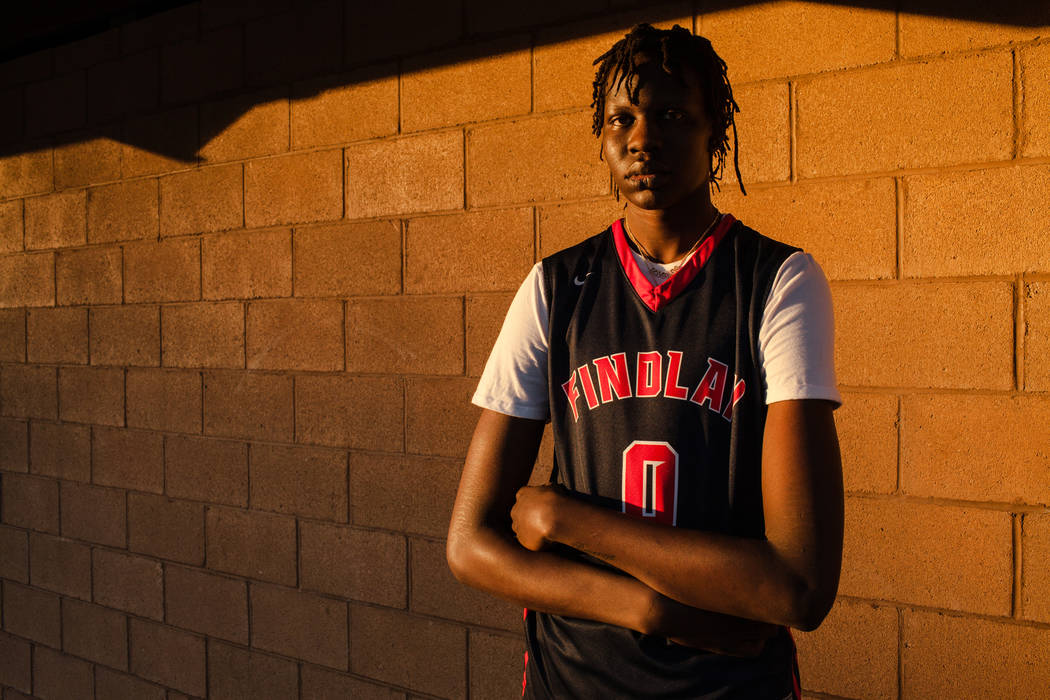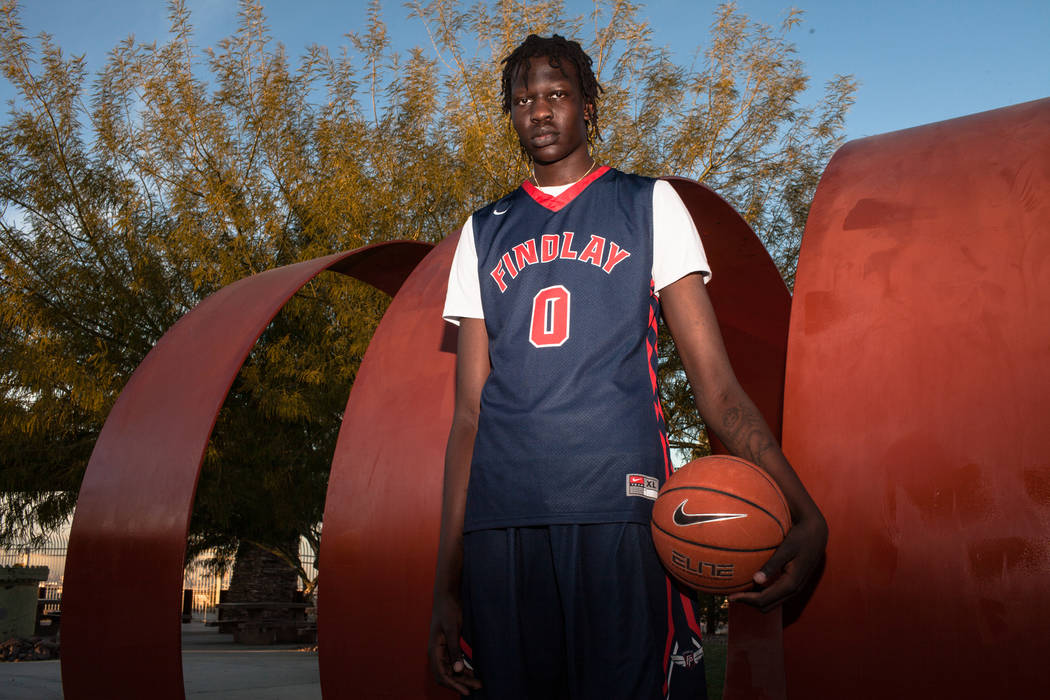 A brood of young basketball fans congregated outside Findlay Prep's locker room at Henderson International School, eager for an opportunity to meet the best basketball player the Pilots have had.
"I need to see Bol Bol," one elementary-aged boy exclaimed after watching Findlay Prep beat Planet Athlete Academy in late November. Others professed their desire for autographs or photos alongside the nation's No. 3 senior prospect.
The attention isn't unfamiliar to Bol, who has more than 430,000 followers on Instagram and counts fellow star players Shareef O'Neal, son of Shaquille O'Neal, and LaMelo Ball, brother of Lonzo Ball, as two of his closest friends.
The surroundings are.
Bol is acclimating to life in the Las Vegas Valley and at Findlay Prep — his third team in four seasons — in his final year of high school before heading to the University of Oregon as the program's highest-rated recruit.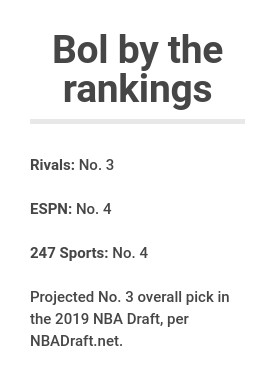 Ever.
At 7 feet 2 inches tall and a wiry 225 pounds, the 18-year-old is the quintessential modern big man: long enough to alter shots without compromising defensive positioning and deft enough to do just about everything on the offensive end of the floor.
"He brings unique scoring," Pilots coach Paul Washington said. "At 7-2, to be able to shoot the jumper, to be able to put it on the floor, score around the rim, he's very athletic. So he brings a good dimension to our post game that we needed."
And a dimension that figures to translate, seamlessly, to the professional level.
Bol believes he can be a one-and-done collegiate player so he can play in the NBA like his late father, Manute, a 10-year veteran and one of the most accomplished shot blockers in league history.
"It's kind of like crazy," Bol said in an innocent, youthful voice. "In only two years, you can go from playing (high school players), you go to college, and the next year you play against LeBron (James). That's kind of big … the transformation.
"It's kind of scary."
Born into basketball
On the court, Bol punishes rims with violent vigor and turns opposing shots practically back to Eugene, Oregon. Off the court, he's a gentle giant, like Manute, who was as famous for his humanitarian work as he was for basketball.
Born in Manute's native Sudan, Bol moved to the United States at age 2 with his family, settled in the Kansas City metropolis — where there's a high Sudanese population — and spent his childhood in NBA circles, attending all-star games and learning basketball from his dad.
He was 10 when Manute died from acute kidney failure at age 47 in 2010, so he poured his pain into basketball and used the game to cope with the tragedy, spending hours upon hours in the gym.
Videos of a then-sixth grade Bol playing basketball that surfaced on YouTube served as additional motivation, and he began taking the sport even more seriously, eyeing Division I scholarship offers and ascension on recruiting rankings.
"(I was) playing more games with more teams," he said, "and playing all the time, every day."
Bol emerged as a top prospect during eighth grade and secured his first offer from New Mexico State. He played his freshman and sophomore seasons at Bishop Miege High School in the Kansas City metro area, built a following and racked up more offers from schools such as Kansas, St. John's and Creighton.
But he yearned for more exposure and opportunity, and migrated to California during his junior season to play at the famed Mater Dei High School under legendary coach Gary McKnight, who helped him blossom into one of the country's best players.
"There's a lot more competition here and a lot more media stuff, especially in California," Bol said. "It helped me become a lot more known than I was, and I also developed my game a lot more."
The next big thing
Bol averaged 17.0 points and 9.0 rebounds for Mater Dei, and played AAU basketball in the prestigious Nike Elite Youth Basketball League, in which he flourished during the spring and summer.
Initially a top-40 prospect, he posted averages of 24.1 points, 10.0 rebounds and 4.5 blocks on the EYBL Circuit to earn regular-season MVP honors.
His recruitment blossomed, and by summer's end, he was a mainstay at USA Basketball's men's junior national team camps as the country's top center.
"Talent-wise, physical-wise, he is so different than any other player, really, in a lot of different ways," said Don Showalter, USA Basketball's national director for coach development. "Especially because he can consistently knock down the perimeter shot. I think that's going to make him much, much better down the road."
Most of the nation's top basketball programs sought Bol's services, and he bypassed coach John Calipari and Kentucky in favor of Oregon, to which he committed last month.
"The most hated person in high school basketball"
Believe it or not, Bol isn't the tallest player on his basketball team.
For once.
A family situation forced Bol to transfer from Mater Dei at the beginning of November to Findlay Prep, which already had 7-3 center Connor Vanover.
It didn't take Bol long to fit in with the Pilots. But teammates aside, he keeps a small inner circle filled with big names.
"Most of my friends are famous," he said. "They already have everything, so I know they like me for me."
But Bol senses that some of his opponents don't particularly like him, for whatever reason. Some try to razz him with chippy, physical play. Other adversaries use social media to fire hateful barbs in his direction.
He does his best to block out the noise.
"I feel like I'm the most hated person in high school basketball. I don't know (why)," Bol said. "I just know I am … I just ignore it."
Despite dealing with complications from a broken pinkie finger, Bol is averaging 19.6 points and 9.9 rebounds on 64.0 percent shooting for Findlay Prep — the No. 9 team in USA Today's Super 25 Rankings.
He knows he's here for a short time, and plans to spend it focusing on basketball and getting stronger to prep for the next level and its physicality.
"There's not personally much to do here, as a kid," Bol said. "It's all casinos and stuff. It's not that fun, but I came for basketball, so it's whatever."
Contact reporter Sam Gordon at sgordon@reviewjournal.com. Follow @BySamGordon on Twitter.