Liberty, Bishop Gorman meet in rematch of 2022 state final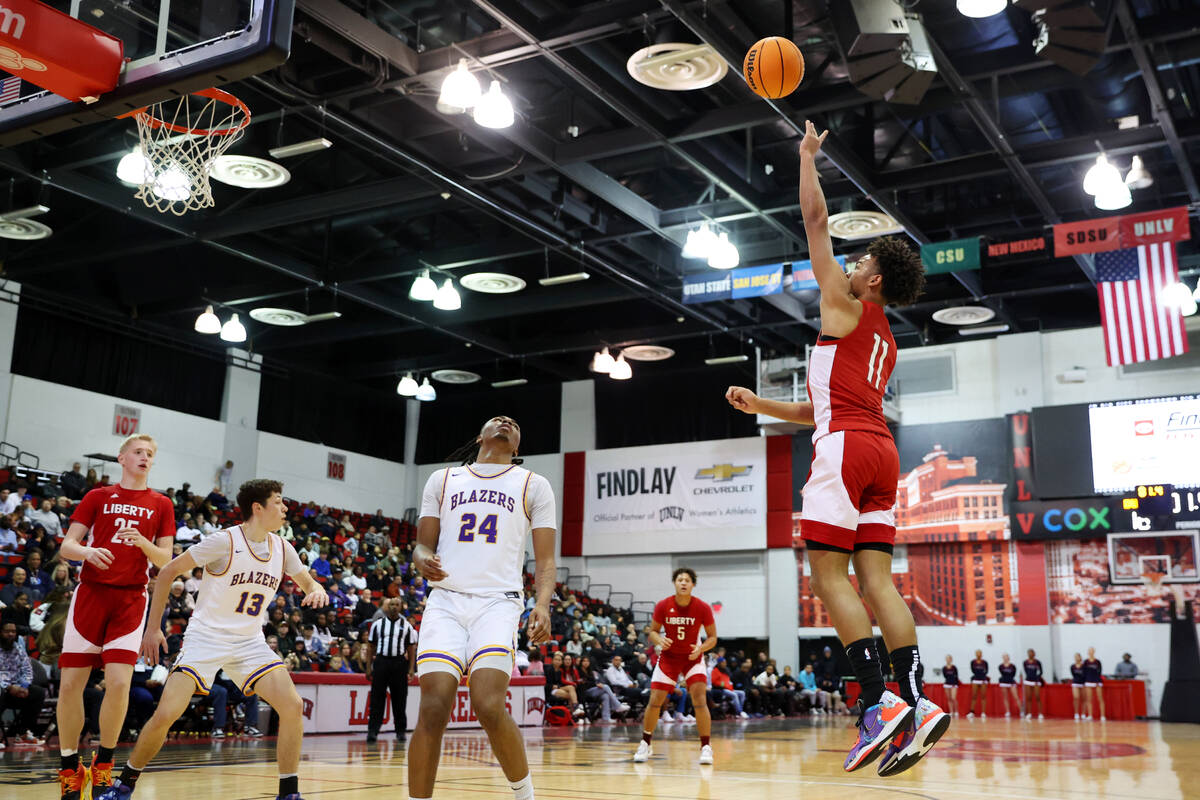 The Liberty boys basketball team is nearing the end of its toughest stretch of league play.
The Patriots wrap up a run of five games in eight days with a rematch of last season's Class 5A state championship game against Bishop Gorman at 6:30 p.m. Wednesday at the Gaels' gym.
Liberty outlasted Gorman 63-62 in overtime in Reno to claim the state title after losing to the Gaels three times earlier in the season.
The Patriots' five-game stretch included meetings with 5A title hopefuls Coronado and Durango.
"It's tough, but you have to get through it, you have to grind through it," Liberty coach Kevin Soares said. "You have to put yourself in a good position to make a run in the playoffs, and that's what we're trying to do.
"We've been preparing ourselves for those kinds of games pretty much all season."
Behind 18 points from junior guard Dedan Thomas Jr. in the fourth quarter and overtime, Liberty gutted out a 72-67 overtime win at Coronado. Against Durango, Soares said there were too many breakdowns that allowed the Trailblazers to go on a late 15-0 scoring run to put the game out of reach.
The Patriots' offense struggled down the stretch with Thomas being their only consistent scorer against Durango. It's a recent trend that concerns Soares.
"When we have lulls in our offensive game, we have to make sure that we bear down and lock in and defend our basket," Soares said. "Hopefully we don't have too many of those in our offense and can be consistent when it comes to that part of our game."
Soares said he understood there would be inconsistencies with a younger team, and he hopes the Patriots can find that consistency as they make a run to defend their title.
"They're slowly but surely getting there," Soares said of his younger players. "We have a couple of weeks left in the regular season, so hopefully by the time playoffs come around they can maintain that stability."
Gorman also has played five games in eight days. The Gaels overcame the loss of junior guards Jase Richardson, who suffered an ankle injury in the third quarter, and John Mobley, who fouled out in the fourth, to outlast Coronado for a 57-55 win Saturday.
Gorman coach Grant Rice said Richardson is recovering quickly and will be a "game-time decision" against Liberty.
Rice said with how many games the Gaels are playing a week, it's hard to truly prepare for an opponent, but added that Gorman and Liberty know each other all too well.
"We've seen each other so many times in tournaments and games last year so we all know each other so well," Rice said. "It's definitely going to be a good game in a good atmosphere. Our gym's a little smaller, so it's going to be a packed crowd."
Soares said he hasn't brought up Gorman to his team or tried to make too much out of one game. He said the focus has been for the Patriots to continue to improve and not overlook anyone.
"We're just working on being consistent," he said. "That's basically our motto right now, just trying to play as consistently as we can. Hopefully that kicks in these next couple of weeks."
Contact Alex Wright at awright@reviewjournal.com. Follow @AlexWright1028 on Twitter.