7 Desert Pines players among 23 locals making college choices
Updated February 1, 2023 - 10:38 pm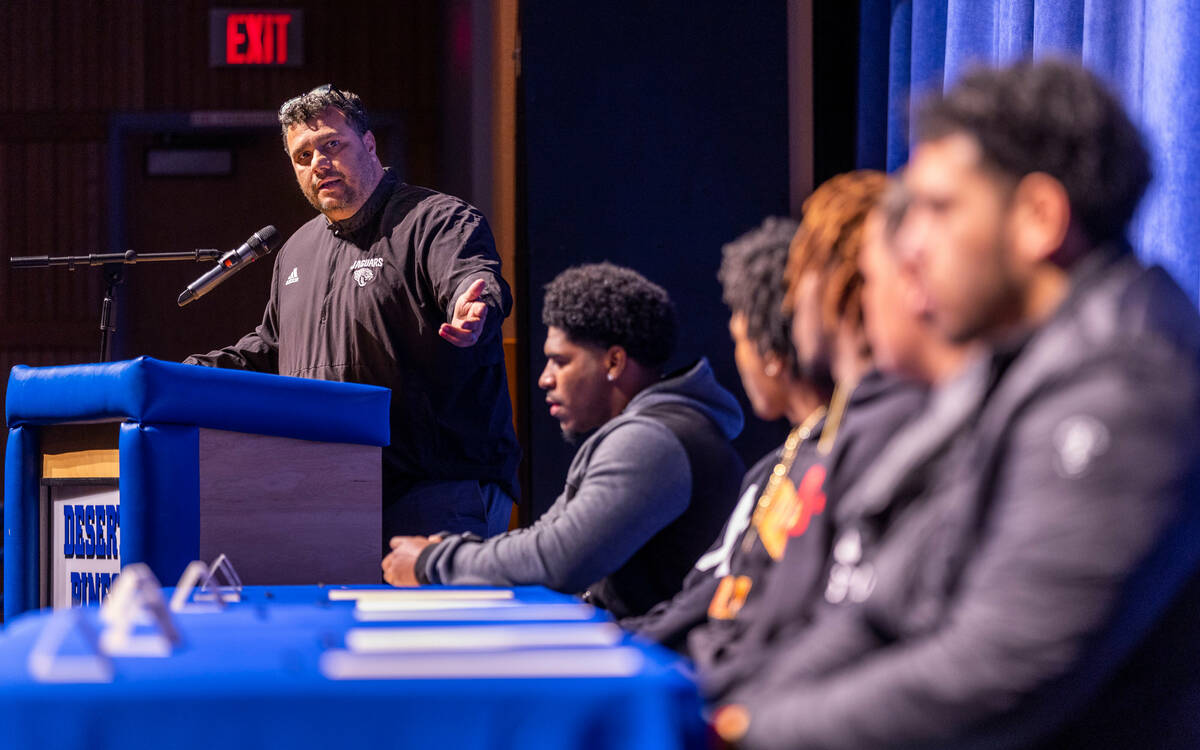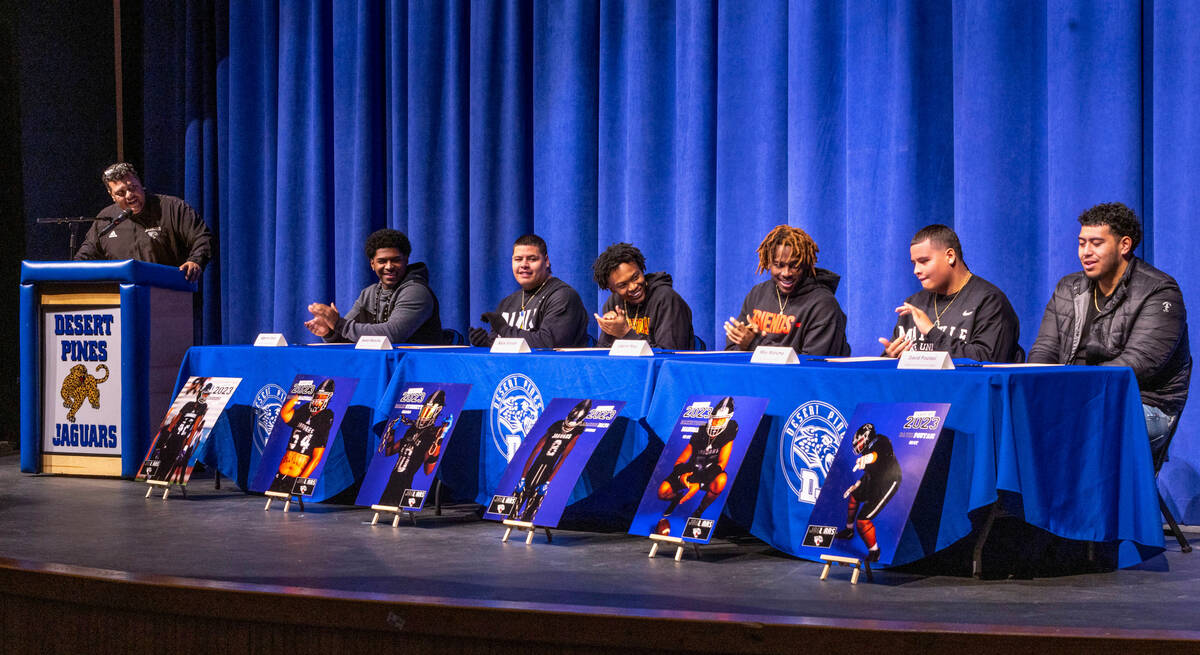 High school football players from 12 Southern Nevada schools signed national letters of intent to play college football Wednesday.
In total, 23 players signed with colleges on national signing day, and seven signed with Division I Football Championship Subdivision programs.
Desert Pines defensive lineman Idgerinn Dean and offensive lineman Savior Manuma signed with Northern Arizona, and Boulder City lineman Dylan Spencer and Foothill defensive back Ternillia Thomas signed with Utah Tech.
Three players signed with Portland State — Mojave defensive lineman Donte Hookfin, Bishop Gorman defensive lineman Jayden House and Desert Pines quarterback Marquis Roby.
Seven players from Desert Pines signed Wednesday. Jaguars coach Tico Rodriguez said the recruiting process for these players was harder than in previous recruiting cycles because they lost their sophomore seasons because of the COVID-19 pandemic.
Rodriguez said he was still committed to helping them get a chance to play college football.
"That's the foundation of why I do it," Rodriguez said. "I got a couple of state championship rings, but they're sitting in my closet collecting dust. The relationships I build with my players and helping them get to the next level is everything to me."
Desert Pines offensive lineman David Poutasi signed with Garden City Community College in Kansas. While Poutasi said the recruiting process was slow for this class, he said he's looking forward to making an immediate impact at the next level.
"The COVID year really hit us hard," Poutasi said. "Our class got really overlooked. We have a bunch of underdogs, but we're still going to make it work."
Dean said he was feeling a combination of sadness and happiness with his time at Desert Pines over but his college career on the horizon.
Dean said he remembers stepping onto the field and meeting Rodriguez before his freshman year. He said he was considering going to Bishop Gorman, but after meeting with Rodriguez, he knew Desert Pines was where he wanted to be at.
"I stepped on this field, and it felt like home," Dean said. "For the last four years, I've been going here, and it's felt great. This is all of my family here. Everything turned out how it was supposed to be. I'm going to keep grinding and keep striving for a better me."
Rodriguez said this group of seniors helped "rebuild" the culture at Desert Pines. Coming out of 2020 with no high school football, Rodriguez said the seniors played a pivotal role in bringing back the camaraderie and making the team feel like a "family."
"We struggled. We went 5-4, and it didn't feel like a team," Rodriguez said. "But the seniors made it a point to rally everyone together in summer workouts and the spring. They led the young guys on how we're supposed to do it. They got back to work and got us back on track."
Desert Pines went 8-3 this season, falling to eventual Class 5A state champion Bishop Gorman in the Southern Region semifinals.
Three Las Vegas players signed to Division II school Minnesota-Duluth — Liberty offensive lineman Wesley Sauvao and safety Colin Gregorio, and Coronado cornerback Preston McQueen.
Ottawa University (Arizona) received commitments from four local players. Bonanza lineman Brian Benitez and defensive tackle Kameron Jackson, along with Foothill defensive lineman Lawrence Houston and Green Valley defensive end Jayden Green, committed to the junior college in Surprise.
Twenty-one local players signed on the first day of the early signing period on Dec. 21.
Contact Alex Wright at awright@reviewjournal.com. Follow @AlexWright1028 on Twitter.
Southern Nevada football signess
Arbor View
Amontae Mitchell, DB, Mayville State
Basic
Treyson Redd, WR/CB, Ottawa (Kan.)
Bishop Gorman
Jayden House, DL, Portland State
Seth Wilfred, OL, Snow College
Bonanza
Brian Benitez, OL, Ottawa (Ariz.)
Kameron Jackson, DT, Ottawa (Ariz.)
Boulder City
Dylan Spencer, OL, Utah Tech
Coronado
Preston McQueen, CB, Minnesota-Duluth
Desert Pines
Idgerinn Dean, DL, Northern Arizona
Labarrio Mays, LB, Adams State
Masi Manuma, OT, Mayville State
Savior Manuma, OG, Northern Arizona
David Poutasi, OL, Garden City CC
Marquis Roby, QB, Portland State
Malik Stinnett, LB, Bethune Cookman
Faith Lutheran
Nehemiah Brooks, WR, Arizona Christian
Foothill
Lawrence Houston, Ottawa (Ariz.)
Ternillia Thomas, DB, Utah Tech
Green Valley
Jayden Green, DE, Ottawa (Ariz.)
Liberty
Colin Gregorio, S, Minnesota-Duluth
Wesly Sauvao, OL, Minnesota-Duluth
Mojave
Donte Hookfin, DL, Portland State
SLAM Academy
Daniel Nevil, RB, Mayville State