FIELDER'S CHOICES: Handing over reins, for this week at least
November 4, 2015 - 10:09 pm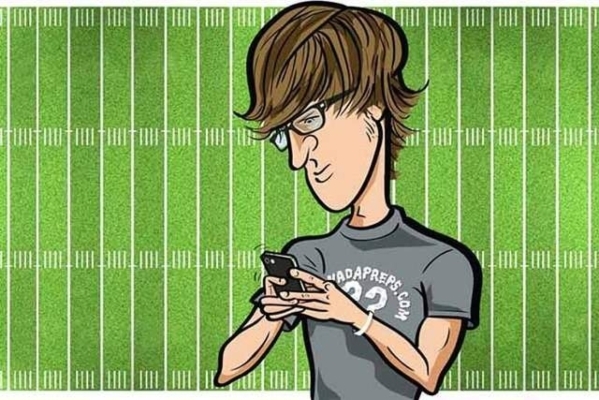 Eric and Skeet have been begging me for the past few weeks to use their new power ratings.
"C'mon, Fam!" Eric keeps saying. "Trust us. You won't regret it."
I've used Eric and Skeet's ratings in each of the past two seasons and done OK. But if you'll recall, their system is kind of weird. It favors teams that have fish mascots and awards bonus points for using the wishbone formation.
Since I'm coming off a .500 showing against the spread and need to rest up before the release of "Fallout 4," I figured this was a good week to let Eric and Skeet see what they can do.
Their ratings had Bishop Gorman and Arbor View losing in the Division I Sunset Region quarterfinals, so I threw out those games. Otherwise, they went pretty chalk, which is strange for those two. Must be the cold weather.
Desert Pines at Moapa Valley — These teams have no business meeting in the Division I-A state quarterfinals, if at all. (Am I right, Faith Lutheran fans?) Of course, the upside of all this is we get two state title games. This one, and the one Nov. 21 when they hand out the trophy.
The Jaguars' real punishment for using an ineligible player earlier this season is an hourlong bus ride for this game. When these teams met in Overton on Sept. 11, Desert Pines forced eight turnovers and beat the Pirates 34-20. The Jaguars had to forfeit that victory. They won't have to give back this one. … Desert Pines by 9.
Green Valley at Foothill — You know what I like about the Southeast League? It's straightforward. There's no tiebreakers or any of that stuff to figure out. Take this game, for instance. The winner earns the No. 2 seed and the loser is the third seed. Simple.
The blueprint against the Gators has been to pound the ball on the ground, which Foothill is certain to do with Justice Jackson. But Austin Warhop returned to Green Valley's backfield last week and should give the Gators' offense an added dimension. … Green Valley by 5.
Las Vegas at Liberty — I don't think Las Vegas coach James Thurman dressed up like a zombie for last week's game — he's always a good sport for my antics, which I appreciate — but Silverado made the Wildcats' offense look like "The Walking Dead." And that result took a lot of the shine off this game.
The Wildcats can earn the Northeast League's top seed with a win and a Silverado loss. There might even be a scenario giving Las Vegas the No. 1 seed in the event of a three-way tie at 3-1, but it's not worth sorting out that mess. The Patriots are winning the title outright. … Liberty by 21.
Desert Oasis at Palo Verde — This is the most intriguing of the four Division I Sunset Region playoff games, mainly because I can't figure out either team. The Diamondbacks didn't beat anyone with a winning record, and the Panthers' five losses came to teams with a combined record of 33-10.
Palo Verde held Legacy's Naim Geeslin, the area's fifth-leading rusher, to 29 yards on 13 carries two weeks ago. It stands to reason the Panthers should be able to contain Desert Oasis' Ty'shun McClinton, right? … Palo Verde by 7.
Chaparral at Faith Lutheran — The Cowboys are fresh off their first postseason victory in at least 20 years — the stats and info department's records only go back to 1996 — but they are facing a large roadblock in the I-A state quarterfinals.
A lot of people have slept on Faith Lutheran this season, probably because we've been preoccupied with the drama in the Sunrise League. Plus, the Crusaders' nine-game winning streak has come against teams with a combined .424 winning percentage. But don't worry, Crusaders, I see you. … Faith Lutheran by 12.
Legacy at Centennial — Before the Longhorns hosted Centennial the first week of the season, I wrote that I was jumping on the Bulldogs' bandwagon and riding it to the Sunset Region title game. Then Centennial needed a late missed extra point by Legacy just to pull out a 27-26 win and I bailed on the Bulldogs.
Centennial can't reach the region final. But if the Bulldogs are able to slow down Geeslin, who went for 220 yards in the first meeting, they'll earn a date with Bishop Gorman in the semis. … Centennial by 10.
Coronado at Basic — The Wolves clinched the top seed from the Southeast League without even playing thanks to Coronado's loss to Foothill last week. The Cougars are locked into the No. 4 seed regardless. Tell me again why I should care about this game? … Basic by 14½.
Canyon Springs at Silverado — Since Week 5, the Skyhawks and I have been like Brennan Huff and Dale Doback, "friends who ride majestic, translucent steeds, shooting flaming arrows across the bridge of Hemdale."
Me: "Do you wanna do karate in the garage?"
The Skyhawks: "Yep!"
And yet for some reason, I keep picking against them. It's probably because they touched my drum set. … Silverado by 9.
Last week: 6-2, 4-4 (with points)
Season: 63-20, 55-24-1 (with points)
Contact Fielder at Fielder@nevadapreps.com. Follow him: @FielderNVP.