FIELDER'S CHOICES: Playoffs are here, the way-coolest time of year
November 6, 2008 - 9:36 pm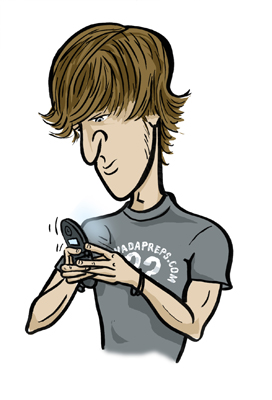 The Halloween costumes have been put away (for the record, I dressed up as a real person) and it's getting dark at 4:30 in the afternoon.
That means it's my favorite time of the year — playoffs.
Players and coaches have spent three months working to reach this point, where five more wins gets you a Class 4A state title.
The harsh truth is half of the teams in the playoffs won't be there after this weekend. One and done. It doesn't get any more urgent.
And I love it.
No schoolwork for me this week. It's all about trying to figure out who's moving on and who's moving out.
Small-school fans (yes, that means you, T.A. from L.V.), check out the second round of my picks also on this site.
Foothill (4-6) at Las Vegas (9-1) — Foothill needs just about everything to go its way to have a chance in this game, and coming off a loss to Coronado isn't a good start.
Algernon Sewell and the Falcons must control the clock and can't afford to fall behind.
When a freshman can come in and run the way Farrell Victor did last week for the Wildcats, it means they're playing really well. I don't see that changing. Las Vegas by 12.
Del Sol (8-2) at Rancho (5-5) — This is a rematch of a Sept. 19 shootout in which Del Sol held off the Rams, 41-39.
Del Sol will run with Ernest Hall and Derek Eamon, while Rancho needs a big game from quarterback James Cammack.
One for the road (team). Del Sol by 2 again.
Desert Pines (4-5) at Green Valley (7-3) — Green Valley has to be a bit angry over not beating Basic and clinching the No. 1 seed last week.
But the Gators play close against almost everybody. Six of their games were decided by six or fewer points.
This one shouldn't fall into that category. Look for Kyle Larimer to have a big game.
Credit the Jaguars for getting this far after starting 0-4. Green Valley by 10.
Valley (5-5) at Basic (7-3) — Every week, Basic players pick up the paper or go online and see me pick the opposing team.
The Vikings are scary because they can score at will and give up points almost as quickly.
Basic is coming off a huge win against Green Valley last week. It's not easy for Justin Burdno and the boys to be up for another big game.
After 10 weeks, make room for me on the Basic bandwagon. Basic by 7.
Sierra Vista (5-5) at Palo Verde (10-0) — When these teams met in Week 2, Palo Verde rolled to a 35-6 win.
Akil Sharp and the Mountain Lions need to make this a short game.
Chaz Thomas will make it a long night for Sierra Vista. Palo Verde by 14.
Bonanza (7-3) at Cheyenne (9-1) — The schedule finally caught up to Bonanza, which faced Spring Valley and Bishop Gorman to close out the regular season.
It doesn't get any easier. Marcus Sullivan and the Desert Shields are hoping for another shot at Palo Verde this year. Cheyenne by 8.
Cimarron-Memorial (6-4) at Spring Valley (8-1) — This has the potential to be the best first-round game. Spring Valley's Jacques Adams and Cimarron's Stephen Nixon could put on a rushing clinic.
I like Spring Valley's line, and the prospects of a Sunset semifinal day with Spring Valley at Palo Verde and Cheyenne at Gorman is too good to pass up. Spring Valley by 5.
Legacy (7-3) at Bishop Gorman (10-1) — The Longhorns are in the playoffs for the first time. For Gorman, a playoff spot is almost a given.
The Gaels still aren't a scoring machine, but they don't need to be.
Prince Oroke and Deshae Edwards might not find much running room against Gorman's defense. Gorman by 6.
Last week: 6-2 (spread), 6-2 (straight up).
Overall: 51-27 (spread), 59-19 (overall).