FIELDER'S CHOICES: Rams, Miners look to be turning programs around
September 9, 2015 - 10:10 pm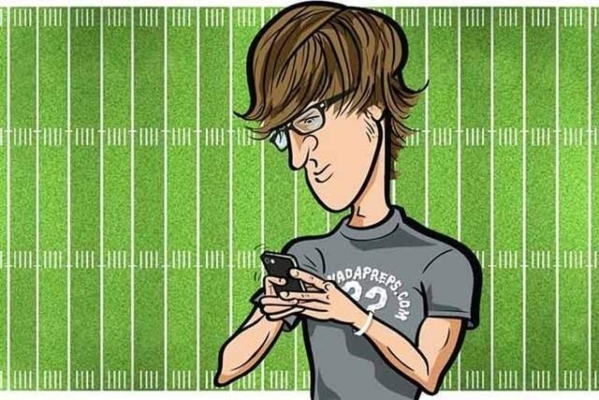 The hot topic in prep football this week centers on the video of two players in Texas blind-siding and then spearing a referee during a game.
Rather than jump into that debate, I'd like to focus on a more positive topic.
Lost in the excitement last week of Rancho snapping its 30-game losing streak — for the record, that won't be the only game the Rams win this season — Sunrise Mountain quietly reached a milestone of its own under second-year coach Chris Sawyers.
The Miners locked up their first two-win season in school history.
Oh, sure, Sunrise Mountain finished 2-8 in its first season in 2009, but both of those victories came against JV teams. That doesn't count.
And the Miners went 2-7 in 2012, but one of those wins was awarded when Mojave had to forfeit for using an ineligible player. That doesn't count, either.
This year counts.
Sunrise Mountain wiped out Western in Week 1, then defeated Pahrump Valley 20-14 last week. On Friday, the Miners go to Chaparral (1-1) in search of their third victory of the season, and they haven't even played a home game yet.
The Miners' success makes me optimistic I can improve on my picks this week after a slow start to the season.
Centennial at Palo Verde — Typically, I don't pick the "Thursday Night Lights" game, but since I'm already chasing, I'll make an exception. Plus, this one features two ranked teams, making it too good to pass up.
It's tough to get a read on these teams. Right now, they look like that guy or girl with a smoking-hot body and a so-so face: Good from far, but far from good. At least the Bulldogs welcomed back RB Rhamondre Stevenson last week. He'll add a little lipstick and mascara to the offense. … Centennial by 4.
Desert Oasis at Basic — There's no need to dress up this battle of unbeatens. The Diamondbacks equaled last season's win total (two) with their victory over rival Sierra Vista last week and can thank a defense that is allowing 9 points per game.
Desert Oasis coach Brad Talich is familiar with the Wolves from his time at Coronado, and that will help the visitors. But I'm starting to think the deep postseason run Basic made last season wasn't a fluke after all. … Basic by 8.
Arbor View at Green Valley — The Aggies are tougher to solve than Einstein's Riddle. (The German owns the fish!) The offense rebounded last week with 350 yards rushing as Arbor View retained the "Battle of the Bulls" trophy, yet I'm not convinced the defense can stop anybody.
The Gators are tougher to solve than _ + _ + _ = 30 using 1, 3, 5, 7, 9, 11, 13 and 15. The offense had 491 yards in a win over Las Vegas, yet I'm not convinced their defense can stop anybody, either. If your curfew is 10 p.m. and you plan on attending, better ask Mom for an extension. … Arbor View by 2.
Desert Pines at Moapa Valley — The last time these teams met, Moapa Valley scored 28 straight points in the fourth quarter and overtime to win the Division I-A state title. Just a hunch, but that was probably mentioned once or twice in both locker rooms this week.
The Jaguars are 0-4 against Moapa Valley since joining I-A in 2012, but they've closed the gap every game. This is when they blow past the Pirates. … Desert Pines by 6.
Bishop Gorman at Bellevue (Wash.) — The Gaels' road show travels to the land of coffee, Macklemore and Marshawn Lynch to face the program that famously snapped De La Salle (Calif.)'s 151-game winning streak in 2004 and now is embroiled in an academic scandal.
The Wolverines have faced several big-time quarterbacks over the years and will be prepared for Gorman's Tate Martell. Speaking of the Texas A&M commit, I saw his tweet about being offered a scholarship by Oklahoma State on Monday. It reminded me of the time I bragged about getting a phone number when I already had a girlfriend. She dumped me the next day. Just sayin'. … Gorman by 7.
Coronado at Legacy — The Cougars were off last week, giving first-year coach William Froman more time to find some consistency on offense. Coronado scored on its second play and had a nine-minute scoring drive in the second half but sputtered otherwise.
Longhorns running back Naim Geeslin leads the area in rushing with 410 yards in two games. His nickname is Tiger, and I'm a big fan of Perkins and wearing red on Sunday. … Legacy by 3.
Clark at Faith Lutheran — It's tempting to label this as the Division I-A Sunset League title game, but I learned my lesson last year when the Chargers won this matchup and then missed the playoffs despite finishing above .500.
Clark rode running back Milan Dixon and a stingy defense to consecutive victories to open the season, while the Crusaders forced seven turnovers in a win over Cimarron-Memorial last week. I was more impressed with Faith Lutheran's loss in the opener, to be honest. … Faith Lutheran by 7.
Cheyenne at Spring Valley — These teams are part of the reason I can't stamp the previous game as the Sunset League championship.
The Desert Shields were held scoreless in regulation last week against Canyon Springs, then were stuffed on a two-point conversion in overtime that would have won the game. But, hey, at least they went for the victory. Spring Valley scored 36 points in the opener and 35 points last week, which means they'll post 34 on Friday. Skeet has been asking to pick a game, so I let him have this one. … Cheyenne by 2.
Last week: 4-4, 4-4 (with points)
Season: 9-7, 8-8 (with points)
Contact Fielder at Fielder@nevadapreps.com. Follow @FielderNVP on Twitter.