Gorman's standout running back earns Class 4A state Player of the Year honors
December 14, 2011 - 11:35 pm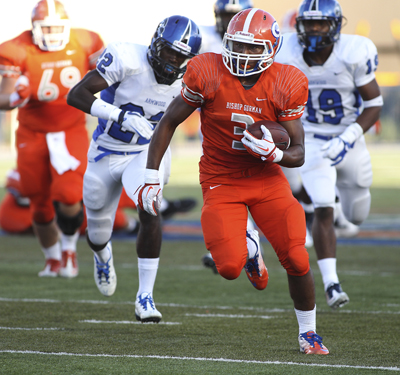 On his fourth carry in this year's Class 4A state championship football game, Bishop Gorman's Shaquille Powell blew through a big hole, then made a great cut against the grain and went untouched for a 25-yard touchdown run.
But that wasn't the kind of play that defined Powell's career.
That play came on the Gaels' next scoring drive, when Powell was met at the line of scrimmage. The 5-foot-9-inch, 195-pound senior running back absorbed a hit to the chest, kept his legs churning and ended up with a 5-yard TD run.
"That's more my style," Powell said. "I'm aggressive at the point of attack. When I'm in a situation like that, I'm trying anything I can to get that touchdown."
Powell got plenty of touchdowns in helping the Gaels to their third consecutive state title this season. He rushed for 2,458 yards on 198 carries, averaging 12.4 yards per rush. He ran for 40 touchdowns and scored 44 total TDs on the season.
Numbers like that are why Powell was named the Las Vegas Review-Journal's Player of the Year to highlight the Class 4A all-state team.
"The first guy never tackles him," Gorman coach Tony Sanchez said. "You never see it. He always falls for an extra yard or an extra 3 yards."
Sanchez has seen Powell break plenty of long runs in his three years as head coach, but the coach said Powell's best run may have been one of his shortest.
That play came this season against Servite (Calif.) when Powell was met in the backfield, but refused to fall. He finally ended up with a loss of 2 yards on the play.
"It might have been the best run of his career," Sanchez said. "Seven guys touched him before he went down."
Powell has tremendous natural balance, which helped him keep his feet after the first hit. But the extra yardage he got was all about desire.
"It's from me playing with a chip on my shoulder," Powell said. "A lot of people told me things I couldn't do throughout my career. So it's pretty much me proving everybody wrong and playing the best game I can have."
Sanchez said Powell, who committed to Duke on Sunday, showed the same hard work on the practice field.
"I've never seen a kid play with so much heart and desire," Sanchez said. "He was that same guy every single day. That consistency is what's going to allow him to really flourish at the next level."
Powell's numbers this season are more impressive when you consider he was also starting at safety for the first time. He started at cornerback as a sophomore before playing mostly offense during a junior season that saw him miss five games because of injury.
"He's one of those selfless guys," Sanchez said. "If it meant less carries because we need him on defense, he was OK with that.
"And he was just as good on defense as he was on offense."
Powell said playing on both offense and defense was difficult, especially against the tougher teams on the schedule when his only rest essentially came on punts.
"It was one of the harder things I've done," he said. "I never really got a break. It was pretty hard, but it's fun, because I'll never get to do anything like that again."
Powell finished his career with 473 carries for 5,407 yards, an average of 11.4 yards. He scored 94 total touchdowns.
All but 102 of those yards came running behind a trio of three-year starters on the offensive line: Ronnie Stanley, Ron Scoggins and Nick Strehlow. All three made the all-state team this year.
"I can't complain," Powell said of his offensive line. "We have a really good relationship. I trust them, they trust me. They make me look good sometimes, and I make them look good sometimes."