Investigation continues into Canyon Springs-Basic game melee ended by pepper spray
September 18, 2017 - 12:24 pm
Updated September 18, 2017 - 5:01 pm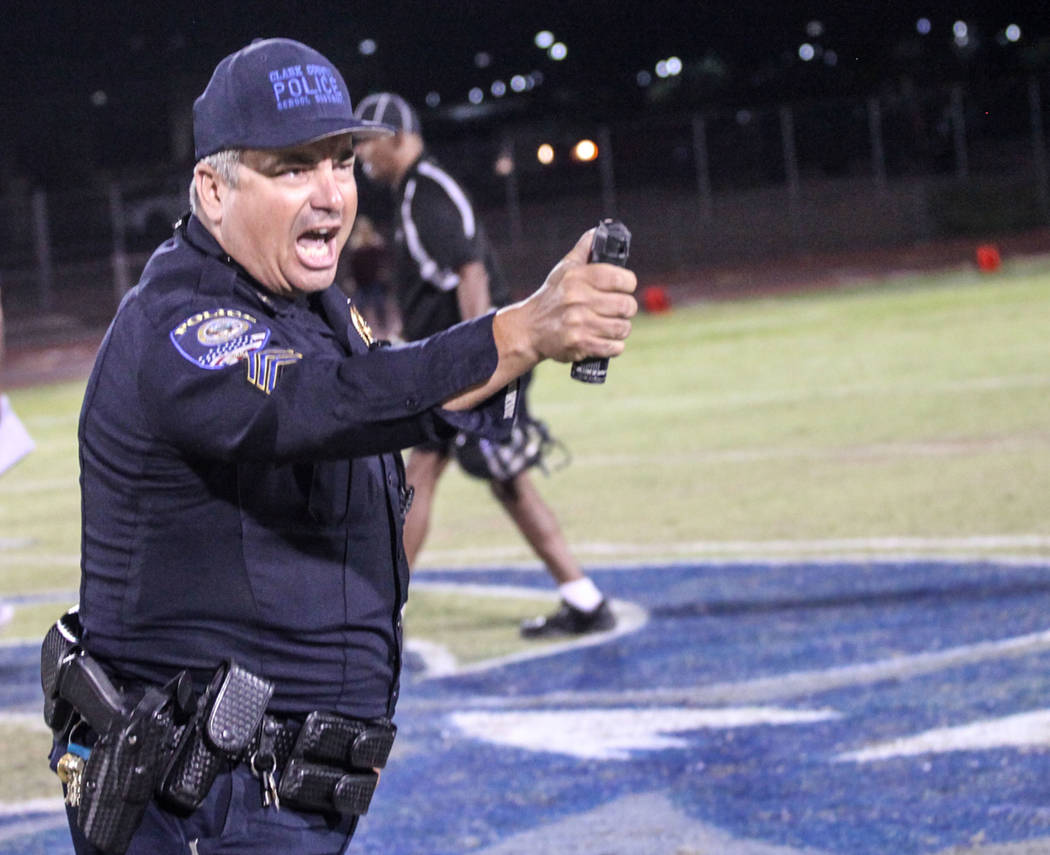 Officials from multiple agencies are withholding judgment — and potential punishment — after a Friday night melee at the end of the Canyon Springs-Basic high school football game.
Both the Nevada Interscholastic Activities Association and the Clark County School District Police Department said Monday investigations are still underway into the incident stemming from Canyon Springs' 20-15 win at Basic.
The game ultimately ended with a police sergeant using pepper spray on athletes and staff to break up the fight.
In a news conference, Young said officers have a number of tools at their disposal to assist in breaking up fights like the one Friday.
The five school police officers at the game were assigned to crowd control, but a sergeant observed what he took to be a coach on the ground being stomped.
"Our normal process is we allow the staff and coaches to deal with the team on the field," Young said.
He said the investigation is ongoing, and no victims have come forward as of Monday. There was no triage performed at the field by the police after the pepper spray was used, and Young was unaware of any injuries reported after the fact.
The NIAA commissioner of officials for Southern Nevada Marc Ratner told the Las Vegas Review-Journal no decision had been made. Officials are still gathering video and may have a statement Tuesday.
Friday's was the second big fight following a local high school football game in the last 13 months. On Oct. 7, 2016, fights broke out inside two Centennial Hills restaurants — Raising Cane's and In-N-Out — after Arbor View beat rival Centennial 28-7. One person was taken to the hospital with minor injuries after that incident.
During Friday's game, referees assessed 39 penalties, including 19 personal fouls. Four Canyon Springs players were ejected during the second half, including star quarterback/running back DiaMante Burton.
Repercussions could include forfeiture of Friday night's game and an additional game. The Canyon Springs players who were ejected must sit out their next scheduled game, too.
Canyon Springs coach Gus McNair said Monday morning that he has not heard anything from NIAA or the school district and is preparing for Saturday's home game against Silverado as normal.
The coach and athletic director at Basic did not respond to requests for comment.
Contact Meghin Delaney at 702-383-0281 or mdelaney@reviewjournal.com. Follow @MeghinDelaney on Twitter. Contact Justin Emerson at jemerson@reviewjournal.com or 702-387-2944. Follow @J15Emerson on Twitter.