Sophomore QB Tyler Williamson sparks Desert Pines in 3A state semifinal win
November 13, 2016 - 12:12 am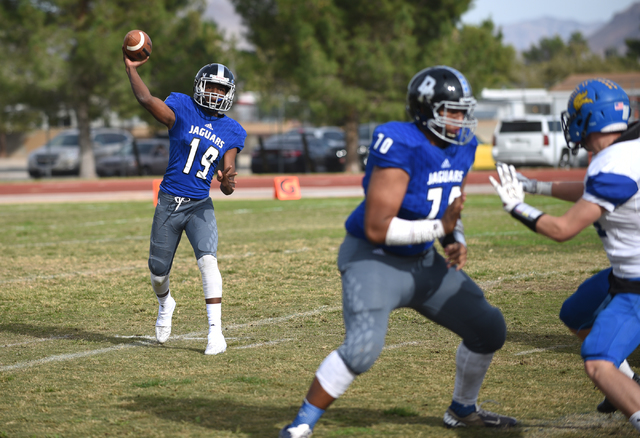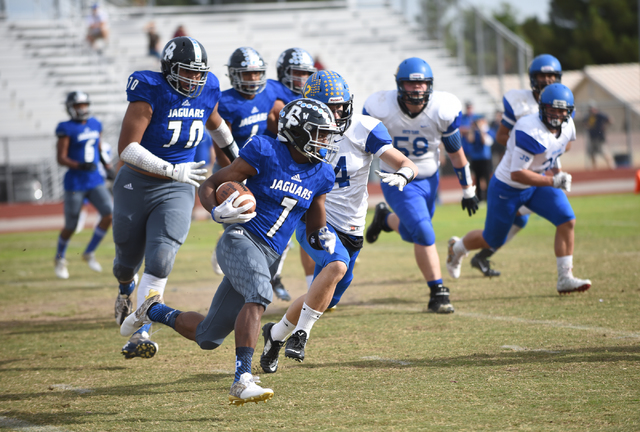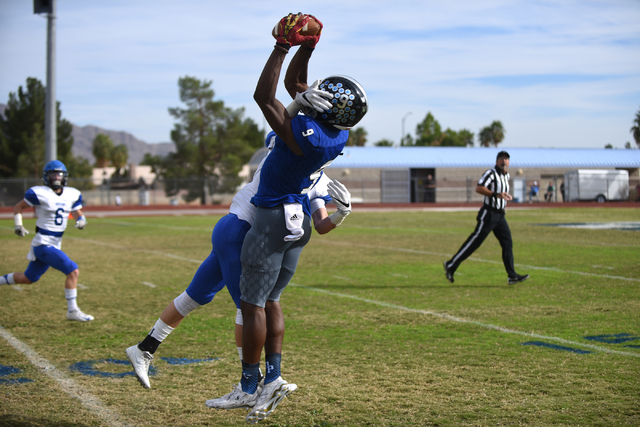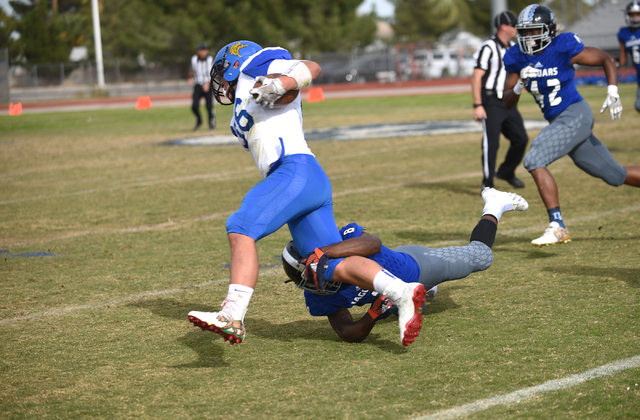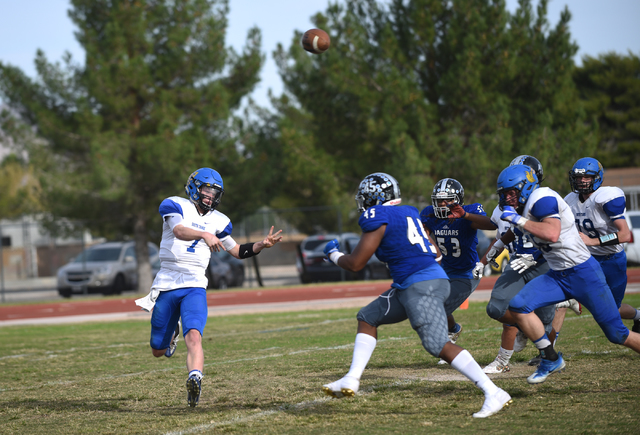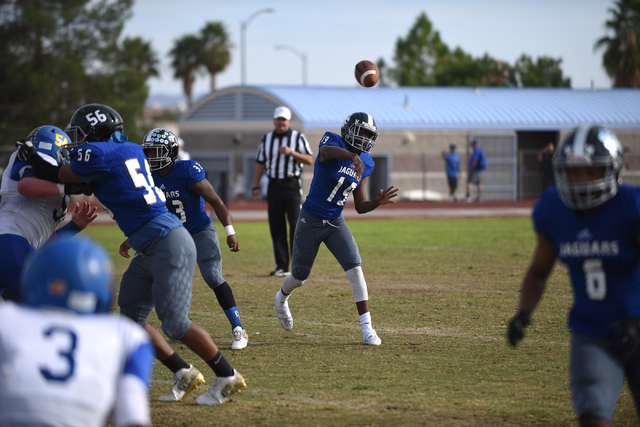 The Desert Pines offense has been missing an ingredient ever since quarterback Marckell Grayson went down with a knee injury in the season opener.
The Jaguars may have found it on Saturday.
Sophomore Tyler Williamson, making his first varsity start, threw three touchdown passes and ran for another score as the Jaguars rolled to a 56-7 win over visiting South Tahoe in the Class 3A state semifinals.
"He's just a tough-minded kid," Desert Pines coach Tico Rodriguez said. "He's been practicing and waiting for his opportunity, and we trust him."
Desert Pines (11-1) plays Spring Creek (11-0) in the state title game at 1 p.m. on Saturday, Nov. 19 at Bishop Gorman.
Williamson completed his first five passes, including all three attempts as he led the Jaguars on a scoring drive on their opening possession. Isaiah Morris capped the drive with a 16-yard touchdown run with 5:56 to go in the first quarter.
"I was actually nervous," said Williamson, who completed 9 of 11 passes for 186 yards. "I had a big game to come out here, semifinals. I had to convert and contribute to the team, and we came out with the win."
Desert Pines was hurt by three penalties on the ensuing possession, and South Tahoe (9-3) tied the game on a 3-yard TD run by Andrew Herrera with 2:14 to go in the first quarter.
"We were just too amped up for this game," Rodriguez said. "Our guys were super aggressive, and I just had to calm them down after the first quarter."
It worked, as Desert Pines scored 35 second-quarter points to put the game out of reach. The Jaguars had three touchdowns in less than two minutes to quickly take control.
Williamson hit Tony Fields for a 15-yard touchdown pass with 9:30 to go in the half. On the first play of the ensuing drive, defensive lineman Monquel Glasow picked off a pass and returned it 35 yards for a touchdown to make it 21-7.
After a three-and-out, Williamson tossed a lateral to Morris, who turned the corner and raced 52 yards down the left sideline to make it 28-7 with 7:31 to go in the half.
Williamson added a 50-yard TD pass to Randal Grimes with 2:30 to go in the half. Williamson was under heavy pressure but kept the play alive, somehow spun away from a tackler, and hit Grimes, who weaved through the defense for the score.
Grimes had been starting at quarterback, but said he was happy to move back to receiver with Williamson in the game.
"Our quarterback, he can really throw the ball and he can run, too," Grimes said. "So it's just another weapon out there on the field."
Antonio Wallace intercepted a pass and returned it 33 yards for a touchdown with 1:27 to go in the second quarter to make it 42-7 and trigger the running clock. The Jaguars intercepted three passes in the game.
"Our defense is super athletic," Rodriguez said. "We're big, we're fast and well coached. They're a special group, a special unit."
Williamson had a hand in a pair of third-quarter scores, leaping over a defender to complete a 1-yard touchdown run, and then hitting DeAundre Newsome for a 57-yard touchdown pass to close out the scoring.
"It's something that we've been seeing all year long, and now he gets to show it," Grimes said of Williamson. "It's just real good to see it now."
Morris finished with 170 yards on 11 carries, and Grimes caught four passes for 93 yards.
Box score:
Desert Pines 56, South Tahoe 7