Recruiting notebook: Arbor View LB draws big-time interest
Updated April 15, 2023 - 2:13 pm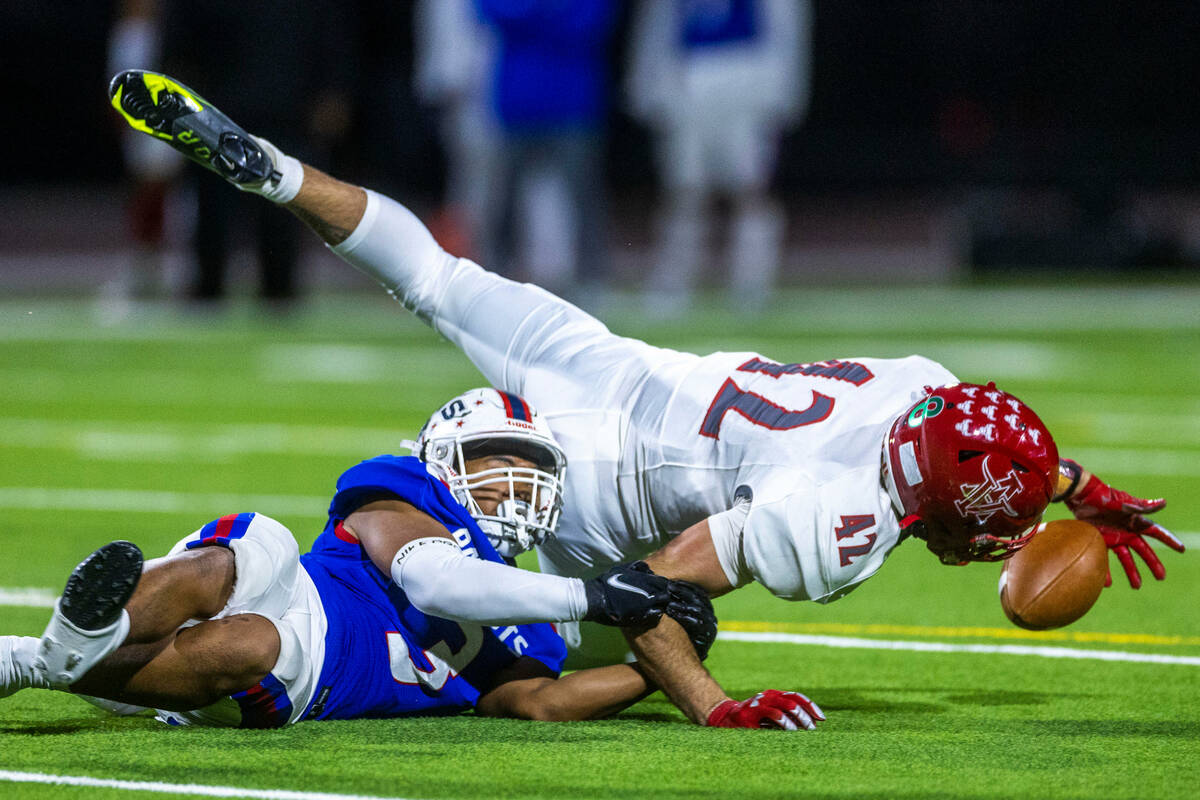 When Arbor View sophomore linebacker Christian Thatcher received an offer from Oklahoma earlier this year, Sooners coach Brent Venables wanted to make sure Thatcher would remember him.
"Ever since I got the Oklahoma offer, Coach Venables said, 'Don't forget me. Everybody's going to be calling after this,'" Thatcher said.
Thatcher hasn't forgotten about Oklahoma, which he visited last month. And Venables was right, a lot more schools have been calling.
A three-star prospect by Rivals, Thatcher has 13 Division I offers. Other schools interested in him include Arizona, Arizona State, Texas A&M and UNLV. Thatcher added offers from Oregon State and Missouri this week.
"Everything's just skyrocketed. … It's just been super busy," Thatcher said.
Thatcher also recently took an unofficial visit to Georgia.
"It's just a really high level," Thatcher said of visiting the defending two-time national champions. "It's really inspirational and you just try and push yourself after seeing those guys."
Oklahoma is a school that's made a great impression on Thatcher so far, who cites the intensity and focus he's seen in his interactions with Venables.
"(Venables) knows what he's doing," Thatcher said. "He's been around the game for a while. Just everything they do up there, we love it."
In his first offseason experiencing the full recruiting process, Thatcher said he's enjoying the genuine connections he's beginning to develop with college coaches.
They've told Thatcher, a 6-foot-2-inch 195-pounder who led the state in tackles (133) last season, that his ability to make big plays and be a sure tackler are aspects of his game that stand out.
"They love the physicality … big hits all around and speed I play with," Thatcher said. "All the coaches say I play with very good sideline-to-sideline speed."
With Arbor View beginning spring football practices this week, Thatcher said at least 60 coaches are scheduled to visit the school sometime in the next few weeks. In June, Thatcher said he'll plan to take more visits — to Texas A&M, Missouri, Oregon State and more.
Thatcher said once his junior year is complete, he'll take more time to focus on his options.
"I think we'll have a lot of schools to choose from," Thatcher said. "So we'll see and go from there."
UNLV lands Liberty LB
Liberty junior linebacker Kahekili Paaoao announced Friday his commitment to the Rebels on his social media accounts.
Paaoao, a 6-foot 2-inch, 215-pound, three-star linebacker by 247Sports, had 46 tackles in nine games with the Patriots last year.
He chose UNLV over Arizona, Brigham Young, Washington State and several Mountain West schools — Colorado State, Hawaii and UNR.
UCF makes offers
Central Florida has offered scholarships to Liberty junior Landon Bell and Faith Lutheran sophomore defensive back Matai Tagoa'i. Both announced the offers on their respective social media accounts.
Tagoa'i, a three-star rated by Rivals, has 13 other Division-I offers. Other notable offers for the 6-4 defensive back include Georgia, Notre Dame, Oklahoma and Southern California.
Bell, listed as a three-star athlete on 247Sports, announced his commitment to Washington in September.
Ioane lands PAC-12 offer
Thatcher's new teammate, Jeremiah Ioane, has kept busy this spring, too.
Ioane announced on his social accounts that he received an offer from Arizona on Thursday. The 6-2, 215-pound sophomore linebacker picked up the offer after visiting the school Wednesday.
Ioane, who played at Liberty last season, also has offers from Colorado State and UNR, where he visited Saturday.
Contact Alex Wright at awright@reviewjournal.com. Follow @AlexWright1028 on Twitter.