Ex-Durango coach says administrator's racist actions led to resignation
Updated March 28, 2023 - 12:05 pm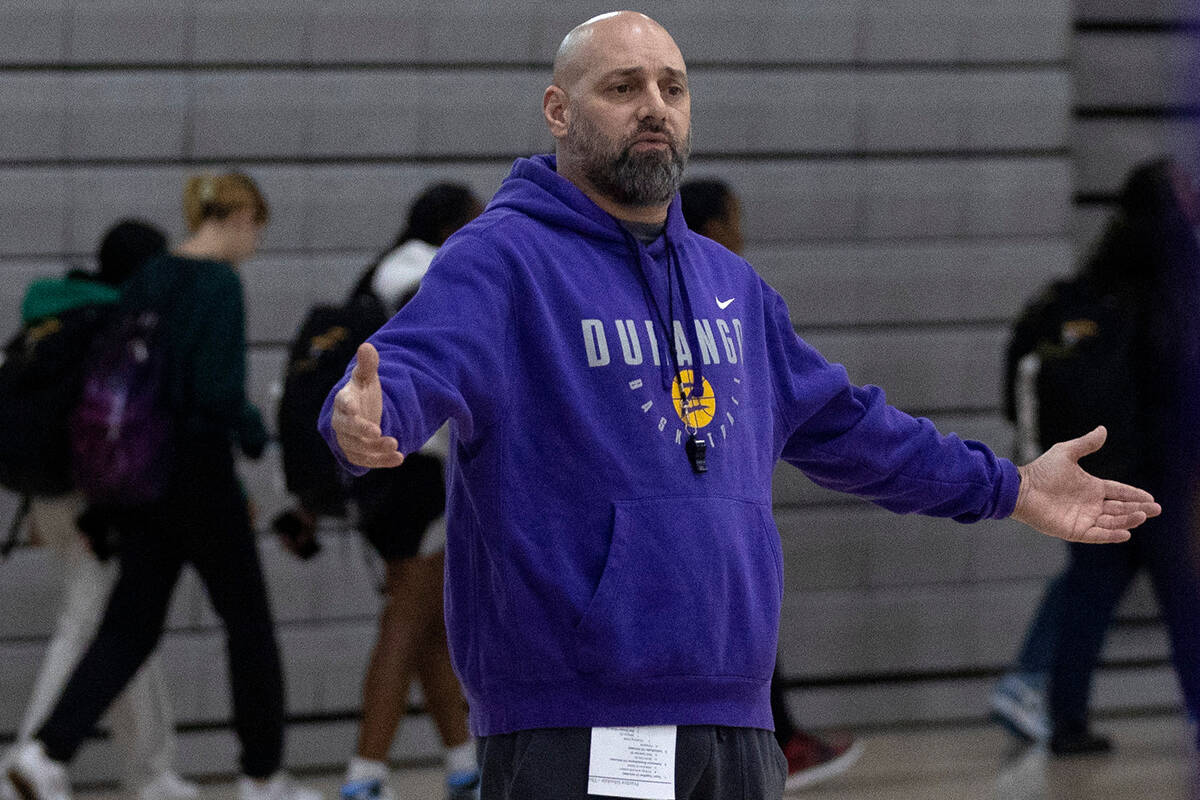 Former Durango High School boys basketball coach Chad Beeten abruptly resigned in February after filing a series of complaints to the administration about what he alleged was racist mistreatment of his players, according to a letter he wrote to several Clark County School District officials, including Superintendent Jesus Jara.
One unnamed administrator repeatedly referred to the students as "gutter rats," Beeten wrote in the letter, a copy of which was obtained by the Review-Journal.
During Beeten's four-year tenure as Durango's coach, the team was comprised mostly of Black players.
"His conduct was becoming increasingly aggressive, intimidating and posed a serious threat to the safety and well-being of the students," Beeten wrote, referencing the administrator and noting that the conduct is a violation of the district's anti-discrimination policy.
Instead of investigating Beeten's claims, "administrators refused to conduct any investigation into it or take any serious actions to remedy the situation," he wrote. Beeten also wrote that his direct supervisor maintained that he would continue to "coach" the administrator's behavior.
When contacted Monday by the Review-Journal, Beeten had no additional comment.
Asked to comment on Beeten's allegations, a school district spokesman referred the Review-Journal to an email address for the district's communications department.
In a statement emailed Tuesday to the Review-Journal, the district said it could not comment on individual personnel matters.
"However, in general, the District investigates every reported case of bullying and takes appropriate action. We will not tolerate behaviors that contradict an inclusive community and impact the needs of our students," the statement said, linking to the district's discrimination policy.
The Trailblazers were 14-5 when Beeten resigned — 8-0 in the Class 5A Southern League — and were the No. 1-ranked team in the Review-Journal's Southern Nevada rankings.
The letter was sent last week and included a congratulatory note regarding Durango's Class 5A state championship, claimed last month with a victory over defending champion Liberty.
Beeten also wrote that a student filed a written complaint against the same unnamed administrator, alleging that "he went on a verbal tirade against students who were present in the gym, which included yelling at them, (the) throwing of a book bag and a water bottle, and slamming the office door, narrowly avoiding hitting the complaining student."
The incident prompted Beeten to file another written complaint. Beeten suspected he'd be terminated after the 2022-23 season as a result of the complaint. Attempts to meet with administrators were rebuffed as their relationships with Beeten deteriorated, according to the letter.
On Feb. 1, he wrote, administrators issued Beeten an immediate suspension without explanation — thereby triggering his resignation. Players and parents told Beeten the school was investigating allegations of "harassment, bullying and intimidation" of players levied against him.
"This allegation was never brought to my attention by school administrators," he wrote. "In fact, to this day I am unaware of any details pertaining to any complaint made against me. In any case, I adamantly deny that I have ever mistreated anyone during my time at Durango, and would never harass, intimidate or bully anyone."
Beeten wrote that he emailed the school's investigators on Feb. 3 and requested to be interviewed.
Investigators, he wrote, denied his request without explanation and did not provide Beeten "an opportunity to address any of these baseless allegations leveled against me and that the school would reach its conclusion without my participation."
His resignation, he wrote, was in the best interest of his players.
Several supported Beeten in interviews with the Review-Journal preceding the Class 5A state playoffs.
"He was a big leader for us. He was the biggest leader for us," sophomore guard Mason Brown said.
"Even though Coach Chad isn't there, he is still with us. His model has been set. And we're just trying to complete it," interim coach Michael Lee added.
The allegations mark the second recent racial incident linked to Durango.
Last month, video posted to social media showed a school police officer grabbing a Black student who appeared to be recording video of another student being arrested outside Durango.
The officer grabbed the student and pulled him onto the ground next to a police vehicle, putting a knee on his back.
The video sparked public outcry, and Jara issued a statement saying he was directing school police to review its use-of-force policy.
Contact Sam Gordon at sgordon@reviewjournal.com. Follow @BySamGordon on Twitter.