Bowen, Cudahy lead Centennial
April 25, 2014 - 10:16 pm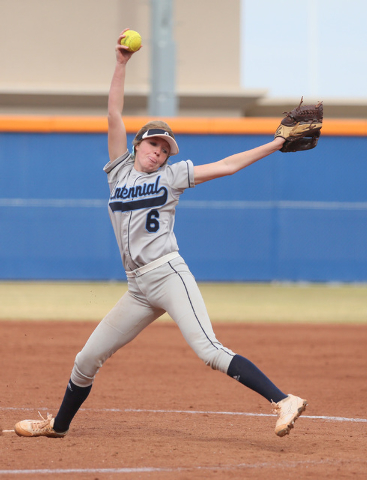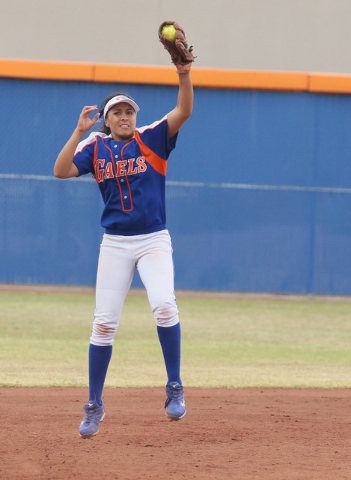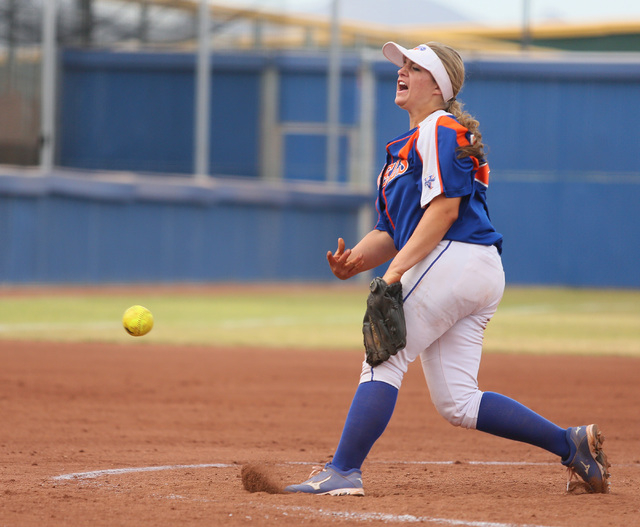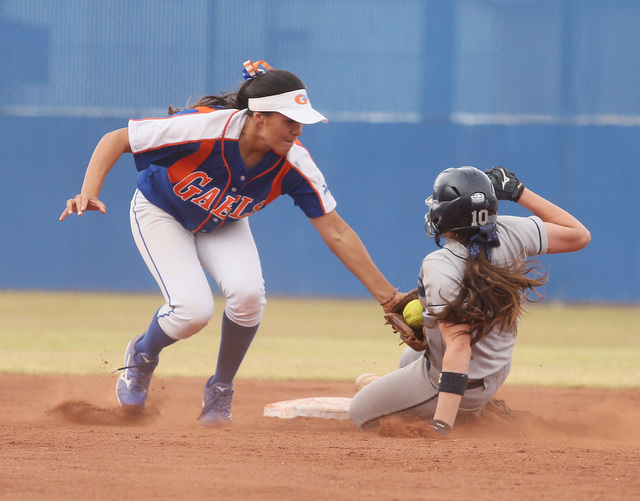 At the end of five innings Friday, Centennial softball coach Mike Livreri had a hard time believing his team was in a 4-4 game.
The Bulldogs had pounded out five doubles, and sophomore pitcher Cheyenne Cudahy was on her way to throwing a four-hitter.
But thanks to senior shortstop Heather Bowen, the game didn't stay tied for long.
Bowen ripped a go-ahead double to left field with no outs in the sixth inning and followed it with a three-run homer to left in the seventh to lift the No. 1 Bulldogs to a 10-4 win at No. 4 Bishop Gorman in a battle for first place in the Southwest League.
"I felt that Cheyenne was pitching really well, and I looked up and it was a tie ball game," Livreri said. "It was a little scary at that point because I felt it could go either way, but I knew we had the top of the order coming up in the sixth, and I thought maybe it was our time to score."
Bowen, the state player of the year as a sophomore, went 3-for-4 with five RBIs, capping a week in which she went 7-for-8 with five extra-base hits and nine RBIs.
"She does look like she's getting back to the top of her game," Livreri said. "She's seeing pitches and unleashing. She's staying quiet in her approach and letting her hands do the work."
She wasn't the only Centennial player to flex her muscles Friday.
The Bulldogs had 14 hits, eight of them doubles, and forced Gorman pitcher Dayton Yingling to throw 145 pitches.
Lauren Stroman was 3-for-3 with a double, and Jaden Tate was 2-for-4 with two doubles for the Bulldogs (22-6, 6-0 Southwest). Ashley Ross and Kara Simpson each went 2-for-4 with a double, and Angel Love hit a key two-run double in the sixth inning to extend Centennial's lead to 7-4.
"We just had some good, quiet approaches at the plate," Livreri said. "They got some pitches to take swings at and didn't try to do too much."
Yingling kept Gorman (16-3, 5-1) in the game through five innings, stranding eight Centennial runners and hitting an RBI double and a two-run home run.
Cudahy, though, allowed little else. She struck out three and walked just one, needing only 80 pitches to go the distance.
"This was a big game," Livreri said. "You never want to lose a game, but you don't want to open the door for them to step in and take control of the league."
Contact reporter Bartt Davis at bdavis@reviewjournal.com or (702) 387-5230.
Box score:
Centennial 10, Bishop Gorman 4