DIVISION I SOFTBALL: Bats start quickly in Palo Verde rout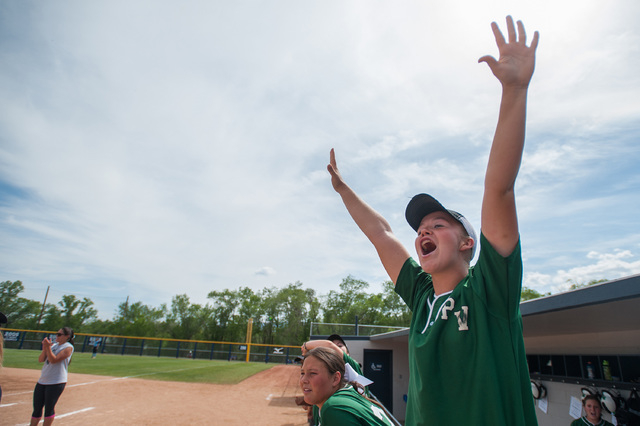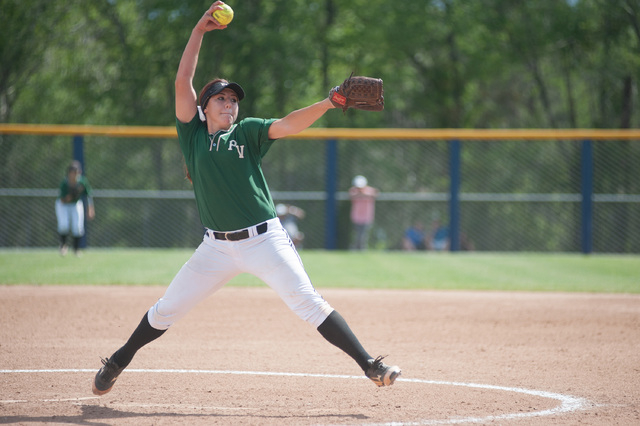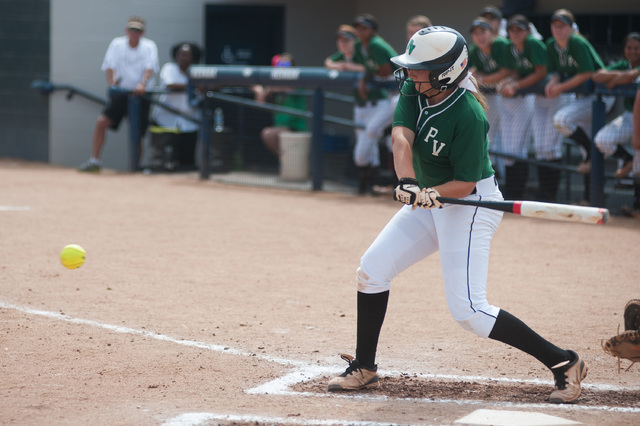 RENO — Palo Verde's softball team is turning UNR's Hixson Park into its own personal playground.
A day after scoring 10 first-inning runs in a Division I state tournament opening-round rout of Reed, the Panthers flexed their muscles early again Friday.
Breanna Beatty's two-out RBI double jump-started a five-run first inning and led Palo Verde to a 10-0, six-inning win over Foothill.
The Panthers (32-6) will face Reed (33-6) for the state title at noon Saturday.
"I definitely didn't expect it, but I knew something was going to happen," Palo Verde coach Kelly Glass said of her team's explosive starts. "I knew we were going to bring a lot of energy, and we were going to produce. I'm just happy we're producing what we are."
For the second straight day, the Panthers strung hits together and circled the bases in the opening inning.
Beatty's double to left-center field started a run of five consecutive hits as the Panthers batted around to take a 5-0 lead.
"We're going up feeling we can do anything that we want with the pitches that we're getting," Beatty said. "It's been a process, honestly. We wanted to make sure we were peaking at this point in the season, and that's what is happening."
The Panthers pounded out 17 hits and scored in every inning except the third.
Kiley Harrison was 4-for-4 with three runs. Beatty and Rachel Williams each went 3-for-4 with an RBI, and Brooke Stover was 2-for-3 with a double and two RBIs for Palo Verde.
It was plenty for Palo Verde pitchers Kelsea Sweeney and Williams, who combined on a two-hitter. Sweeney, who appeared to be nursing a back injury, allowed one hit and two walks in two innings. Williams retired 11 straight hitters in one stretch, and gave up just one hit and one walk in four innings.
Kaitlyn Enzweiler's bad-hop single in the second inning and Jordan Corn's sixth-inning double were Foothill's only hits.
In six region and state tournament games, the Panthers have allowed a total of just seven runs.
"They just literally figured everything out," Glass said of her pitchers. "They are nice and relaxed. They trust their defense. That gives them a little more confidence to make the ball move, make it dance."
Reed would have to beat the Panthers twice Saturday to claim the state title. Palo Verde needs only one win to claim its second title. The Panthers won state in 2011.
"Our motto for this weekend is 'Never be satisfied until we have a ring,'" Beatty said.
Reed 10, Foothill 0 — The Raiders struck for four runs in the top of the first inning and never looked back, eliminating the Falcons (21-15) in five innings in the day's final game.
Megan Dettling had an RBI single, and Marriah Levesque added a two-run double in the first inning for Reed, which scored three more in the second.
Britni Greninger was 4-for-4 with two doubles, two runs and three RBIs for Reed. Levesque, Jessica Sellers and Kenzi Goins each added two hits for the Raiders.
Jacquelyn Sertic tossed a three-hitter and struck out seven for Reed.
Kelsey McFarland, RaeAnn Brems and Enzweiler each went 1-for-2 with a single for Foothill.
Box scores: