Roundup: Arbor View beats Bonanza in tiebreaker
September 6, 2018 - 8:22 pm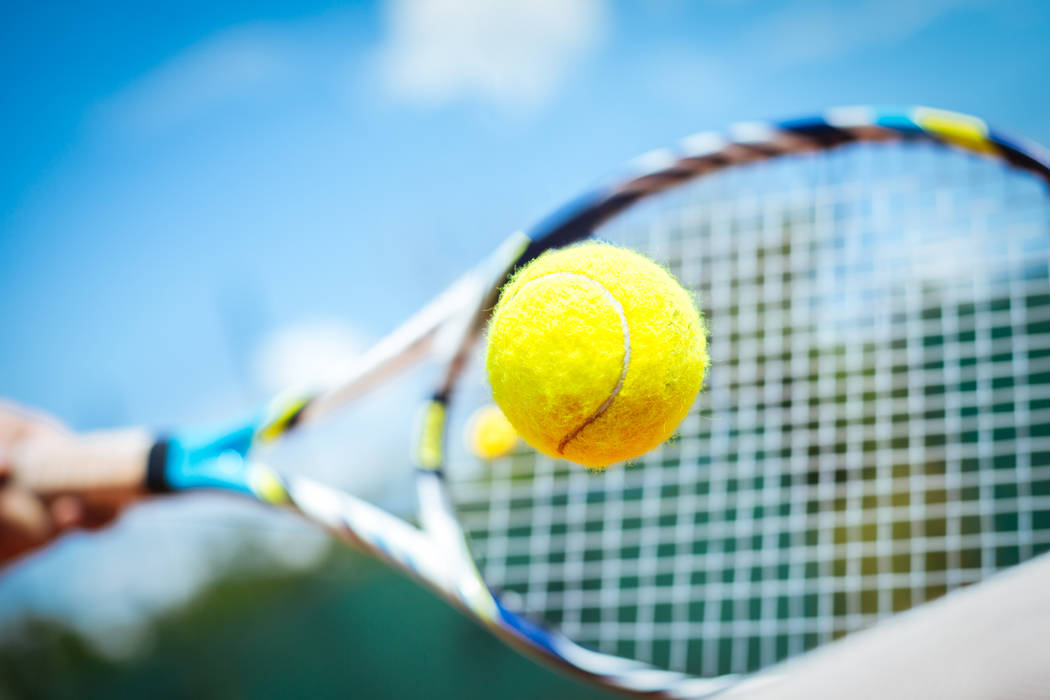 The doubles teams of Katie Whalen and Makena Haugh, and Demarie Harris and Anne Wirthlin both went 3-0 as Arbor View's girls tennis team edged visiting Bonana 10-9 on a tiebreaker.
Charlene Maupin won her tiebreaker 7-1 to help the Aggies clinch the win.
Georgi Thwaits and Kelsey Spence each finished 3-0 in singles for Bonanza.
Moapa Valley 10, Adelson School 8 — At Overton, the doubles team of Averee Widdison and Courtney Zerkle went 3-0 to lead the Pirates past the Lions.
Lara Bingisser and Floor Dieleman went 2-0 in doubles play for the Pirates, and Aubrey Aikele went 2-1 in singles.
Samantha Hamburg went 3-0 in singles to lead the Lions.
Desert Pines 14, Las Vegas 4 — At Las Vegas High, Nadxielli Arredondo and Diana Guevara finished 3-0 in doubles to help lead the Jaguars past the Wildcats.
Yesenia Resendiz and Cristina Montiel also went 3-0 in doubles for Desert Pines. Brie Perkins and Evelin Beltran each went 2-1 in singles for the Jaguars.
Yeli Castaneda was 2-1 in singles to pace Las Vegas.
The Meadows 13, Valley 5 — At Valley, Payton Chudd and Nishelle Phansalkar-Michalik went 2-1 in doubles to lead the Mustangs over the Vikings.
Bishop Gorman 16, Spring Valley 2 — At Spring Valley, Lauren Soong and Caitlin Ng were 3-0 in doubles as the Gaels took down the Grizzlies.
Courtney Wolfson was 2-0 in singles, and Karissa Matthews and Gabriella Dicicco went 2-0 in doubles for the Gaels.
Gorman's Olivia Balelo was 2-1 in singles.
Boulder City 16, Del Sol 2 — At Del Sol, Olivia Goodfellow went 3-0 in singles to power the Eagles over the Dragons.
Reggi Gibbs and Katelyn Fox went 3-0 in doubles for the Eagles. The teams of Kali Martin and Emily Mays, and Heather Patterson and Rebecca Mulheron went 2-0 in doubles for Boulder City.
Del Sol's Anna Balsicas went 2-1 in singles.
Centennial 16, Eldorado 2 — At Centennial, Josie Wondra, Sara Altfas and Jacqueline Perez-Mena each went 2-0 in singles to lead the Bulldogs past the Sundevils.
Coronado 17, Foothill 1 — At Foothill, Sophia Potamitis and Rayne Hayes went 2-0 in doubles in the Cougars' victory over the Falcons.
Paige Furin and Sydney Osburn each went 2-0 in singles for the Cougars.
Shadow Ridge 15, Cimarron-Memorial 3 — At Cimarron-Memorial, the Mustangs routed the Spartans.
Palo Verde 12, Cheyenne 0 — At Cheyenne, the Panthers defeated the Desert Shields by forfeit.
Rancho 12, Canyon Springs 0 — At Rancho, the Rams beat the Pioneers by forfeit.
Virgin Valley 12, Sunrise Mountain 0 — At Mesquite, the Bulldogs beat the Miners by forfeit.
Western at Mojave — At Mojave, the match between Warriors and Rattlers was a double forfeit.
Box scores:
Bishop Gorman 16, Spring Valley 2
Moapa Valley 10, Adelson School 8