Roundup: Bonanza slides by Arbor View
September 6, 2018 - 8:04 pm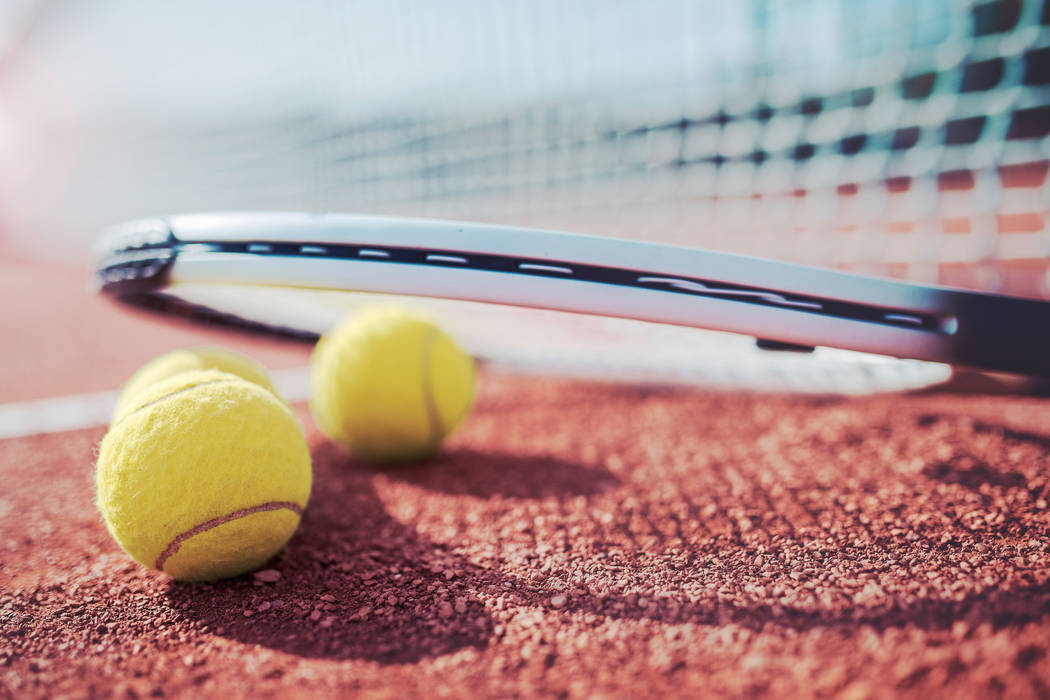 Bonanza's boys tennis team had two doubles teams go undefeated Thursday as the visiting Bengals edged Arbor View, 10-8.
The teams of Chase Kasday and Manny Gegen, and Blake Kasday and Mark Thuet, each went 3-0 for Bonanza.
Michael Webb was 3-0 in singles for Arbor View.
Coronado 14, Foothill 4 — At Foothill, Zachary Sullivan was 3-0 in singles as the Cougars blitzed the Falcons.
Sebastian Frace went 2-0 in singles for Coronado.
Ben Crawford and Stefan Sretenovic finished 2-1 in doubles to pace Foothill.
Centennial 15, Eldorado 3 — At Centennial, Justin Madsen and Tim Tuong each went 3-0 in singles to lead the Bulldogs past the Sundevils.
Cory Osburn and Randy Dobar went 2-0 in doubles play for the Bulldogs.
Boulder City 15, Del Sol 3 — At Del Sol, the Eagles swept the doubles sets in a victory over the Dragons.
The teams of Leaf Kaboli and Philipp Zengl, Ty Pendleton and Boen Huxford, and Preston Jorgensen and Karson Bailey each went 3-0. Breton Erlanger went 3-0 in singles for Boulder City.
LaVerk Hodges was 2-1 in singles for Del Sol.
Rancho 15, Canyon Springs 3 — At Rancho, Tanner Albright and William Ballin went 2-0 in doubles to power the Rams over the Pioneers.
Caleb Lewis and Maxwell Hosafros were 2-1 in doubles for the Rams.
Canyon Springs' doubles team of Fernando Abrego and Alex Jones was 2-1.
Bishop Gorman 15, Spring Valley 3 — At Spring Valley, Max Wolfson and Oliver Filipovic each went 2-0 in singles to help the Gaels beat the Grizzlies.
Sig Rogich and Nicco Ripamonti went 2-0 in doubles for the Gaels.
Spring Valley's Spencer Clingio and Tanakrit Richie went 2-1 in doubles.
Moapa Valley 15, Adelson School 3 — At Overton, Chase Hadley and Gavin Hadley each went 3-0 in singles to lead the Pirates past the Lions.
Adam Smedley was 2-0 in singles for the Pirates.
The doubles team of Slade Graham and Hunter Wrzesinkski went 3-0, and the team of Jake Leavitt and Jannis Gersch was 2-0 for the Pirates.
Shadow Ridge 11, Cimarron-Memorial 7 — At Cimarron-Memorial, the Mustangs downed the Spartans.
Palo Verde 12, Cheyenne 0 — At Cheyenne, the Panthers defeated the Desert Shields by forfeit.
Valley 12, The Meadows 0 — At Valley, the Vikings beat the Mustangs by forfeit.
Las Vegas 12, Desert Pines 0 — At Las Vegas High, the Wildcats won by forfeit over the Jaguars.
Mojave 12, Western 0 — At Mojave, the Rattlers beat the Warriors by forfeit.
Virgin Valley 12, Sunrise Mountain 0 — At Mesquite, the Bulldogs beat the Miners by forfeit.
Box scores:
Bishop Gorman 15, Spring Valley 3
Moapa Valley 15, Adelson School 3