Roundup: Singles starts lead Basic past Eldorado
September 25, 2017 - 8:44 pm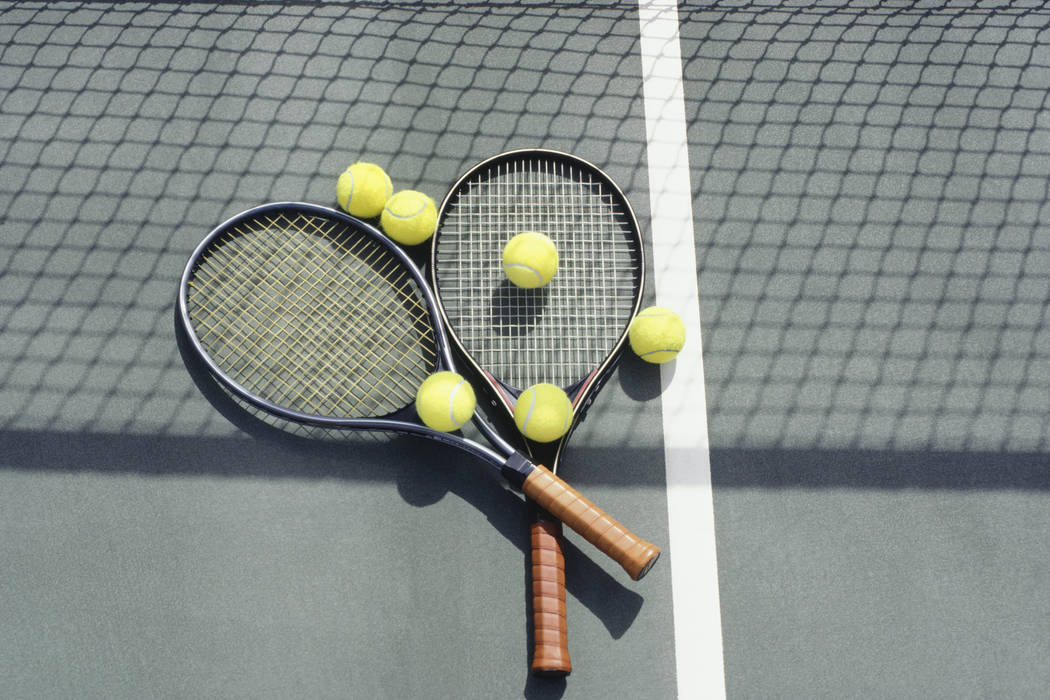 Garrison Stinnett, C.J. Perkins, and Chris Jepson each finished 2-0 in singles to lead Basic's boys tennis team to an 11-7 road win over Eldorado on Monday.
Tanner Howard and Miguel Rodriguez each finished 2-1 in singles for the Sundevils.
Coronado 12, Green Valley 6 — At Coronado, Sebastian Frace went 3-0 in singles to lead the Cougars over the Gators.
Thomas Nguyen and Colin Peltier went 3-0 in doubles for Coronado.
Tech 12, Virgin Valley 6 — At Tech, Gabe Kermoda and Daniel Sardina-Perez went 3-0 in doubles to lead the Roadrunners over the Bulldogs.
Las Vegas 14, Valley 4 — At Valley, Ashton Barney and Nathan Freimuth finished 3-0 in doubles to lead the Wildcats to a victory over the Vikings.
Nicholas Jianu finished 3-0 in singles for Valley.
Foothill 14, Silverado 4 — At Foothill, doubles teams of Ben Crawford and Dominic Gonzale,z and Landon Henderson and Joel Benavidez each finished 3-0 as the Falcons beat the Skyhawks.
Chaparral 14, Del Sol 4 — At Del Sol, Juan Blas, Kalob Abrahamson, and Alex Cacari each finished 3-0 in singles to lead the Cowboys to victory over the Dragons.
Del Sol's doubles teams of Daniel Sarabia and Jacob Chairsell, and Alexander Bagrensky and Gustavo Soteoo both finished 2-1.
The Meadows 16, Desert Pines 2 — At The Meadows, Daniel Pereira was 3-0 in singles as the Mustangs routed the Jaguars.
The doubles teams of Ryan Chang and Brian Capp, and Ben Goodman and Justin Finseth each went 3-0 for The Meadows.
Palo Verde 16, Faith Lutheran 2 — At Faith Lutheran, Alex Botticelli went 3-0 in singles as the Panthers rolled past the Crusaders.
Denim Richardson and Benjamin Waid teamed to go 3-0 in doubles for Palo Verde.
Boulder City 17, Moapa Valley 1 — At Moapa Valley, Andre Pappas went 3-0 in singles play to lead the Eagles past the Pirates.
Connor Mikkelson and Breton Erlanger went 2-0 in singles play for Boulder City.
The doubles team of Karson Bailey and Tanner Montgomery also went 2-0 for the Eagles.
Adelson School 15, Mojave 3 — At Mojave, the Lions defeated the Rattlers.
Rancho 12, Canyon Springs 0 — At Rancho, the Rams defeated the Pioneers by forfeit.
Western vs. Cheyenne — At Cheyenne, the match between the Warriors and Desert Shields was a double forfeit.
Box scores:
Boulder City 17, Moapa Valley 1
The Meadows 16, Desert Pines 2
Palo Verde 16, Faith Lutheran 2