Clark's Audrey-Boch Collins claims third consecutive singles crown
October 20, 2018 - 5:34 pm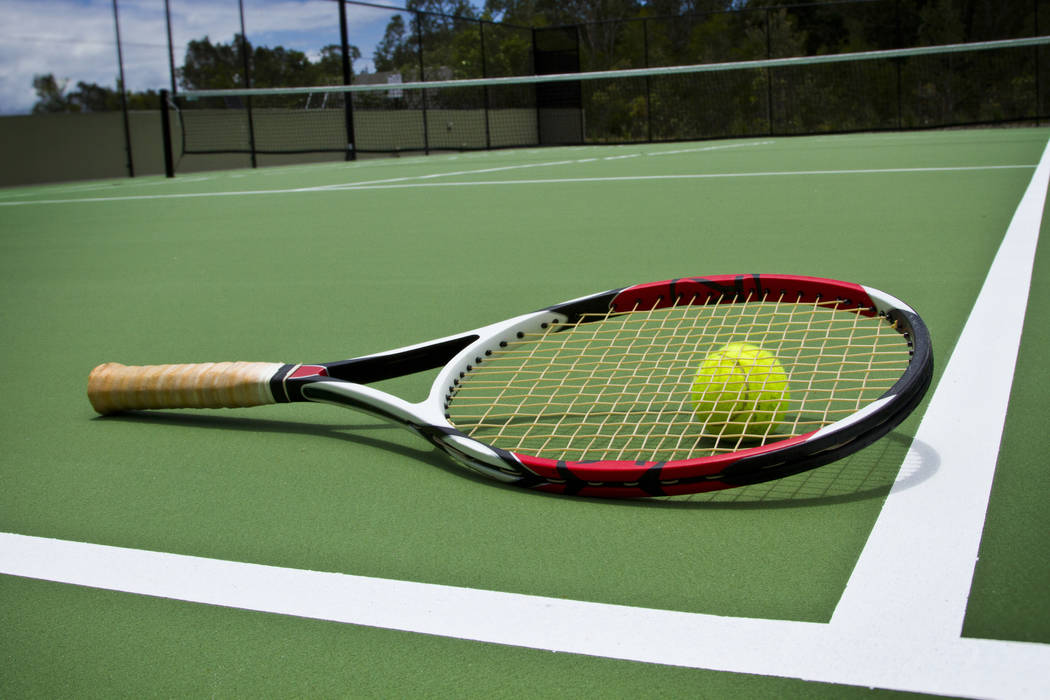 RENO — Audrey Boch-Collins is ranked No. 26 nationally in the Class of 2020 by Tennis Recruiting Network, but Saturday, she put herself in position to rank No. 1 of all time in Nevada.
Boch-Collins, a junior from Clark, defeated Madison Smith of Coronado 6-0, 6-1 in the 4A girls state championship match at Bishop Manogue to become only the second girl in state history to win three individual state championships in singles. No player, boy or girl, ever has won four individual state championships in singles, and with one more year to play, Boch-Collins has the chance to become the most accomplished singles player in state history.
But after a grueling match that was more akin to a tiebreaker than a blowout, it was pizza, not history, that she was most interested in. Nibbling a slice of pepperoni, Boch-Collins was prouder of what she had done for the Clark tennis program than trying to rank her accomplishments.
"I did it for Clark, you know their tennis is struggling," she said. "It feels good to be part of a team and do well for them, and make my parents proud too."
Despite the lopsided score, Boch-Collins and Smith engaged in a spirited battle, with almost every point the result of a long rally. But Boch-Collins' was able to range from one end of the court to the other, and from the baseline to the net, invariably finding the open part of the court to deposit a winner.
"The score did not decipher what happened," Boch-Collins said. "Sometimes I was like 'Is this going to end? No, another 10 balls were going. I was like, great. I was trying to go to her backhand a little bit more and bring her in, because I know she doesn't like to go to the net, so that way my game plan today."
Only one other girl, Galena's Julie Burgarello, who won in 2002, 2004 and 2005, had ever won three straight singles championships. Three boys have accomplished the feat, but none since 1994.
"Yeah, that's pretty cool," Boch-Collins said.
But the understated Boch-Collins in no way assumes her return next year would be guaranteed to end with her atop the state record books.
"Maybe," she said. "That would be nice."
Bishop Gorman's Angelique Friedrich defeated Faith Lutheran's Mira Filiberti, 6-3, 6-2 in the third-place match.
In the doubles final, sisters Andrada and Ariana Stanciu of Sierra Vista trailed in each set before rallying both times to defeat Kenadee Semenik and Jade Mayweather of Faith Lutheran 7-5, 7-5 to win the championship.
"It's pretty awesome to win with my sister as a senior," Andrada Stanciu said. "It's really great."
The duo finished third at state last year, and said they knew if they paired up again this year, they had a chance at a state title after the experience they gained last year.
"We were down both sets and we ended up coming back," Andrada Stanciu said. "We just kept fighting. It was great, it was amazing."
Andrada had won a 3A state state title in singles as a freshman, but said winning with her sister, and in 4A, mean much more.
"To win in 4A, it's a little bit different because 4A is a higher level," she said.
Paige Furin and Megan King of Coronado took third place, defeating Shelby Graber and Mia Hatfield of Palo Verde, 5-7, 6-2, 7-5.
Class 3A
Boulder City's Olivia Mikkelson captured her second consecutive Class 3A girls state singles title with a 4-6, 6-1, 7-5 win over The Meadows' Lindsey Hofflander at Tahoe Donner Tennis Center in Truckee, California.
Mikkelson also beat Hofflander in the 2017 title match.
The Meadows' Grace Nemec and Peyton Barsel defeated teammates Allison Stone and Nishele Phansalkar-Michalik 6-0, 6-2 for their second straight 3A girls doubles title.
Nemec also won a state doubles title in 2016, teaming with Olivia Waysack.