Coronado, Palo Verde advance to 4A girls final
October 18, 2018 - 9:49 pm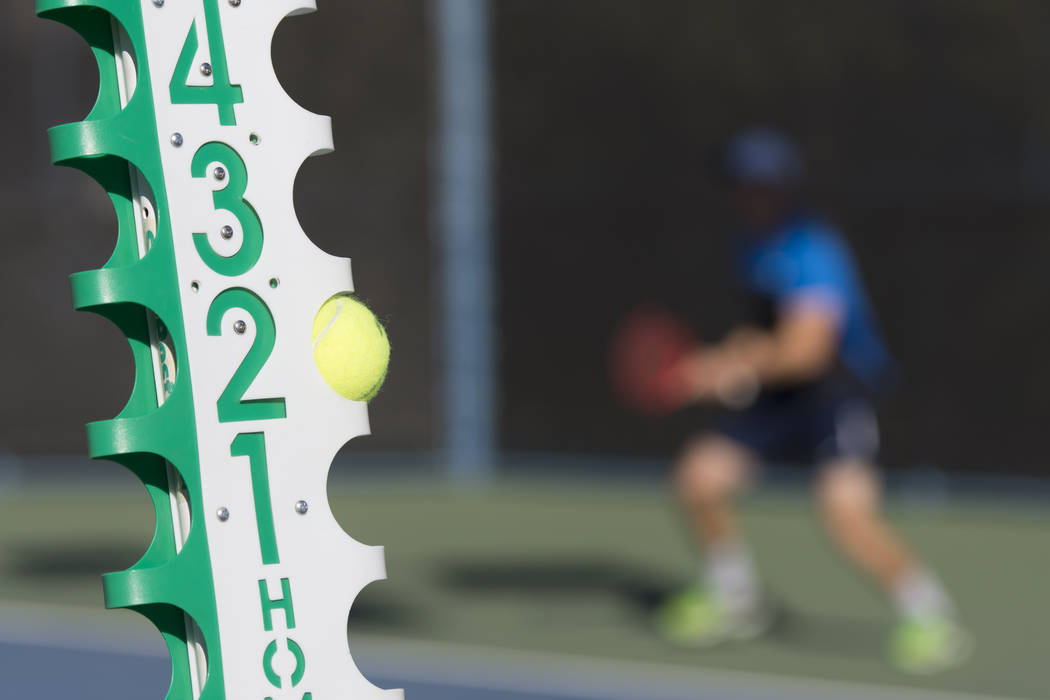 Palo Verde's only girls tennis loss this season came against Coronado in the Southern Nevada championship match.
The teams will meet again, this time with a state title on the line.
Coronado beat Faith Lutheran 10-5, and Palo Verde defeated Reno 11-7 on Thursday at Bishop Manogue in the Class 4A state semifinals.
The Cougars (17-0) went 7-2 in singles against Faith Lutheran in a mach that was called after the singles sets in the third round were complete.
Maddie Smith was 3-0 in singles, and Kennedy Butnrock and Blythe Buntrock each went 2-1 for Coronado.
Sidra Wohlwend and Ava Nhiasi went 2-0 in doubles for the Cougars, who face Palo Verde (17-1) for the title at 10:30 a.m. Friday at Manogue.
Mira Filberti was 2-1 in singles for Faith Lutheran (21-4).
Palo Verde's win over Reno put the Panthers in the state final for the fourth time in the last five seasons. Palo Verde won three consecutive state titles from 2014 to 2016.
Class 3A
The Meadows rolled to a 17-1 win over North Valleys Tahoe Donner Tennis Club in Truckee, California, to advance to the Class 3A state championship match for a seventh consecutive season.
Rachel Roxarzade won all three of her sets 3-0 to lead the Mustangs, who have claimed three consecutive state titles. Bella Monroe also was 3-0 in singles, and Lindsey Hofflander was 2-0 for The Meadows.
The doubles teams of Peyton Barsel and Grace Nemec, Shayna Indyg and Claire Strimling, and Allison Stone and Nishelle Phansalkar-Michalik each went 2-0 for the Mustangs (13-0), who play Boulder City (17-2) in the championship match at 11 a.m. Friday.
The Eagles advanced by dominating Truckee 16- 2 in the other semifinal. Boulder City won 11 sets 6-0 to cruise to the win.
Olivia Mikkelson and Olivia Goodfellow each went 3-0 in singles for the Eagles.
The teams of Tegan Pappas and Eugenia Kryschuk, and Olivia Leavitt and Sophia Morris each went 3-0 in doubles for Boulder City.
Class 4A box scores:
Class 3A box scores:
The Meadows 17, North Valleys 1