GIRLS TENNIS: Shadow Ridge doubles help Mustangs past Arbor View
September 14, 2016 - 9:13 pm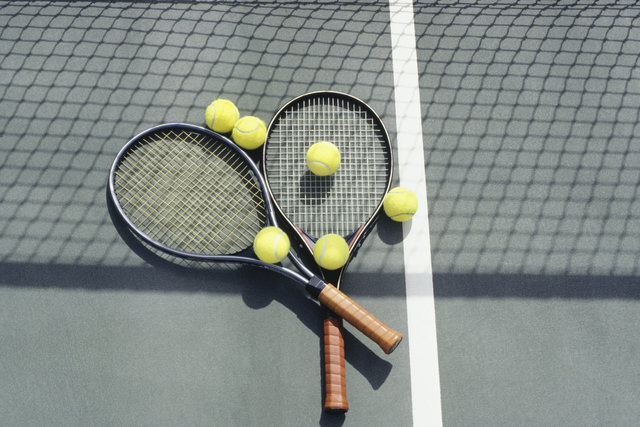 Samantha Milanovich and Caitlyn Covington went 3-0 in doubles to lead the Shadow Ridge girls tennis to an 11-7 road victory over Arbor View on Wednesday afternoon.
Kendahl Servino and Caitlyn Noorda each finished 2-1 in singles for the Mustangs.
Savannah Tynan was 3-0 in singes to lead the Aggies.
Eldorado 10, Moapa Valley 8 — At Eldorado, Kristie Thomas went 3-0 to lead the Sundevils over the Pirates.
Eldorado's doubles team of Heather Holman and Jessica Samano-Ramirez went 3-0.
Moapa Valley's Lindsey Leavitt went 2-1.
Foothill 12, Basic 6 — At Basic, Emma Grant and Kristel Peralta went 3-0 in doubles to lead the Falcons to victory over the Wolves.
Aine Jones and Caitlyn Stevenson finished 2-0 in doubles for Foothill.
Tjaden Giles was 3-0 in singles play to lead Basic.
Coronado 13, Liberty 5 — At Coronado, Megan King and Nikoletta Nikoloff each went 3-0 in singles play as the Cougars downed the Patriots.
Megan Quandt and Breanna Alvarez finished 3-0 in doubles for Liberty.
Centennial 13, Cimarron-Memorial 5 — At Cimarron-Memorial, the Bulldogs topped the Spartans despite a strong showing from the doubles pairing of Adalynn Colton and Aaliyah Hanley, who finished 2-1.
Green Valley 17, Silverado 1 — At Silverado, Daria Shalina and Rethika Kumar each finished 2-0 in singles play as the Gators routed the Skyhawks.
Palo Verde 16, Legacy 2 — At Legacy, Brooklyn Harris and Caroline Hsu each went 3-0 in singles as the Panthers defeated the Longhorns.
Abby Lewis and Kaya Richardson finished 3-0 in doubles for Palo Verde.
Western 10, Adelson School 7 — At Adelson School, the Warriors defeated the Lions.
Bishop Gorman 17, Desert Oasis 1 — At Desert Oasis, the Gaels rolled to a win over the Diamondbacks.
Desert Pines 12, Mojave 0 — At Desert Pines, the Jaguars defeated the Rattlers by forfeit.
Cheyenne 12, Sunrise Mountain 0 — At Cheyenne, the Desert Shield won by forfeit.
Box scores:
Bishop Gorman 17, Desert Oasis 1
Centennial 13, Cimarron-Memorial 5