Roundup: Liberty girls top Eldorado on tiebreaker
September 19, 2017 - 8:07 pm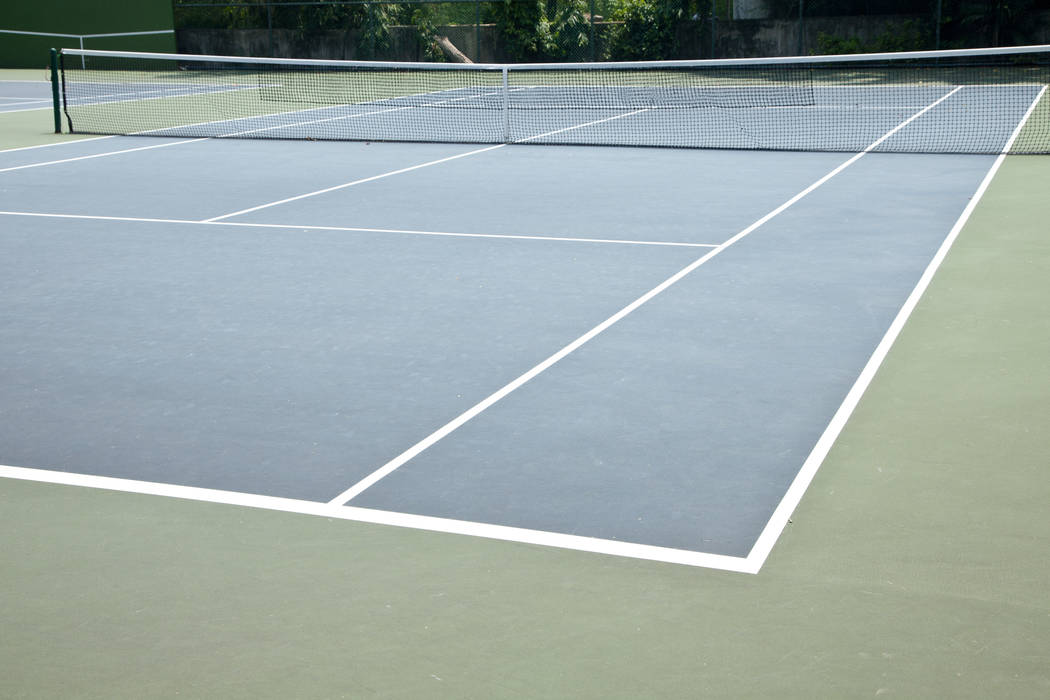 Madison Knoblock was 3-0 in singles and Liberty's girls tennis team edged visiting Eldorado 10-9 on a tiebreaker on Tuesday.
The Patriots won the tiebreaker 4-2.
Heather Holman and Devyn Swain went 3-0 in doubles for the Sundevils.
Bonanza 12, Spring Valley 6 — At Bonanza, Kelsey Spence and Carla LaRosa went 3-0 in doubles to lead the Bengals over the Grizzlies.
Aubrey Adams and Madi Cherry each went 3-0 in singles for Bonanza. The doubles team of Angela Lin and Halle Hirschi was 2-1 for the Bengals.
Alexa Rojas and Mandy Lu went 2-1 in doubles to lead Spring Valley.
Centennial 10, Durango 8 — At Durango, the Bulldogs held off the Trailblazers.
Durango's Averiana Mitchell was 3-0 in singles, and the doubles team of Maggi and Matti Concannon went 3-0 for the Trailblazers.
Faith Lutheran 13, Cimarron-Memorial 5 — At Cimarron, Ashley Young, Hannah Namkung and Isabelle Cottingham each went 2-0 in singles as the Crusaders turned back the Spartans.
Cimarron's Angelica McCammond and Catherine Javan went 3-0 in doubles, and Tikvah Sampla and Kailynn Williams went 2-1 in doubles for the Spartans.
Boulder City 14, Silverado 4 — At Silverado, Olivia Mikkelson and Tegan Pappas each went 3-0 in singles to lead the Eagles over the Skyhawks.
Silverado's doubles team of Kathryn Carder and Morgan Seiler went 2-1.
Bishop Gorman 12, Sierra Vista 6 — At Sierra Vista, the Gaels swept the doubles sets to take down the Mountain Lions.
The doubles teams of Karissa Matthews and Madison Winston, Olivia Balelo and Giovanna Chaparro, and Emma Figueredo and Lauren Song each went 3-0 for Gorman.
Andrada Stanciu and Ariana Stanciu each went 3-0 in singles for Sierra Vista.
Shadow Ridge 12, Legacy 6 — At Legacy, Elisa Sperandio went 3-0 in singles to lead the Mustangs over the Longhorns.
Caitlyn Covington was 2-0 in singles for Shadow Ridge.
Clark 14, Arbor View 4 — At Clark, Audrey Boch-Collins and Alysandra Smith each finished 2-0 in singles to help the Chargers beat the Aggies.
Joanna Yi and Kelly Mader teamed to go 2-0 in doubles for Clark.
Josephine Kupfer and Mathilde Lecrigny went 1-2 to pace Arbor View.
Desert Pines 12, Cheyenne 6 — At Desert Pines, two doubles teams went 3-0 to carry the Jaguars over the Desert Shields.
The teams of Veronica Palacios and Yazaret Arredondo, and Wislande Olibrice and Yesenia Resendez each went 3-0 for Desert Pines.
Valley 15, Tech 3 — At Tech, the Vikings swept the singles sets en route to the win over the Roadrunners.
Ruby Valencia, Claire Angel and Ashley Cantu each went 3-0 in singles for Valley.
Palo Verde 15, Desert Oasis 3 — At Palo Verde, singles players Kaya Richardson and Ivona Dobrijevic each went 2-0 as the Panthers defeated the Diamondbacks.
Palo Verde's doubles teams of Shelby Graber and Isabella Shelton, Priya Raju and Devon Yamane, and Andrea Flores-Gerez and Jalen Keller each went 2-0.
Foothill 12, Rancho 0 — At Foothill, the Falcons defeated the Rams by forfeit.
Western 12, Mojave 0 — At Western, the Warriors defeated the Rattlers by forfeit.
The Meadows 12, Sunrise Mountain 0 — At Sunrise Mountain, the Mustangs beat the Miners by forfeit.
Box scores:
Bishop Gorman 12, Sierra Vista 6
Faith Lutheran 13, Cimarron-Memorial 5